GatherContent is a platform that helps marketers manage their content strategies and workflows. But the content operations platform has its limitations: it's on the pricey side, and the features don't check all the boxes for some teams. There are plenty of GatherContent alternatives that fill in the gaps.
Keep reading, as I'll go through the best alternatives to GatherContent currently available:
1. Planable: best for content strategy, collaboration, and approval
2. Asana: project management tool for medium and large teams
3. Google Drive: cloud-storage platform for basic content creation and planning
4. Airtable: for monitoring content marketing campaigns
5. HubSpot: for omnichannel content marketing
6. Content Snare: for content collection
7. Notion: for standardized content operations
8. Trello: project management tool for small teams
I'll cover each platform's key features and drawbacks to help you determine which might be the best fit for your needs.
Why you should consider a GatherContent alternative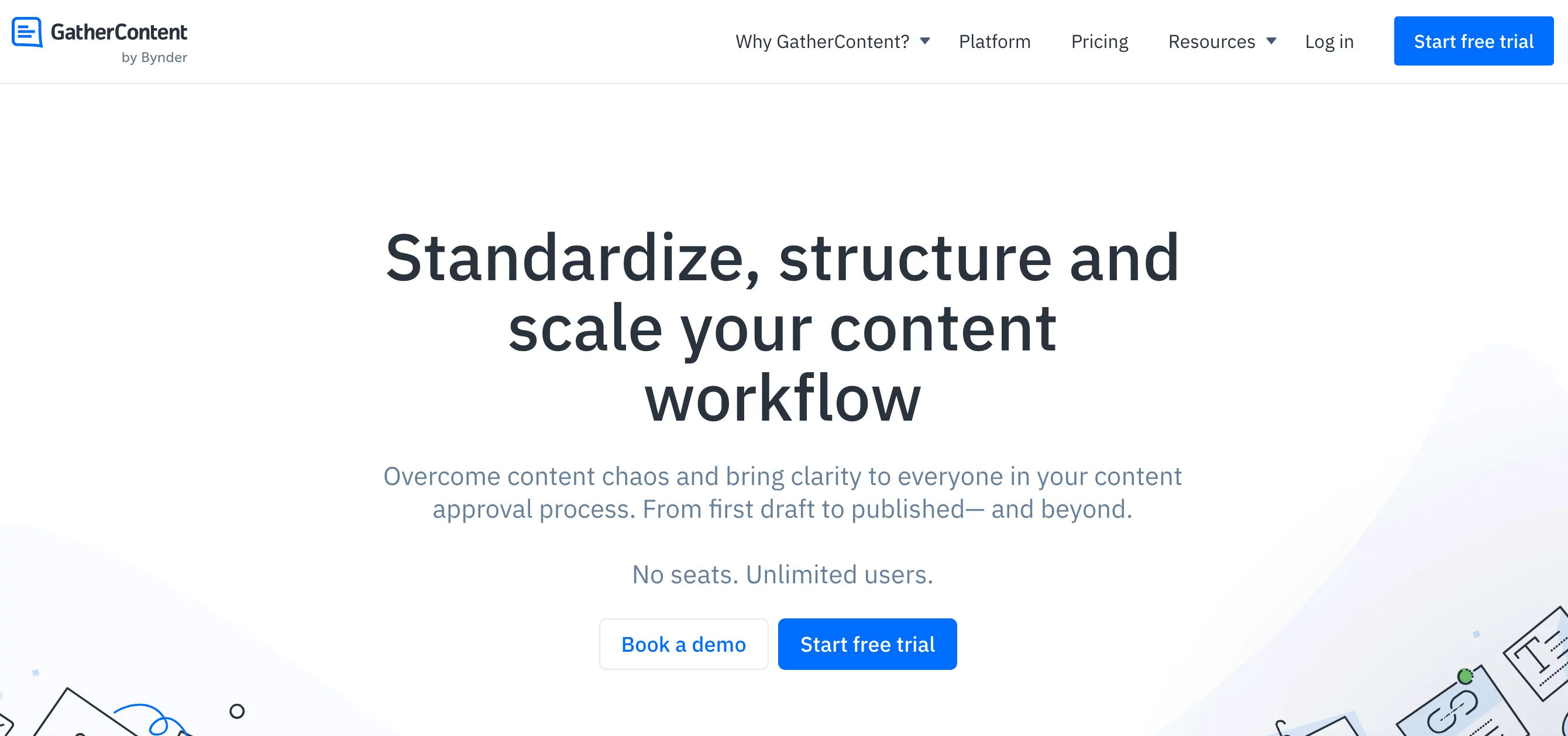 GatherContent is a content operations platform that helps companies to streamline and scale the content creation process.
The platform boosts content production through its workflow tools, like the ability to set automated assignments and due dates. You can also easily track all your content projects through custom content workflows (with steps like ideation, drafting, reviewing, approving, and publishing).
GatherContent also allows content teams to collaborate on projects in real time. Team members can leave comments next to each draft and notify each other via mentions. You can monitor and undo unwanted changes through the platform's version control.
Other notable features include digital asset management, the ability to create and save content templates for later use, and a built-in content calendar.
As for the drawbacks, GatherContent users talk about a steep learning curve due to the platform's numerous customization options and features, that may overwhelm new users.
Gather Content integrates with tools like Slack and WordPress but lacks any social media integrations. You'll need to post content manually on social media platforms, which can make content publishing cumbersome.
Lastly, there's the pricing. GatherContent's entry-level plan costs $99/month (billed annually) and is limited in functionalities. It lacks customizable workloads, automated assignments, and custom user roles and permissions.
Here's why social media managers should consider an alternative to GatherContent in 2023
GatherContent offers limited integrations and lacks social media scheduling tools.
The platform can be overwhelming for beginners.
It's not good value for money for small or medium teams who incorporate social media in their content strategy.
The 8 best GatherContent alternatives
Gather Content isn't the best option for small content teams or content marketers who also focus their activities on social media.
Let's go through some of the top alternatives that fill in GatherContent's gaps and see what each is best suited for.
1. Planable: best alternative to GatherContent for content strategy, collaboration, and approval
Planable is a content marketing tool that shines through its team collaboration and content approval functionalities. You can use Planable to create and collaborate on content briefs, blog posts, email copy, social media posts, or any type of written content you wish.
You can communicate with the content team through in-context comments and internal notes (not visible to the client). Planable also includes custom user roles and permissions to give you better control over who can access and work on your content.
Most notably, the platform handles custom approval workflows. You can pick between various approval options: None, optional, required, and multi-level. Multi-level approvals are ideal for larger teams seeking to set up an in-depth approval process for streamlined content optimization — the content would need to be approved by multiple team members before the client does the final sign-off.
The platform also handles social media scheduling. You can easily create content and publish it on popular social networks directly within the platform.
Supported networks: YouTube, TikTok, Pinterest, Facebook, Instagram, Pinterest, Twitter, LinkedIn, Google Business Profile (formerly known as Google My Business).
Key features:
Content planning: Easily schedule content with Planable's calendar and organize upcoming posts through color-coded labels. Schedule recurring posts and publish the same content on multiple social networks simultaneously. Approve posts and leave comments next to each piece of content directly within the calendar.
Collaboration: Use comments in context to leave feedback and notify team members through mentions. Reverse unwanted changes or see whether feedback was implemented correctly via the platform's version control. Invite external collaborators and clients to your workspace through shareable links so they can easily leave feedback or approve posts directly within the platform.
Content creation: Use the media library to store all the assets necessary for content production. Easily improve existing content or write posts from scratch with Planable's AI-powered assistant.
Drawbacks:
The platform currently doesn't cover any analytics or reporting options.
Pricing:
Access all of the platform's features (except Twitter publishing), and create and schedule up to 50 pieces of content for free. Paid plans start at $11/user/month (billed annually). Pricing is flexible based on the number of desired users and workspaces.
2. Asana: project management platform for medium and large teams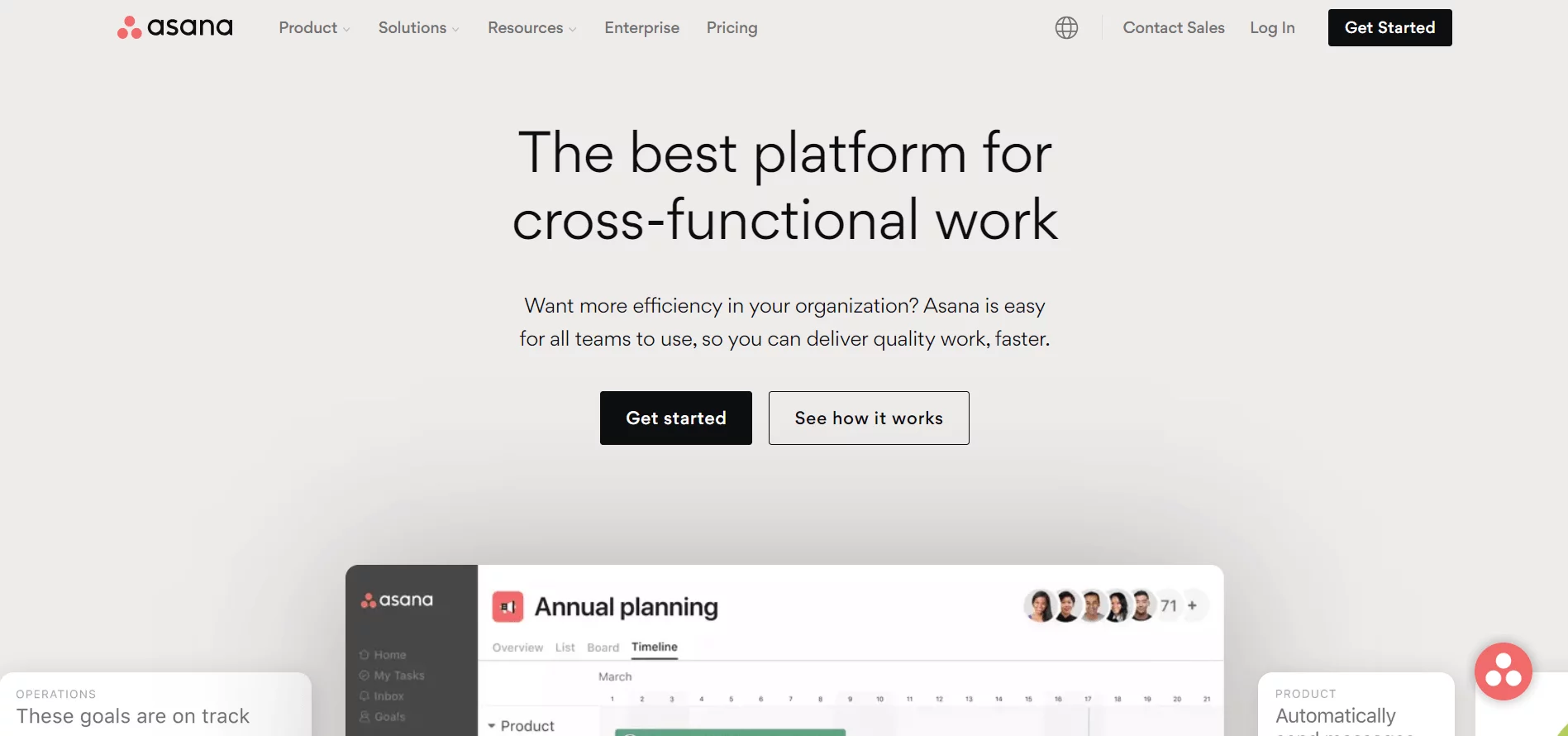 Asana is a straightforward project management platform with in-depth content workflow management and reporting capabilities. You can use Asana's Workflow Builder to easily set up processes via a no-code interface — ideal for automatically moving each piece of content through the creation, editing, and approving phases, for instance.
As for reports, Asana allows you to visualize your team members' workloads so you can distribute work across your organization evenly. The platform also covers goal-tracking and the option to monitor groups of projects (Portfolios) within an intuitive user interface.
The platform's free plan is excellent for medium-sized teams. It can accommodate up to 15 team members and includes all essential features, like calendar and list views, unlimited tasks, projects, and the ability to see who works on what and when through Project Overviews.
Key features:
Workflow management: Kickstart your projects with Asana's numerous task templates. Create dependencies to establish clearly defined, step-by-step workflows. Set up subtasks to break work down into digestible, bite-sized assignments and delegate them to different team members.
Collaboration: Leave comments and attach relevant files under each task. Handle approvals and get external stakeholders' feedback on images through Asana's proofing functionality.
Project planning: Set up goals and milestones to monitor project progress. Use Asana's calendar as a tool to plan upcoming content via a drag-and-drop interface.
Drawbacks:
Asana lacks multi-level approvals and built-in content creation functionalities.
File storage can only accommodate up to 100MB/file.
Pricing:
The free plan includes unlimited tasks, projects, messages, and up to 15 team members. Paid packages start at $10.99/user/month (annually).
3. Google Drive: cloud-storage platform with basic content creation and planning functionalities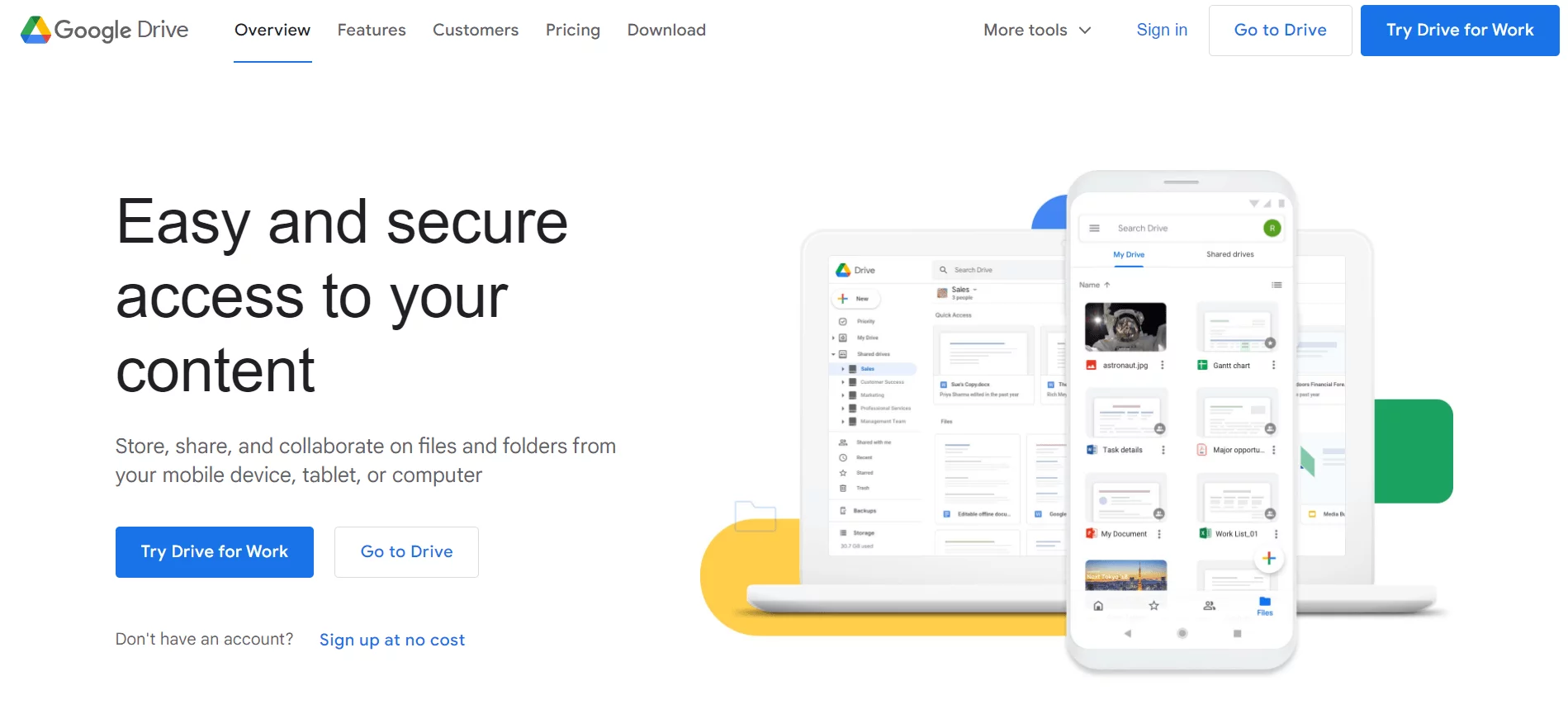 Google Drive is a cloud-based storage service that allows you to easily store, create, share, and work on written content with your team members in real-time.
Since Google Drive is part of Google Workspace, you also have access to other tools like Docs, Jamboard, or Sheets.
You can use Google Jamboard to hold brainstorming sessions and put your team's content ideas down on a canvas, while Google Sheets is useful for content planning and getting an overview of each member's workload. Google Docs is solid for creating content and leaving feedback.
Key features:
Collaboration: Work on documents, spreadsheets, presentations, and drawings in real-time. Leave feedback through comments and use the version history to track changes. Invite team members or external collaborators to your files and assign them specific roles (viewer, commenter, editor).
Storage: Store up to 15GB of files for free by dragging and dropping them into Google Drive. Organize files in folders and share them with your team.
Project management and planning: Use Google Sheets as a simple planning and project management tool. Create tasks, set due dates, and assign them to specific team members.
Drawbacks:
Google Drive is limited in content planning and creation tools compared to other platforms in this list.
You'll use multiple Google Workspace tools for different aspects of the content management process (like Jamboard for ideation, Sheets for planning, or Docs for creation), which can become cumbersome.
Pricing:
Google Workspace's free plan includes up to 15GB of Drive storage and access to all other Google tools. Paid plans start at $6/user/month (annually).
4. Airtable: cloud collaboration tool for monitoring marketing campaigns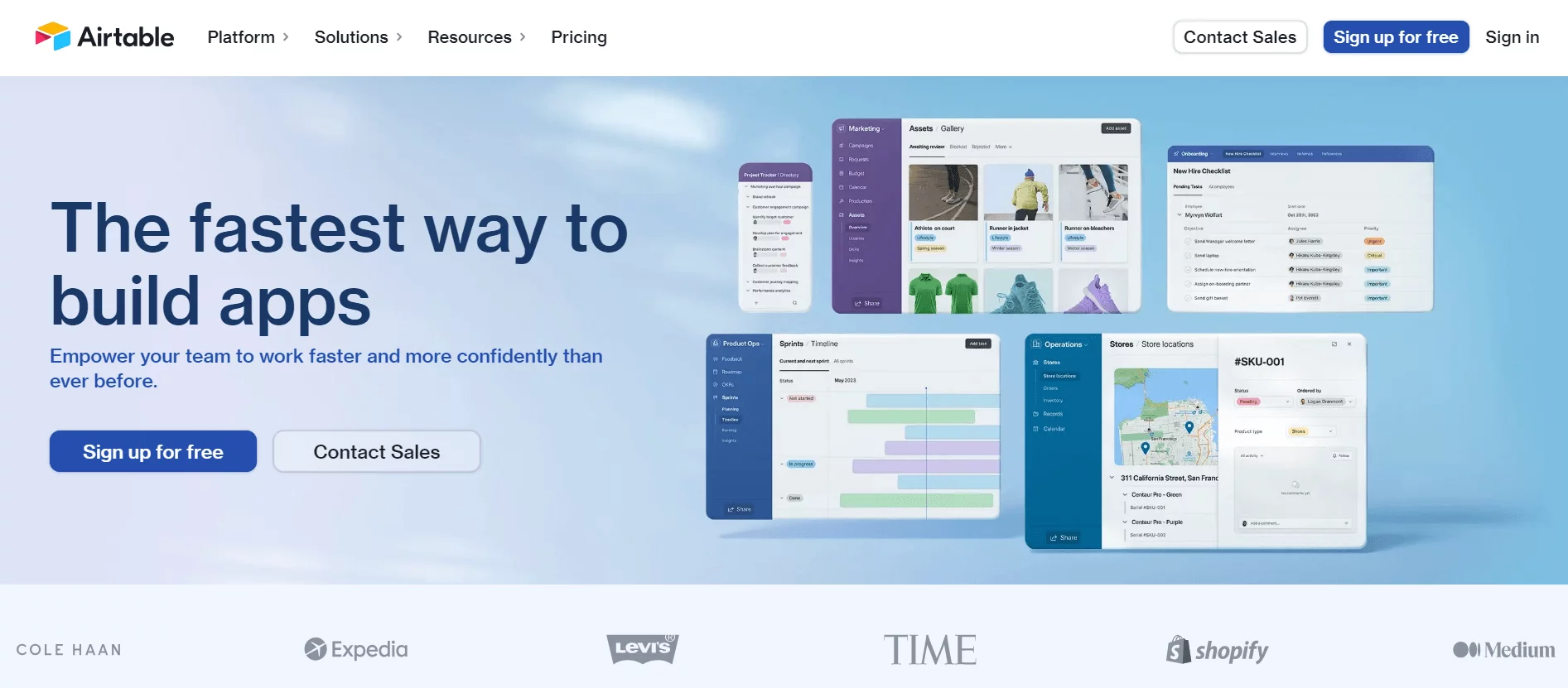 Airtable is a spreadsheet-based cloud collaboration tool with project and database management capabilities.
You can build databases in a spreadsheet format, and Airtable will display all the included information in a much more digestible manner through charts, top-line metrics, and graphs — perfect for turning large amounts of marketing data into comprehensible reports.
Airtable also offers various ready-made templates fit for content marketing planning, pipelines, editorial calendars, content operations, and more.
Key features:
Interface Designer: Easily create fully customized interactive interfaces that pull information from your database. For instance, you can turn each content topic within a spreadsheet into fully-fledged content briefs, or marketing data into interactive reports.
Collaboration: Invite team members to your workspaces and communicate via comments. Quickly notify teammates through mentions and set custom user roles as well as permissions.
Automation: Leverage Airtable's automation tools to create automated workflows. For instance, receive automatic Slack or email notifications once a record within your spreadsheet is updated.
Drawbacks:
Airtable users mention occasionally clunky UI and encounter issues when importing projects (task properties and tags lost during the importing process).
The free plan offers limited records and automation runs.
Pricing:
The free plan includes up to 1000 records/base and 100 automation runs/month. Paid plans start at $20/user/month (annually).
5. HubSpot: content operations platform for omnichannel content marketing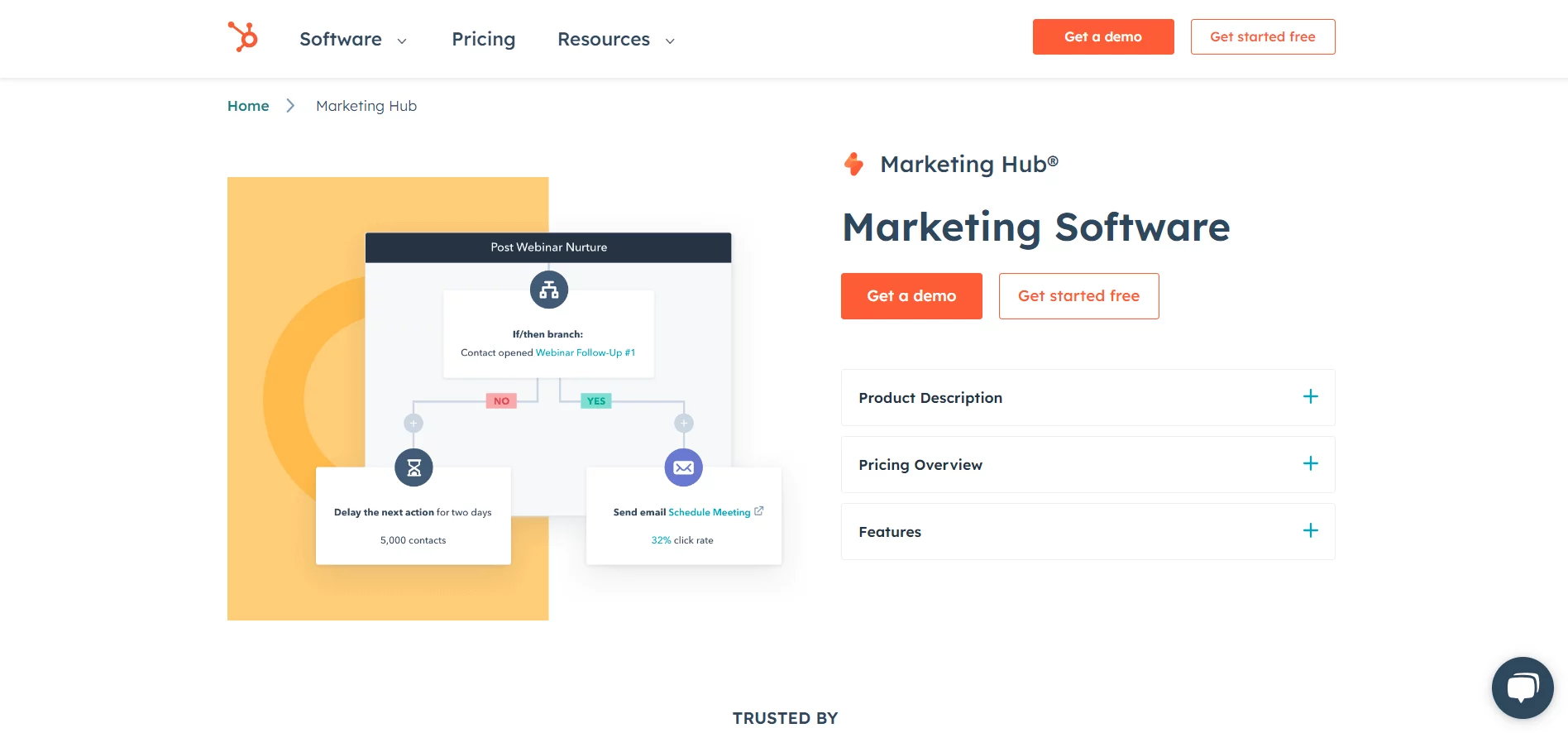 HubSpot's Marketing Hub is the platform's all-in-one marketing solution. You can use it to set up blogs and landing pages, receive SEO suggestions to boost traffic to your web pages, and run A/B tests across landing pages or emails.
The platform shines through its omnichannel marketing capabilities. You can create and promote content through social media, email, and advertisements. HubSpot also offers omnichannel automation to streamline marketing campaigns across numerous channels.
Key features:
Social media marketing: Publish content for Instagram, Facebook, Twitter, and LinkedIn. Monitor your target audience's conversations regarding specific topics by defining keywords.
Email marketing: Automatically run segmented email marketing campaigns. Generate email health reports and use the platform's A/B testing tool to improve campaign performance.
Blogs and landing pages: Easily build and deploy blogs and landing pages via a drag-and-drop interface and large template selection. Generate traffic analysis reports and boost search results ranking with HubSpot's SEO recommendations.
Drawbacks:
There are large pricing differences between paid packages, which makes scalability an issue.
HubSpot's users mention on G2 that building landing pages is tricky. The landing page builder is also limited in flexibility.
Pricing:
The free version includes email marketing, advertisement, blog, and landing page tools. Paid plans start at $18/month (annually).
6. Content Snare: content operations platform for content collection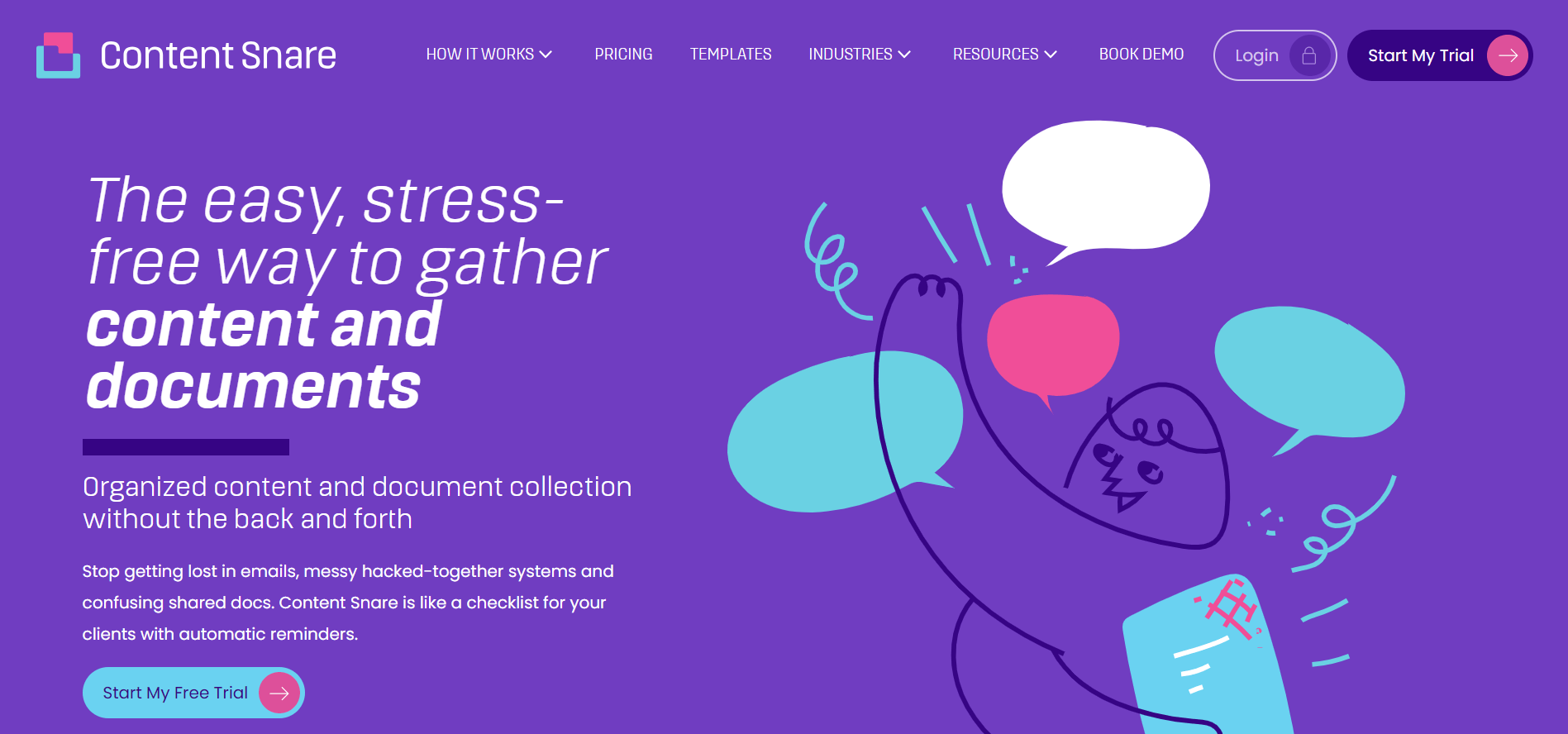 Content Snare is a content operations platform that makes gathering the information needed from clients to craft quality content easy. Most notably, Content Snare includes a drag-and-drop builder that allows to request content from clients (text, images, or files).
You can send requests directly within the platform while the clients can submit all the necessary information. From there, you can store and group content into folders dedicated to each project.
Key features:
Collaboration: Allow clients to leave comments under each request in case they need further clarification. Send clients automatic reminders to ease the content request follow-up process. Invite team members to the platform and give them separate permissions to view, send, reject, or approve requests.
Approvals: Approve or reject content submitted by clients. Set up Kanban boards to easily track and manage content requests.
Customizable templates: Use one of 50+ customizable templates to speed up the content collection process. Browse between specific categories, like accounting, digital marketing, design, and more.
Drawbacks:
Content Snare is strictly for gathering content. It lacks content optimization, publishing, and creation functionalities.
Each pricing plan holds a limited number of active content requests (requests that haven't been fulfilled). Once you reach that limit, you won't be able to send new requests.
Pricing:
Content Snare starts at $29/month (annually). The entry-level plan includes two users and up to 20 active requests.
7. Notion: content marketing platform for standardized content operations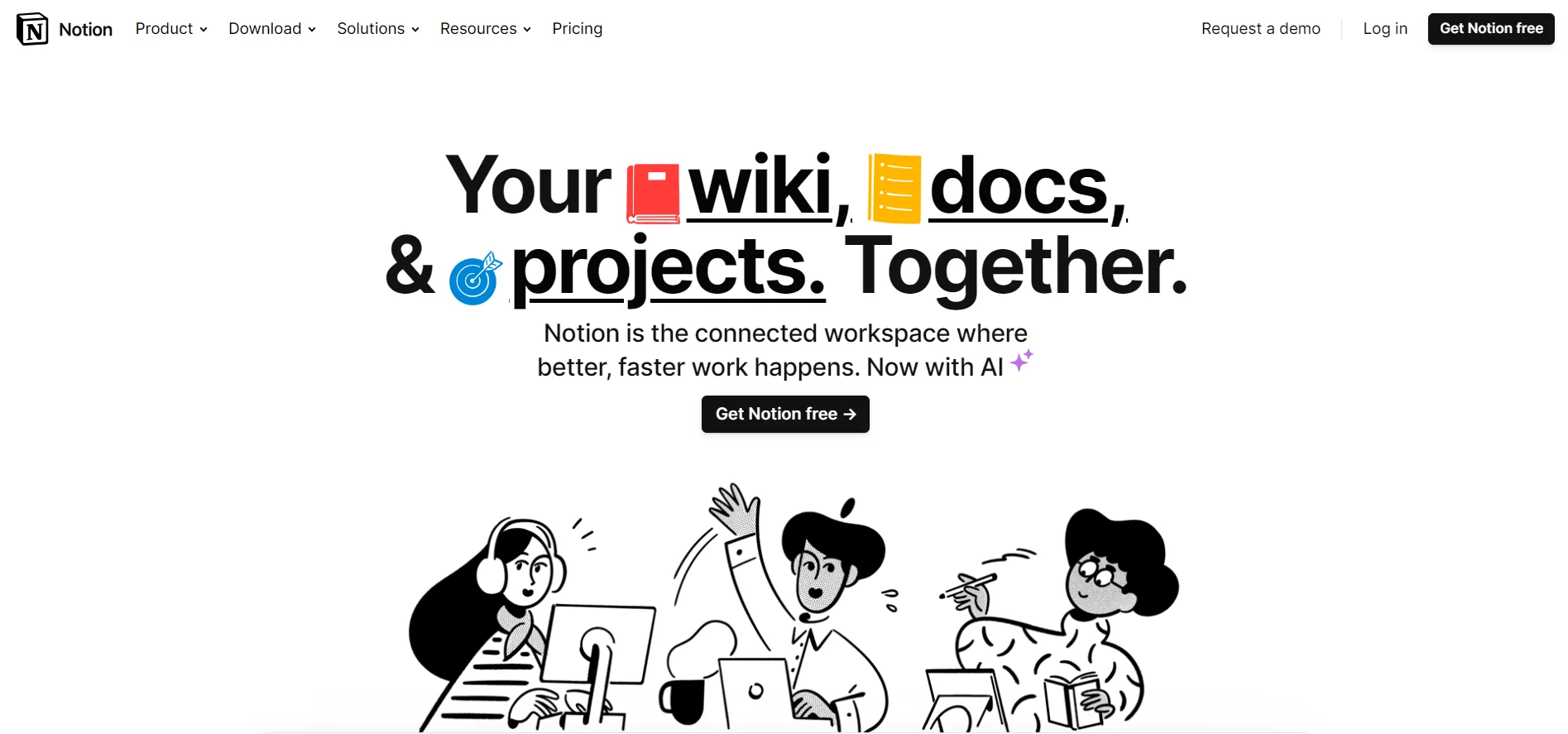 Notion is a productivity tool that stands out through its document management capabilities. The platform allows you to store all company documents within a centralized location and turn them into web pages.
This is especially handy for a standardized content production and content distribution process. You can organize documents like style guides, content briefs, or knowledge bases.
Turning these documents into web pages gives your team members easy access to specific information, like tone of voice and content formatting requirements. This helps create content that aligns with your target audience and is always on-brand.
Key features:
Project management: Set up tasks, sub-tasks, and dependencies. Organize tasks based on their priority, for streamlined workflows.
Document creation: Set up documents with embedded images or videos, and include tables of contents or collapsible sections for better readability. Collaborate on documents through comments.
Templates: Choose between 500+ templates fit for various needs, like editorial calendars, content briefs, social media planners, and more.
Drawbacks:
Some Notion users mention a steep learning curve for newcomers.
Another G2 review presents that the platform's AI-powered assistant (extra add-on) can generate inaccurate content and delete existing workflows, databases, or templates.
Pricing:
Notion includes a free plan that allows you to invite up to ten guest collaborators. Paid plans start at $8/user/month (annually).
8. Trello: project management platform for small teams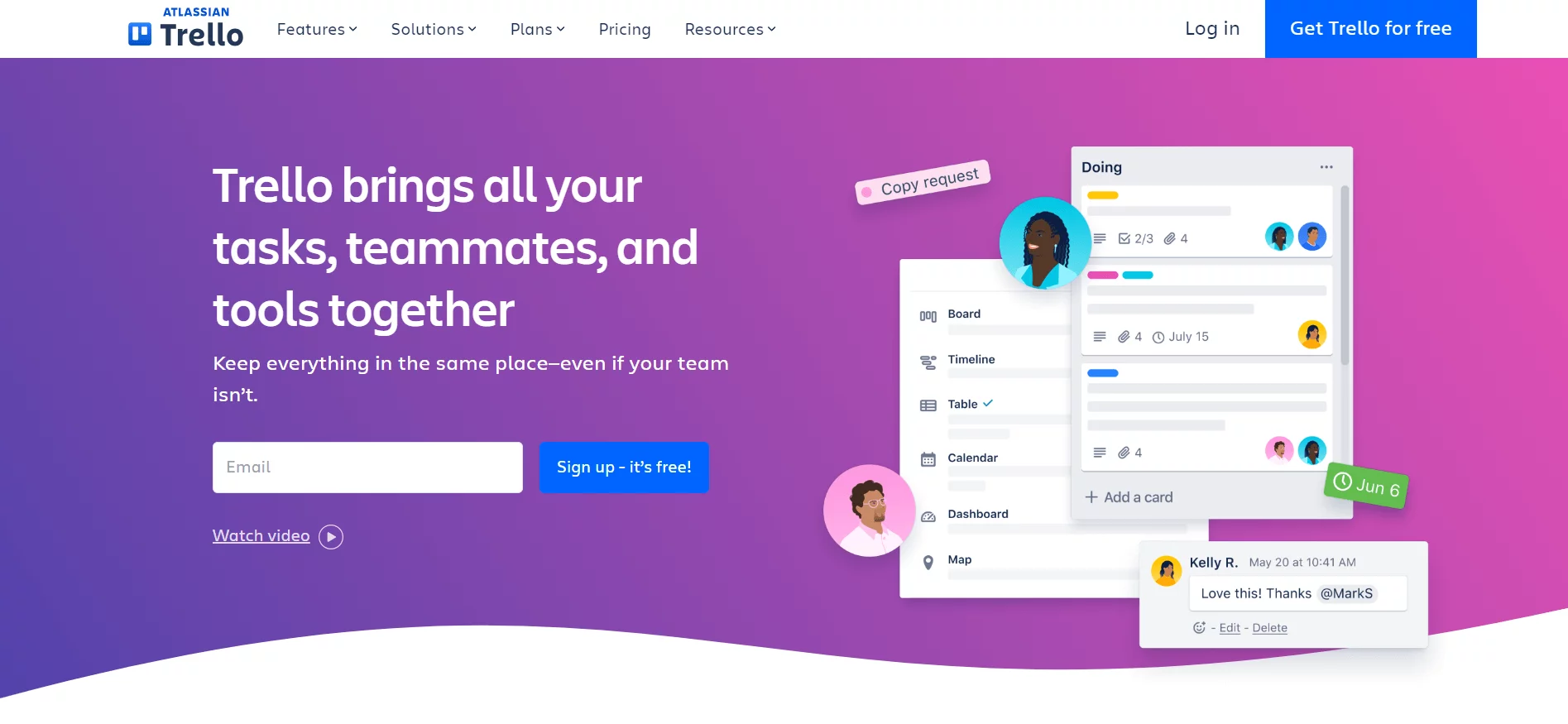 Trello is a Kanban-based project management solution designed with simplicity in mind. The platform's highly visual interface allows you to easily overview all of your team's tasks, along with their statuses and due dates.
Trello also includes a no-code automation tool that can automatically add team members to tasks, move tasks across various workflow stages, or set due dates.
Key features:
Collaboration: Leave comments and attachments under each task. Tag team members to quickly notify them of feedback.
Customization: Access numerous ready-made templates fit for various activities (marketing, education, sales, etc.). Visualize your workflow in different ways through the platform's calendar, board, table, timeline, and map views.
Task management: Use the platform's no-code automation tool to set up task dependencies or delegate work across team members. Get automation recommendations as you manually perform repetitive tasks.
Drawbacks:
Trello doesn't include any built-in content creation or editing functionalities.
Trello lacks advanced features like productivity reports or goal tracking.
Pricing:
The free version includes up to ten boards per workspace. Paid plans start at $5/user/month (annually).
What is the best GatherContent replacement?
Planable is among the best GatherContent alternatives. In contrast to GatherContent, Planable is a highly easy-to-use platform that supports seamless content collaboration and scheduling posts for social media platforms. With a free version and paid plans that start at just $11/user/month (annually), Planable is also much more affordable. Sign up for Planable!