Remember when you started to manage your first social media accounts? How many were there? Two, three? It seemed like a light breeze, a walk in the park, floating in creativity. 
Let's fast forward to now when you're managing multiple social media accounts. Maybe 10+? That light breeze suddenly turned into a swinging brick that keeps smashing your head. Whether you're managing multiple Facebook accounts for different clients or different social media profiles for one brand,
it's no longer rainbows and butterflies, it's sink or swim.

Well, I've got good news. It can go right back to being a walk in the park. And it's not that complicated. Just like any major workload, managing multiple social media accounts and staying sane is all about staying organized. It's about finding the most efficient way to do each task and designing clear and beautiful processes.
Why is managing multiple social media accounts so difficult?
In my experience, the biggest difficulties are in creating the content and collaborating with the team. We've all been in that chaotic process of
searching for great content
, setting up a calendar in an excel, emailing everyone for their feedback, going from desk to desk to ask for feedback because no one replied, sending kind reminders, receiving the feedback, not understanding what the hell changed, spending other hours redoing it, and finally getting those posts LIVE!
Be it Instagram, Facebook or LinkedIn, take a look to realize how ridiculous the manual process of dealing with multiple social media accounts is:

If you have this kind of process to juggle various social media accounts – take a good look at it and at each step it contains. Now throw everything away and think about a new process, an efficient one that means every second of your team's time is spent doing something important, that moves the needle.
In order to do that, we advise social media experts to map the following:
We propose the above categories because, from our experience and discussions with social media managers, these are the main pain points of managing multiple social accounts. Those processes get in the way of agencies taking on new clients, of

clients being happy
with outsourcing social media, and of the created content being flawless.
1. Account management and organization
When you define how you will manage and organize

all the social media accounts in your portfolio, you have to keep in mind that the process should be as clear and as simple as possible. You're doing so much more than publishing content on multiple social media accounts. You have to think about your clients, their pages,

and

brands, the teams from your side and from the clients' side and the navigation between all those accounts.
To be more specific, each client has a set of brands and social media accounts. Keeping all those separately is difficult. You can only open so many incognito tabs and use so many browsers. Here's where Planable would help. The workspaces design makes client and brand management easy. You can just create a new workspace every time you take on a new brand. There you go – you can manage multiple social media accounts like a walk in the park.

To add to that, you can give access to a different set of people for each workspace you create. The users from the client's side will definitely be different, but how about from your team? A lot of social media agencies decide to appoint different teams to each client according to the industry, to their own preferences, to their personalities and tone of voice. Well, that becomes extremely convenient when you can add them with one click.

2. Content planning
Now that you've mastered the art of separation, organization, and navigation, it's time for the next step: content planning. Planning and writing content takes a lot of hard work so any social media expert wants it to look the best way possible and attract the most number of fans. In order to achieve that, both your team and the client's team should see as accurately as possible the end result and make well-informed decisions.
Way too many agencies put a lot of effort towards that accuracy. Many social media experts post on test pages or even worse, use Photoshop to create mock-ups. That kind of effort should be highly appreciated by any client, but the amount of time wasted on that could be invested in more social media accounts or better content.
That's a problem we faced and it's the foundation on which Planable was built. If you created one single post on Planable, you know that the platform is built to be almost the same as the social networks that you plan to post on.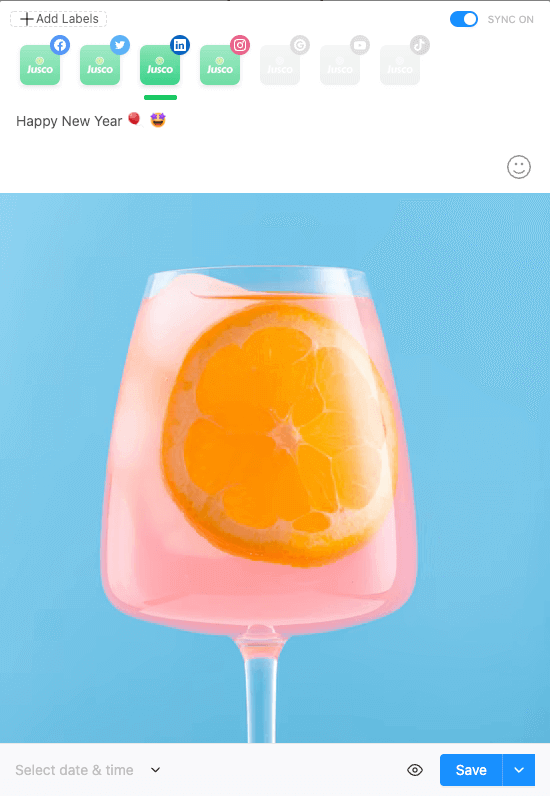 What's also important is that you need an easy way to go through the posts. One way to know immediately what the status is, the go-live date and the basics such as the pages they're meant for.
3. Content calendar
The content calendar is usually a busy spreadsheet with lots of rows and many dates. But that doesn't really sound like a calendar, does it?  A calendar should be an easy and clear view of how the posts look like, how many there are, what type they are and how dense the days are. It should provide an easy way to move those posts around to make the plan balanced.
When I worked in social media, I used to simplify my work by fixing to 3 times a day – 3 different posts. I would've loved to look at an overview, understand how the posts are planned and adapt accordingly.

Not to mention that my job would've been so much easier and less about execution if I had a way to create the posts and then drag and drop them in a calendar. But spreadsheets didn't allow me to do that. And I had to use the spreadsheets because a lot of teammates were working on the same pages and needed to be in the loop and advise. Which brings me to the next step.
4. Collaboration
As we've established, managing multiple social media accounts can be a real pain. However, when there are entire teams involved, things get even more tangled. Simple things like gathering feedback, which is so important that it should be so super easy, become a drag. Requesting feedback through email is what

social media managers hate most. The real disaster always begins when they email everyone involved to get feedback.
It's not a disaster due to the number of different opinions. But rather because it's an email thread that becomes so long you'd think it's a hair from Rapunzel's head.
What social media teams need to handle multiple social media profiles is:
Clear roles and responsibilities

A way to establish permissions for each team member (create, approve, feedback, view, etc.)

A place to see content in context so that the feedback is not subjective, but references a result that everyone agrees on

A system to notify everyone on progress, status and posts

A control

version

.
On the same note, I'm curious: did you ever have the spreadsheet vs. doc debate? If you have, you understand. If you haven't, let me explain: the dilemma comes from track changes. Most spreadsheets don't allow users to track changes and docs don't support tables very well. Here's to a conversation we'd all like to avoid!

5. Approval workflow
How would you manage multiple social media accounts if the approval process would consist of one click? Fast & efficient, that's how!
Be efficient but without discouraging anyone to voice their concerns

Be transparent and trustworthy so the client can be at ease

Provide alignment amongst the team members and between you and your client
We've already pointed out how annoying email threads can be. However, when it comes to approval, the result of a bad process can go as far as losing a client due to miscommunication. When all the feedback and approval is done by the approver, tracked and with one click, miscommunication doesn't happen.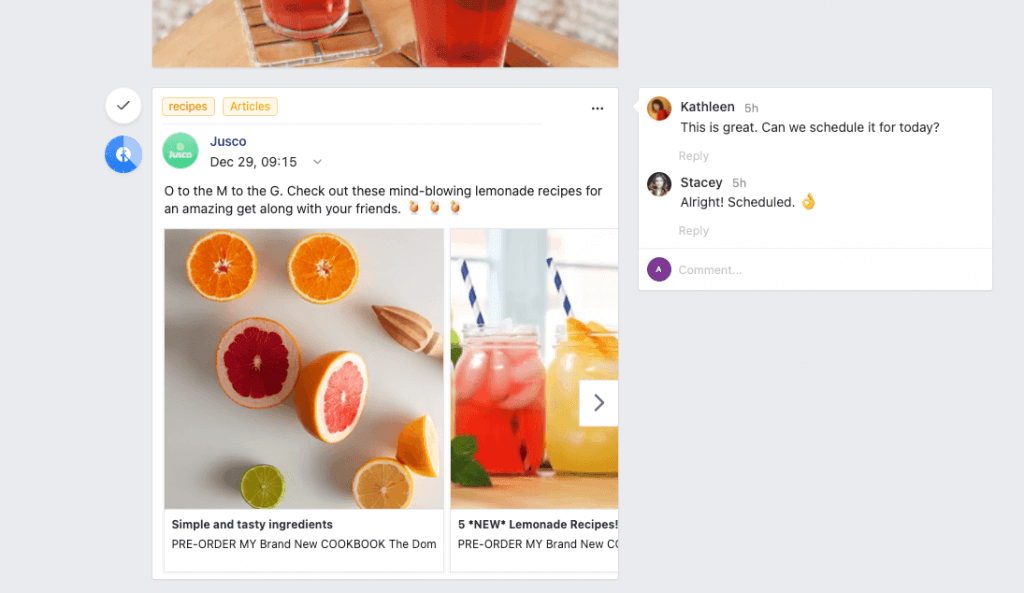 6. Automatic publishing
This doesn't come as a surprise. All of the above would be in vain if you couldn't also publish automatically using the same platform. However, to highlight this again, if you were to do it manually, there's only so many incognito windows you can use.
This is the ultimate guide to managing multiple social media accounts… without going insane and with keeping your clients happy.
Let us know if we missed anything.
Miruna Dragomir
Miruna Dragomir, Marketing Manager @Planable. Social media fanatic, tech geek & a sucker for learning. Past experience? Social Media Comms Manager @Oracle & Marketing Coordinator @Uber