Social media is not just difficult to avoid, it's omnipresent. Even people that have quit smartphones watch the occasional YouTube video. Or use LinkedIn for work. And where there's social media, there are influencers. Love them or hate them, it's quite obvious they're quickly becoming a marketing juggernaut, and this guide tells you exactly how to use their power to your advantage.
What is influencer marketing?
Influencer marketing means harnessing the reach and engagement of someone with a large following on social media – an influencer – to promote your business to a wider audience.
When did influencer marketing start? 
The modern-day, online version started as early as 2005. Remember the pink-haired people of Myspace?  Or the beauty and gaming vloggers on YouTube? Then, in 2010, Instagram was launched and influencer marketing exploded. The launch of Snapchat a year later, and then Tiktok in 2017, only propelled its growth.
Influencer marketing statistics
It's hard to keep pace with the speed at which influencer marketing is growing. This is where it currently stands:
Is influencer marketing worth it? 
If 91% of marketers are to be believed, then yes, it is. It has been written-off several times, but this 'passing trend' has been going strong for over 10 years. Not to mention, half the world's population is on it – with social media users surpassing the 4.5 billion mark last year. That's a lot of untapped audience potential to be missing out on. 
What influencer marketing is not
Because it's a relatively new marketing channel, and due to its constantly evolving nature, influencer marketing often gets confused with or compared to other channels. Here's how it fares against them:
Influencer marketing vs. traditional marketing 
The entire premise of traditional marketing is based on mass outreach. Think billboards, email marketing, and TV commercials displayed to thousands of people, regardless of their preferences. Influencer marketing, in comparison, is highly focused, and also more affordable.
Affiliate marketing focuses on generating leads and driving sales conversions as opposed to the multi-purpose utility of influencer marketing which can be used for everything from brand awareness to driving demand for products.
Influencers, in contrast to celebrities, are widely viewed as real people. Albeit those that eat, dress, and live a little bit better than the rest of us. They have very specific niches and parasocial relationships with their followers. It doesn't just make them more believable, but also someone their audience can actually aspire to be. 
With ad-blocking services and data protection laws cracking the whip on traditional advertising, marketers have to shell out hefty premiums to compete for visibility. Influencer marketing offers a cost-efficient way (although mega-influencers do charge mega-bucks) to get your content or product out there. The additional bonus is that seasoned influencers can promote your business without making it seem contrived or distasteful.
Influencer marketing pros and cons
Influencer marketing isn't perfect. As with any other marketing strategy, it comes with its set of advantages and disadvantages. 
Pros 
The biggest advantage of influencer marketing is that it helps businesses reach wider audiences.

It lends credibility to the product or service.

Businesses can connect with hyper-targeted demographics.

It can be cost-efficient when compared to more traditional marketing channels.

Influencer content has higher engagement rates than standard business push-outs.

It also produces high-quality, creative, non-cliche content that can otherwise be difficult for a business to produce on its own.
Cons
An improperly planned campaign can lead to a loss of control over brand voice, especially when influencers with massive followings are involved.

Brand reputations can suffer due to collateral damage from influencer controversies.

The ROI of influencer marketing can be difficult to quantify.

Mega-influencer partnerships are expensive and take away the cost benefits of influencer marketing.
How to pick a winning influencer marketing strategy
You can pick your influencer marketing strategy based on your platform:
1. Influencer marketing on Instagram
In the world of influencer marketing, Instagram reigns supreme. It has 2 billion active monthly users, two-thirds of which are millennial or Gen Z users, making Instagram the place to be for both influencers and marketers. What's more, over 80% of Instagram users use it to discover, research, and make a final decision to purchase new products. 
But finding the right influencer on Instagram can be a bit needle-in-hay-stack-ey. If your manual search isn't getting you anywhere, influencer platforms like Upfluence and Klear can help you find influencers based on their niche, engagement rates, follower location and other demographics. 
Brands like H&M and Daniel Wellington partner with different types of influencers to ensure sustained buzz and revenues. H&M's summer campaign, for example, has mega-influencer Gigi Hadid as frontliner, with macro, mid and micro-influencers strengthening its reach.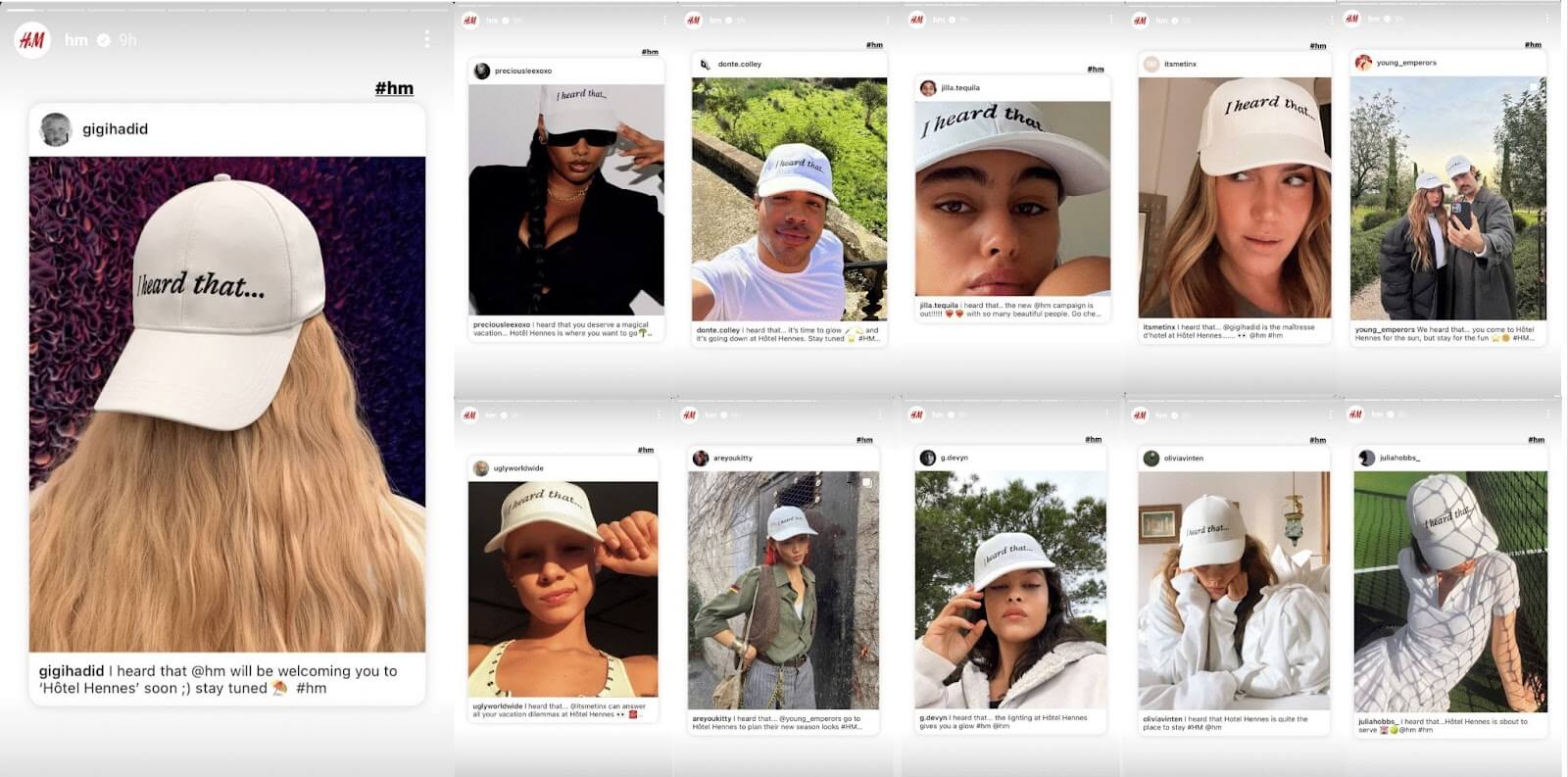 You can also boost branded content that's performing well organically to improve campaign success.
2. Influencer marketing on TikTok
Influencer marketing has been a big part of TikTok's ecosystem since its launch in 2017. And while it has always been a stronghold for B2C sponsorships, B2B influencer collaborations are also gaining traction. Given its popularity with users below the age of 30, it presents a great opportunity for businesses catering to the younger demographic. 
Spark Ads, Tiktok's native branded content ads, can be used to promote content created by other users promoting your brand/business. KFC used them to increase the reach of its collaboration with TikTok's favorite grandma, Lili Hayes, for a product launch.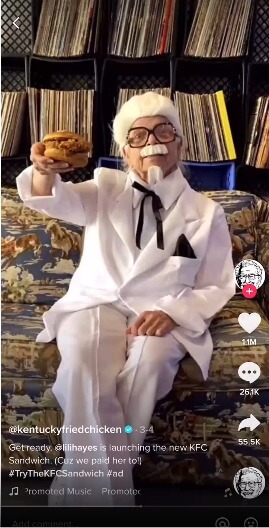 The campaign got them 221 million views and a 9.3% engagement rate. 
Influencer collaborations help your business grab eyeballs and also encourage UGC (user-generated content) creation. The same goes for Hashtag Challenges, although these will undoubtedly work better for B2C brands with a wider audience. 
3. Influencer marketing on Linkedin
Influencer marketing used to be a consumer brand game until LinkedIn, with its 810 million-strong user base of professionals, happened. It has its own influencer list, but with people like Bill Gates, so you're better off looking for influencers yourself. Try a simple search with the keywords and hashtags closest to your business's niche. You can also use LinkedIn Sales Navigator to filter professionals based on industry, keywords or your degree of connection with them. 
Unlike other channels, most LinkedIn influencers probably haven't built their online presence to make money per post. So if you want them to promote your business, your offer has to be mutually beneficial. Like a cross-brand promotion, a free trial or a discount code for your product. Or invite them to webinars, interviews or podcasts, as SparkToro does here.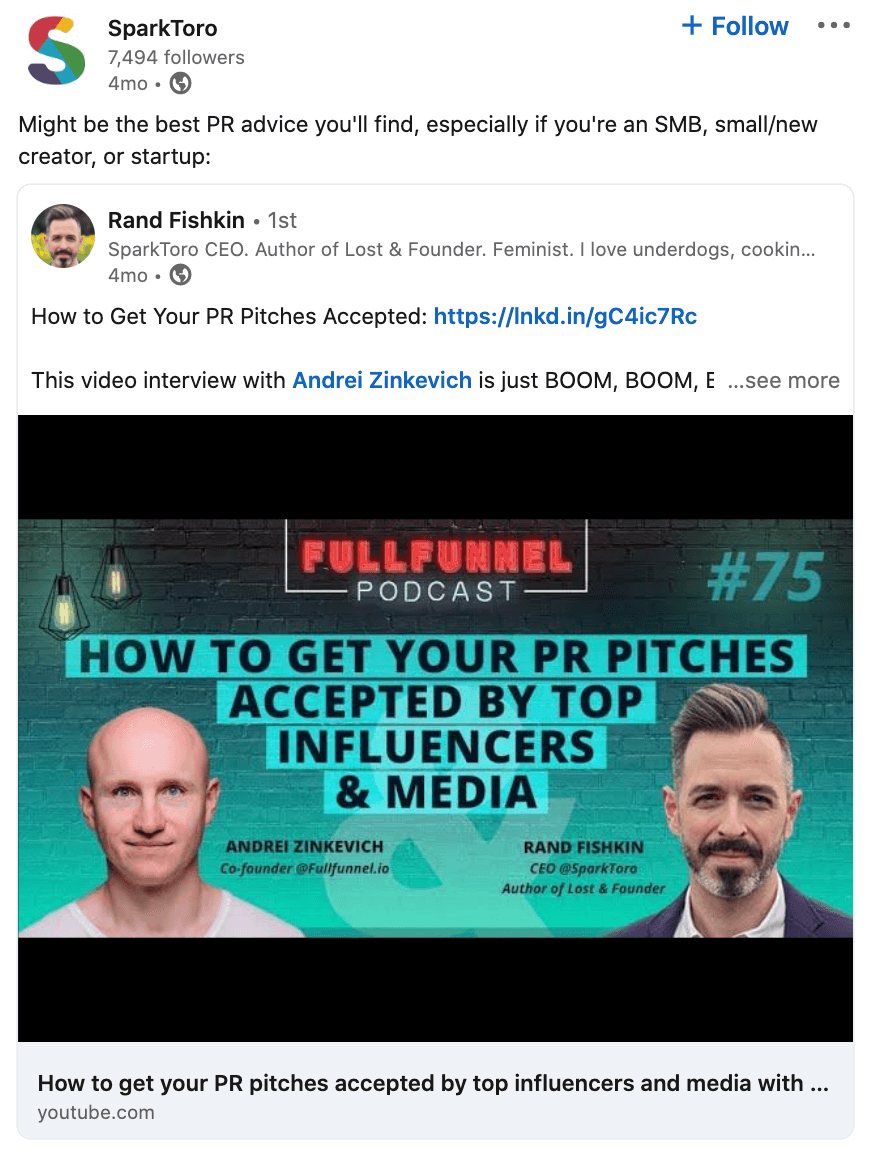 If you can't reach them on LinkedIn, you can use a tool to find different contact details across different platforms and try to approach them in another manner. As a last resort, you can consider making roundups mentioning them to boost your reach.
4. Influencer marketing on Youtube
As the most popular long-form video platform, YouTube has a near-monopoly over unboxing videos, in-depth product reviews, and gaming streams. It's also the king of long-tail value because of the never-ending scope for reaching new audiences. A video an influencer made for your business in 2023 could be raking in revenue years later.
So whether it's a toy review or an organic kimchi recipe, influencer partnerships with established YouTubers can give a leg-up to your business's popularity. Product placements and video sponsorships are also common ways of collaboration. 
Old Spice collaborated with CalebCity, an American YouTuber known for his comedy skits, in a very well-received campaign.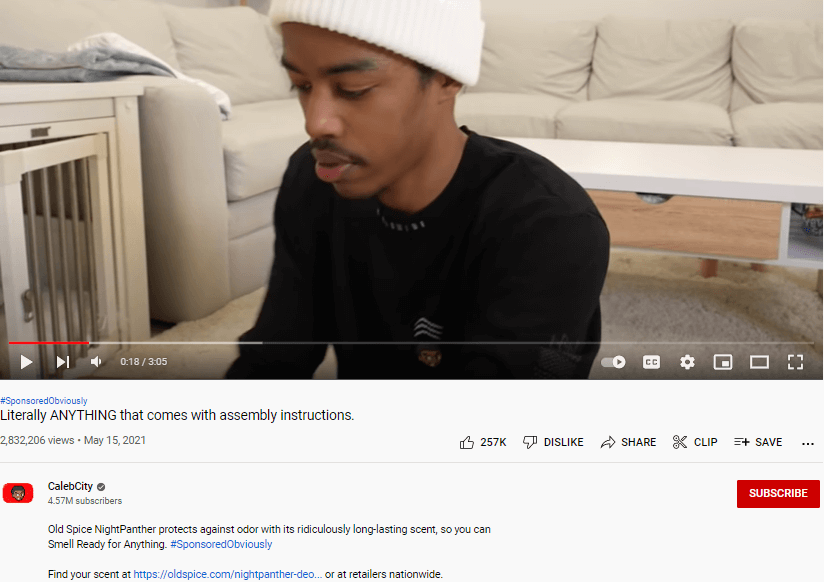 For B2B businesses, podcasts and expert opinion videos that offer value to industry professionals can help build credibility and generate leads.
You can pick your influencer marketing strategy based on your business type:
1. Influencer marketing for small businesses
Influencer marketing helps tightly-run small businesses balance their marketing budgets with their aspirations. Nano influencers (10-100k followers) and micro-influencers (<10K followers) are the perfect fit for small business influencer marketing campaigns. 
Make sure to do your research because influencers with fewer followers can have super-engaged, but also hyper-localized audiences. They charge anywhere between $10 to $500 per post and might be more open to product-for-post collaborations. By planning wisely, you can squiggle your way out of expensive ads, promotion-planning fatigue and low reach, all in one go. 
2. Influencer marketing for brands
Bigger brands, with roomier budgets and social media teams to manage their marketing campaigns, can consider taking a layered approach. Instead of going all-in with one mega or macro influencer, collaborate with influencers across different levels. 
An ambassador program lets you form long-term partnerships with influencers that are trusted by your target demographic. A longer, well-timed campaign can also help you improve your brand image and get exposure to more diverse audiences.
3. Influencer marketing for B2B
B2B influencer marketing might be something of a late-bloomer, but more and more businesses are making the shift from lackluster marketing drivel to a more human and personalized approach to connecting with leads. 
And it doesn't just have to be industry giants reaping the benefits. LinkedIn posts and podcasts, Twitter polls, and even Instagram reels can become avenues for B2B businesses of all sizes to get a wider reach, more engagement, and faster sales cycles. 
Influencer Outreach
Influencers might not be celebrities, but they are popular. That makes them somewhat difficult to reach through direct messages on social media. But most serious influencers include a work email in their bios for inquiries and collaborations. You can also find professional email addresses using Hunter's Email Finder. Just enter the influencer's name and company, and you'll get a result in seconds. Email Finder perfectly works to find B2B influencers.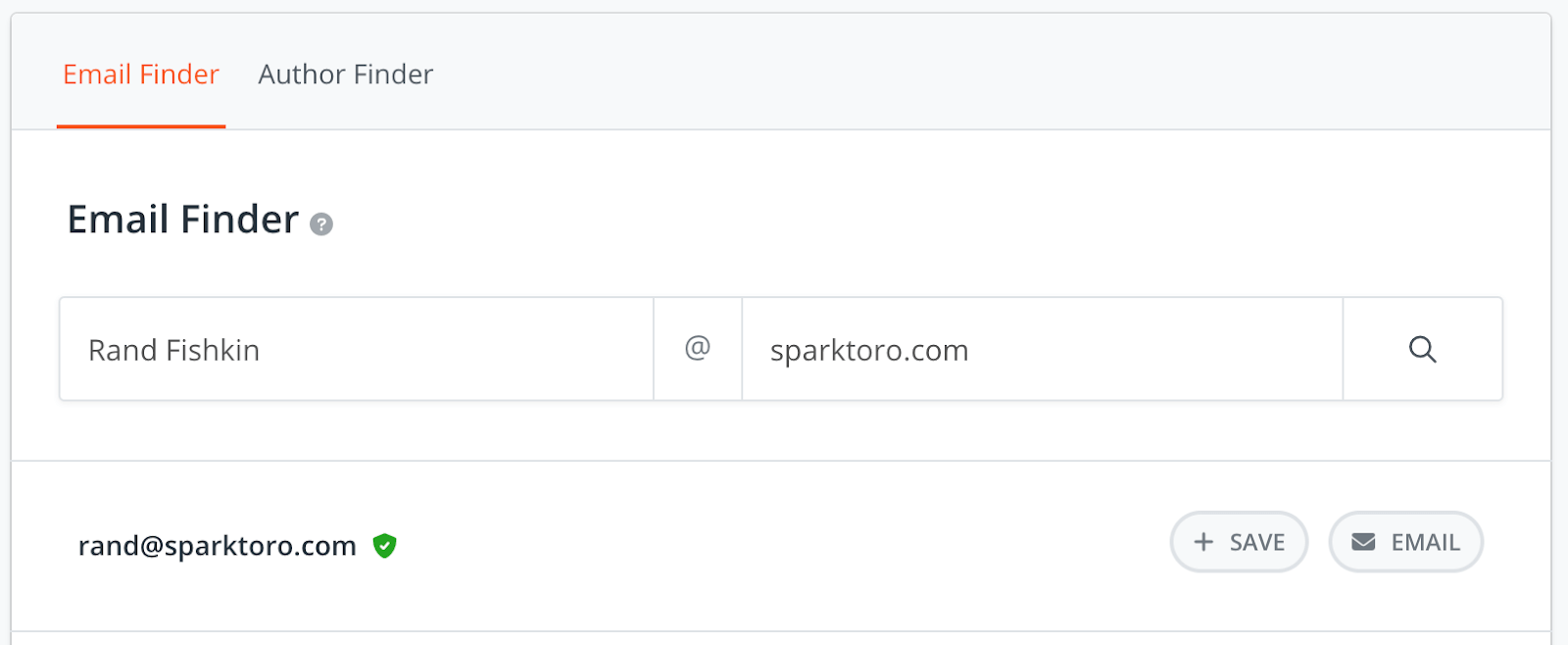 Regardless of the mode, keep your first message short. A one-line introduction, personalized compliment, and expression of interest in collaborating with them should be enough. Before you shoot off your offer, make sure to verify you've got the right email address to avoid wasting precious time and effort. 
Also use a grammar checker to ensure there are no spelling mistakes; you want to come across as a serious professional and grammatical errors may mean some influencers take you less seriously.
Influencer Marketing Costs & ROI
Influencer marketing costs can vary wildly across platforms. They range from $10-$25 per post on the lower end to $100,000-$1 million (if you want Beyonce, that is) on the higher end. Some influencers prefer to charge a flat fee per post whereas others might opt for performance-based compensation (on the basis of reach or sales conversions) or a hybrid of the two models. 
A 2020 Marketing Influencer Report puts the ROI from Influencer marketing at $18. That said, ROI calculation depends on the goals of your campaign. Is it brand awareness? Or a sales lift? At times, the results might not be apparent immediately. Monitoring the corresponding metrics over a continued duration will help you understand your successes and failures better. 
Can you do influencer marketing without paying? 
Technically, yes. On the extremely rare chance that an influencer is a fan of your product or just starting out. But campaign successes cannot be built on blind luck. If you expect an influencer to provide you with value, you need a dedicated budget to pay them for their services or offer a value in return such as a free tool, mentioning their business in a round-up, etc. 
Objectives & vision
Influencer marketing is a full-funnel marketing channel and can boost everything from awareness and interest to buyer intent and sales conversions. Defining your goals can help plan which influencers to work with, and also what kind of content you'd like them to create.
Results & measuring success 
Influencer campaigns generate a lot of data and it's easy to go overboard by analyzing every trackable metric. That's why setting KPIs is crucial. So to measure campaign traction and revenue resulting from influencer activity, use metrics that align with your campaign objectives such as the number of impressions, engagement rate, landing page visits, overall revenue, return on influencer marketing investment, etc.
When influencer marketing does not work
In March 2020, the US Fair Trade Commission filed a lawsuit against Teami, a tea and skincare brand, for using its influencer marketing campaign to make false claims that its products could cure cancer, migraines, cholesterol problems, and help lose 5-20 pounds in a week.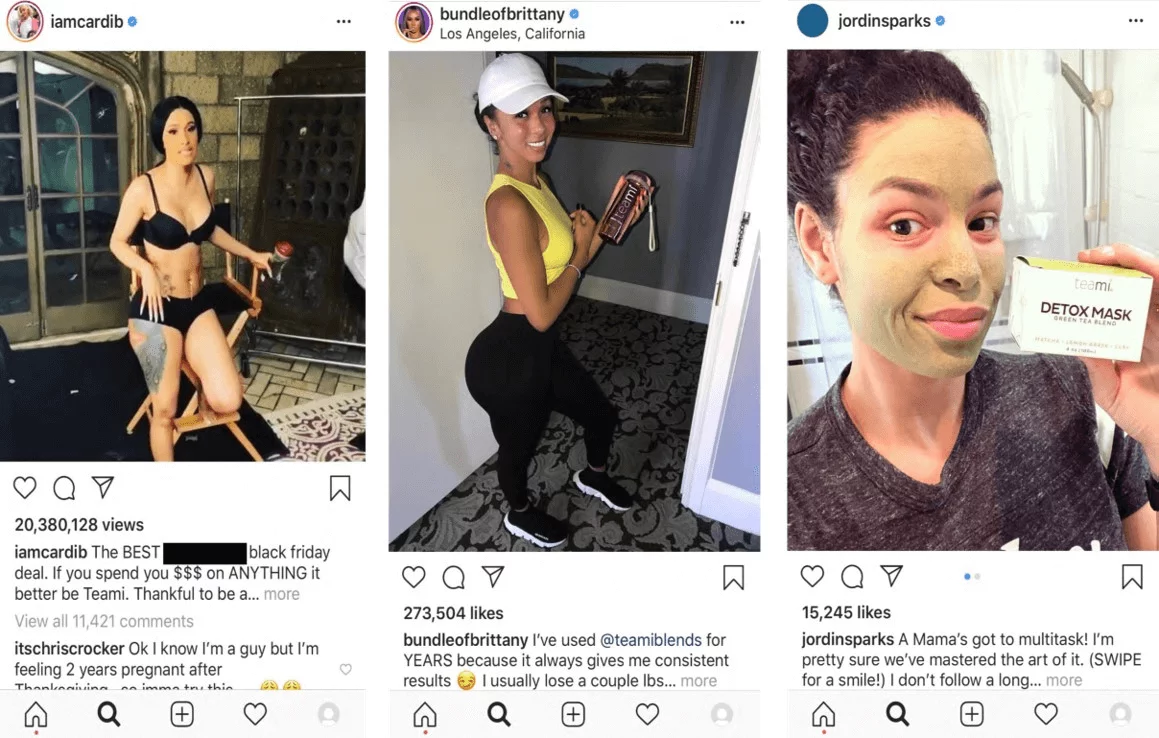 Source:

FTC
The suit, which was settled for $15 million, revealed that the promotional content posted by Teami's influencers did not make adequate disclosures, or comply with Teami's own social media policy. 
So this is what you should not do in your influencer marketing campaign:
Make false claims or allow influencers to do so

Leave out or make unclear disclosures about the sponsored content of the posts

Not having a clear social media policy

Fail to communicate or enforce your social media policy when partnering with an influencer
Influencer marketing FAQs
What does influencer marketing look like in the metaverse? 
In Mark Zuckerberg's own words, Metaverse will be a space where users are "immersed in content, not just consuming." It's too early to predict, but at the very least, the 3D virtual world promises to be interactive at never-seen-before levels. 
A business's virtual space on Metaverse will have to attract a large number of users. Social media influencers, with their finesse at gathering and addressing large audiences, will play a key role. 
Is influencer marketing ethical? 
The relationship between influencers and their followers is based on trust. Don't exploit that trust by asking influencers to promote an unhealthy, dangerous or fraudulent product. Also, 62% of social media users think it's unethical for influencers to promote products they don't actually use. So take time to cover all the bases and include contract clauses to ensure full disclosure of sponsorships. Determine if the influencer's values align with that of your business to damage-proof your collaborations.
What will influencer marketing look like in 2023 and beyond?
In less than a decade, influencer marketing has gone from being an add-on to digital marketing to a major revenue source in its own right. With the entry of virtual influencers and Metaverse, the already dynamic world of influencer marketing is set to become even more volatile. But if the failure of Famebit is anything to go by, it's that businesses will continue to have to establish human connections both with influencers and their audience. The emphasis will remain on what it always has: authenticity, trust and relatability.