We've said it before and we're saying it again—working in digital marketing isn't easy.
A day—scratch that—an hour doesn't go by without a new release, feature, algorithm change that affect your strategies and campaigns. Keeping up is hard and remaining a relevant expert in this field is a close to an impossible challenge.
A while back we decided to help with a piece featuring the top social media influencers to follow. Now we're thinking social feeds and blogs aren't always enough to stay up to date. Scrolling is difficult and it takes time. Listening, however, can be done while multitasking. That's why I love podcasts—they're such a great way to learn on-the-go.
But what's a great habit if you don't share? After years of listening to podcasts, I came prepared with a list of 35 podcasts a marketer should listen to. Don't feel intimidated, you don't have to love them all—try them out and see what fits.
I'll make it easier for you to find and jump directly to the podcasts you're most interested in
---
Social Media Marketing podcasts

Hosts: Jay Baer, Convince & Convert and Adam Brown, Salesforce
About the podcast:
Since he discovered online marketing in 1993, Jay has advised more than 700 brands from all over the world. Also, he's a New York Time best-selling author of multiple books, blogger, influencer and amazing podcaster. It's always a pleasure listening to his podcast because he discusses long-debated topics with amazing guests and it's always eye-opening. It's fresh, practical, engaging and hosting some of the best minds such as Neal Schaeffer, Brian Fanzo, and Madalyn Sklar. Social Pros has been named best podcast by Content Marketing Awards
Listen: Online | iTunes | Stitcher | Spotify

Host: Michael Stelzner
About the podcast:
It's not a surprise that the moguls at Social Media Examiner created one of the best podcasts in the social media space. Just like their amazing blog, they bring great experts on the show and discuss tactics and real tricks that help professionals stay up to date and win in the social media space. You'll find out about messenger bots, improving your Ads, building a social campaign, upgrading your funnels and how to make the most of your social strategy. Michael designed this podcast to help marketers and business owners understand what works better in digital marketing.
 Listen: Apple Podcasts | Android | Google Podcasts | Stitcher | TuneIn | RSS
SEE ALSO: [FREE TEMPLATE] Why Your Social Media Proposal Isn't Getting Results

Host: Rick Mulready
About the podcast:
If you're new to running ads on social media for yourself or clients, this podcast is a great start. Rick knows all the juicy stuff and delivers value in every single podcast episode. I've learned from him a lot. It's not only about strategy, but also helpful tactics that you can apply for your business. Rick's focus is on generating ROI from all the paid traffic you're getting and it's probably exactly what you're looking for. It's fun to listen to and always delivers professional content in his podcast. I'm looking forward to the next episodes.
Listen: Online | iTunes | Podbay | Stitcher

Host: Tyler Anderson
About the podcast:
It's been around for over 5 years with more than 214 episodes already published. Every week, Tyler gets close to some of the top brands and influencers to discuss the latest tactics in digital marketing, social media, and content marketing for all the social networks you can think of. It's always insightful and enlightening. Tyler knows how to get to the point quick but explanatory enough that it's perfect for both beginner and expert listeners.  
Listen:  iTunes | Podbay | Stitcher | Podbean | PlayerFM

Host: Jason Miller
About the podcast:
Every two weeks Jason interviews marketing experts from all around the globe. He brings important insights on building a better social media presence on LinkedIn for yourself and your business. It offers a refreshing angle to the topic of LinkedIn Marketing that makes his show unique and valuable for digital marketers. Oh, and you'll be amazed by the number of parallels there are between marketing and rock and roll.

Host: Sonia Simone
About the podcast: No bs short-form podcasts by Sonia, where she analyzes and debates the most recent topics in digital marketing, copywriting, content marketing, email marketing, conversion optimization, and many more. Their approach is very honest, transparent and straight-forward. There will be no "wait, what do you mean" questions while you're listening to them.
Listen: iTunes

Host: Jenna Kutcher
About the podcast:
Jenna is the #girlboss social media influencer, a woman who took a $300 Craigslist camera and turned it into a million dollar empire and she's obsessed with social media. If you're looking to make money online, work remote, leave your 9to5 job, create passive income and turn your passions into profits then that's the podcast that will help you. Every week, Jenna brings productivity tips, social media strategies, business hacks and stories that can help you become a better entrepreneur using social media marketing. Also, she's interviewing some of the great professionals in the industry, like Amy Porterfield, Melyssa Griffin, Lori Harder and so many more. One thing I really like about this podcast is that It feels like Jenna is speaking directly to you, having a chat on the couch.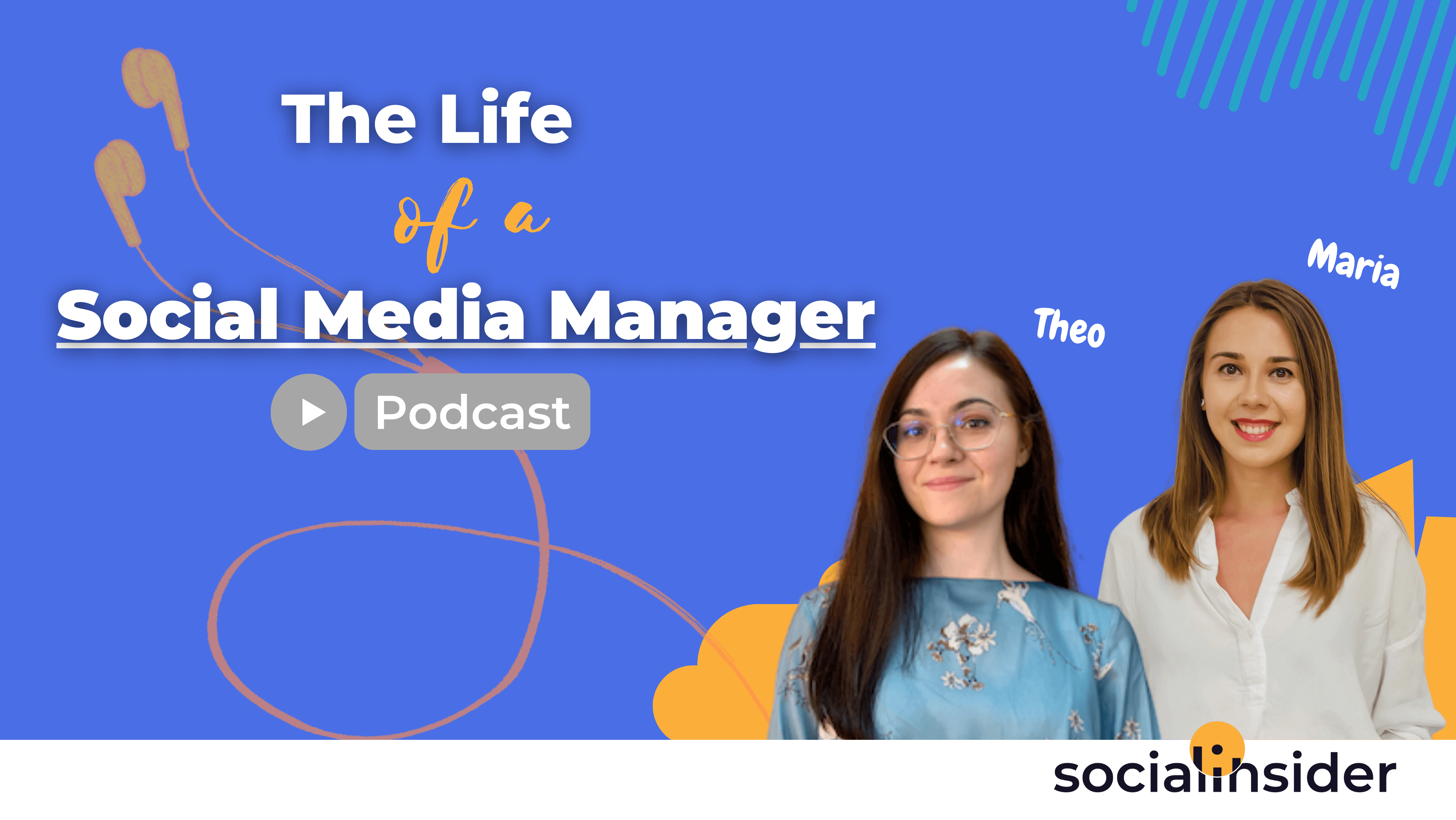 Every week, Theo & Maria from Socialinsider talk with industry experts to discover what it takes to build a successful career as a social media manager. 
Marketers from some of the biggest brands worldwide, such as HBO Max, Pinterest, Canva, and Puma, discuss what they love about the job, what they find challenging, strategy tips, and more.
With an average of 30 minutes, the podcast is perfect to start your day with.
Listen: Apple Podcasts | Spotify
---
Digital Marketing Podcasts

Host: Amy Porterfield
About the podcast:
Amy speaks about everything marketing related with easy to understand the content. If you're looking to start an online business, Amy will definitely help you – she's talking about growing your e-mail lists, establishing a strong presence on Youtube, building your short-term SEO plan, earning money as an affiliate and these are just some of the big questions. Amy digs into the world of online marketing strategies by talking with some of the best experts like Marie Forleo, Neil Patel, Russell Brunson and organizes marketing master-classes and step-by-step guides. With each episode, you'll get immediate action points on making the most out of our strategy. Discover why business owners come to Amy to generate more profits in the following podcast.
SEE ALSO: The Beginner's Guide To Becoming A Badass Digital Marketing Freelancer

Host: Ciaran Rogers and Daniel Rowles
About the podcast:
It's a weekly digital marketing podcast with listeners from all over the world. It combines interviews with global experts, with the latest updates in the digital space, including marketing tools, strategies, and techniques to give you the best knowledge and expertise. It's perfect for your daily commute and it's both entertaining and informative.
Listen: Spotify | Apple Podcasts | Stitcher |  TuneIn | Soundcloud
11. Write Podcast

Host: Julia McCoy
About the podcast: In a nutshell, it's about content marketing, SEO keyword research, storytelling techniques, insider social media tips and much more. Julia loves to write, that's why she started her own six-figure content marketing agency with a pocket investment of $75 after she quit school and McDonald's at 20 y.o. She brings her passions to the podcast world with each episode and shares the most inspiring stories from entrepreneurs. As for her guests, she interviews real experts and episodes are always packed with real-world strategies for creating amazing content. Some of her guests include Joanna Wiebe, Sujan Patel, Jeff Deutsch, Michael Stricker, Steve Rayson.
Listen: iTunes | Spreaker | iHeartRadio

Host: Rich Brooks
About the podcast:
It's simply what business owners should start listening to. Rich breaks through the noise and gives you real stuff and information from best-best digital marketers. He's an excellent interviewer asking all the right questions. No fluff, all actionable and the knowledge shared can immediately help your brand. In this podcasts, you'll learn how to improve your online visibility, drive more qualified traffic to your site and convert that traffic into leads and business.

Hosts: Park Howell
About the podcast: It's been named among 40 Best Small Business Podcasts in 2017 and has more than 300,000 downloads. In each episode, you'll listen to stories from content creators, advertising creatives, authors, screenwriters, makers, marketers and brand managers to help you make your own brand story stand out. It's a captivating, informational, excellent and wonderful storytelling resource for business communicators.
Listen: Online | iTunes | Spotify | Stitcher |  Libsyn
14. The Real Estate Crowdfunding Show by Dr. Adam Gower

Host: Adam Gower, PhD
About the podcast: For the last few years, Dr. Adam Gower has been producing a podcast on digital marketing best practices specifically oriented to commercial real estate syndicators who want to find more investors and raise more capital.

Listen: Online | Apple Podcasts | Spotify

Host: Andy White
About the podcast:
With over 460 episodes , it's one of the most popular internet marketing podcasts in the UK—downloaded by over half a million people. It's easy to listen with lots of interesting topics debated. In the Internet Marketing Podcast, hosts are sharing the latest tools, techniques, and strategies to help generate more leads and improve online engagement. They interviewed some of the best marketers in the world, including Ian Cleary, Seth Godin, and Tim Ferriss.
Listen: iTunes

Host: Brian Morrissey
About the podcast: It's a weekly podcast show with Brian Morrissey, where they discuss the big stories and issues related to brands, agencies, and publishers in the transition to the age of digital. "If you want to listen to a digital industry podcast, listen to this one. Best topics, best analysis, the best tone of voice. Brian Morrissey is the god" says one of his fans.
Listen: iTunes | Stitcher | Anchor

Host: Mitch Joel
About the podcast: When I started research on this show, I couldn't believe it – it has more than 600 episodes in total created in less than 6 years, that's truly impressive. Mitch Joel, clearly a dedicated podcaster, has weekly conversations with business leaders, thinkers, innovators and cultural icons. This show is bringing insights and challenges that brands face to the light. It touches on consumers, technology, businesses and on how connected we've all become.
Listen: iTunes
18. Marketing SMarts from Marketing Profs

Host: Kerry O'Shea Gorgone
About the podcast: It's a weekly 30-minute podcast started back in 2012. It features valuable marketing know-how and delivers actionable insights and honest advice to help marketers around the world succeed. Marketing SMarts includes in-depth interviews with world-class performers in this industry, such as Chris Brogan, Garrett Moon, and many others.
Listen: iTunes
19. Behind the Numbers eMarketer

Host: Bryan Yeager and Marcus Johnson
About the podcast: eMarketer is one of the leading news publication on digital media and marketing. Since 2016, they started a podcast packed with conversations on how digital is transforming business and even life. Enjoy!
Listen: iTunes | Soundcloud | Stitcher
20. Duct Tape Marketing

Host: John Jantsch
About the podcast: John, one of the best small business marketing experts in US, is interviewing authors, experts and thought leaders to share their business marketing tips, tactics and resources.

Host: Bernie Borges
About the podcast:
I've been enjoying this podcast for a while, listening to some of the best experts at Content Marketing Institute, SAP, Evernote and many others. Bernie is discussing the role of social media from a business perspective with multiple tactical and actionable insights. He leads the conversations with his guests to fuel your social media marketing and I could only wish episodes were longer.
---
Growth & Acquisition Podcasts
22. The SaaS Revolution Show

Hosts: Alex Theuma
About the podcast:
When you're growing a SaaS business, everything is about acquisition and retention. That's why social media & digital marketing strategies are what you need to grow your business. It brings tactics and insights from revolutionary founders, executives and investors that share wisdom on scaling to the first 100.000 customers and reaching global scale as a startup. I've been a subscriber for over a year and I hope to meet you at the conference.
Listen: iTunes | Stitcher | Soundcloud

Host: Meghan Keaney Anderson
About the podcast: It's a series of stories about the companies who almost had to shut their doors, but managed to launch an epic turnaround. Who doesn't love a good comeback story? You'll hear about some of the most successful brands and leaders that built their businesses from scratch. An absolutely great podcast to get inspirational and educational content. The guests are offering actionable advice on how to grow a brand, a company and so much more.
Listen: iTunes | Stitcher | Soundcloud |  Spotify
24. Inside Intercom

Host: Des Traynor
About the podcast: It's probably one of my favorite podcasts on growth, marketing, startups and learning. I've heard stories from some of the best entrepreneurs in the world, like Steli Efti, Eric Siu, Joel Califa, Ryan Hoover, Sujan Patel and many others. On the Inside Intercom podcast you will hear the team from Intercom interview makers and doers from the worlds of product management, design, startups and marketing.
Listen: iTunes | Stitcher | Spotify | Soundcloud
25. Inside a Hustler's Brain

Inside a Hustler's Brain Podcast is a podcast hosted by Jitendra Vaswani. A podcast that inspires people to be creative and build successful business online. Jitendra is sitting down with real time hustlers to learn about their business process and how to create a positive impact to the world. Jitendra has interviewed many marketing legends like Grant Cardone, Neil Patel, and Rand Fishkin on his podcast.
In each episode Jitendra founder of Bloggersideas.com and acclaimed author of "Inside A Hustler Brain : In Pursuit of Financial Freedom" Book shares process of going through tough phases of his life, his marketing guests share their strategy of building mindset of a hustler to be financially free. Jitendra has built his 6 figure business without any outside capital.
This podcast covers various topics like digital marketing, content marketing, blogging and most importantly, gives out tips on how to lead and manage a business.
---
Advertising Podcasts 
26. Ad Age Ad Lib

Host: Brian Braiker
About the podcast:
The newest podcast from Ad Age is featuring a series of conversations with some of the biggest personalities in advertising, media and marketing. They're looking to understand the humans behind the corporate titles. There are a lot of big personalities in this industry—freaks, geeks, pirates, weirdos, hipsters, rock stars, legends, wizards, critters—and they hope to learn more about what makes them tick.
27. Advertising Podcast from the IPA

Host: Paul Bainsfair
About the podcast: IPA is a professional organisation for advertising, media and marketing communication agencies in the UK. It represents over 300 agencies which are responsible for 85% of UK advertising and communication spend. IPA knows what they're talking about. In each episode Paul Bainsfair, Director General @ IPA speaks to professionals across the industry on their careers and the future of advertising.
Listen: iTunes | Soundcloud

Host: Tara Moore
About the podcast:  FutureVision Conversations explores the…you guessed it…future – blockchain, AR/VR, artificial intelligence, future of gaming, money and entertainment. It's peeling back the layers of disruptive innovation with futurists, R/GA experts and industry analysts. Discover how brands and marketers are preparing for an uncertain future.
Listen:  Soundcloud | Stitcher
29. Adlandia

Host: Laura Correnti and Alexa Christon
About this podcast:
ADLANDIA is a bi-weekly podcast focused on the noise created in the advertising and marketing industries. Laura and Alexa are challenging the old thinking and analyze the disrupted industries today. In each episode you'll have the chance to meet some of the best talents and business models in the marketing and publishing industries. ADLANDIA is a place for critical thinkers and creative minds.
Listen: iTunes | Spotify | Stitcher
30. Adnews Podcast

Host: Pippa Chambers
About the podcast: In this podcast, they sit down every month with members of media, marketing, and advertising industry to discuss trends and challenges they are facing today.
Listen: iTunes | Soundcloud

Host: Zach Rodgers
About the podcast: AdExchange is the leading podcast when it comes to ad tech. It explores the opportunities of data-driven digital marketing in a series of interviews with advertising and martech experts. It features key figures in the industry and people who are on the front line of digital advertising today.
Listen: iTunes | Stitcher |  Soundcloud | Spotify
---
Agency Owners Podcasts

Host: Jason Swenk
About the podcast: We know how hard it is to grow your agency and we understand that feeling of uncertainty when it comes to scaling your agency. Well, here's a podcast for you, a podcast specifically designed for digital agency owners. Jason Swenk is hosting a weekly show where he interviews the best of the best agencies in the world. Smart Agency Masterclass already reached more than a half million listeners in 42 countries.
Listen: iTunes | Spotify | Soundcloud
33. Agency Advantage

Host: Andy Baldacci
About the podcast: If you run a design, marketing, development, branding or any other kind of digital agency – this is might be exactly the podcast you've been looking for. It delivers great interviews with digital agency owners. The interviews are focused on extracting actionable advice that you can immediately implement in your own company.
34. Social Minds

Host: Theo Watt and Eve Young (Social Chain)
About the podcast: Social media is altering behaviors which have remained unchanged for decades, the repercussions of which have spread far and wide, infiltrating homes and tearing through industries. Join them if you're ready to face the truth of an always-online world, but be warned – once you know, there's no going back. Social Minds is the UK's first ever dedicated social media marketing podcast and is brought to you by award-winning global agency, Social Chain.
Listen: iTunes | Spotify | Soundcloud | Google Podcasts | Stitcher | TuneIn 
35. Strike Gold

Hosts: Jonathan Kahn and Roy Povarchik
About the podcast: Strike Gold is a marketing podcast hosted by Jonathan Kahn and Roy Povarchik. Each Monday, join Roy & Jonathan, for a new hour-long episdoe with some of the top marketers and growth experts. Learn how to grow your startup from companies such as Amazon, Elementor, Gong.IO, Ahreds, Backlinko, Monday.com, Zappos, and more.
Listen: Apple | Google | Spotify

Vlad Calus
Dropped out of college, moved to another country with 2 of my friends and built Planable (Techstars London '17), social media collaboration platform, at 19 y. o. Forbes 30 under 30