Cairngorm Coffee: In-house Social Media Done Right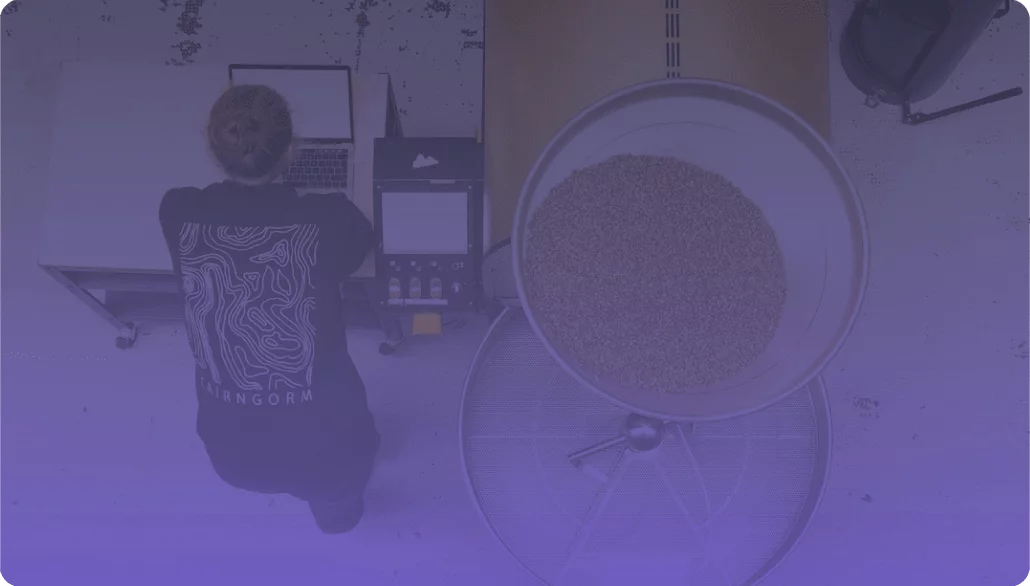 Industry
Team
Business size
Cairngorm Coffee is more than just a coffee shop, it's about the place, the people, the atmosphere. It was first opened in 2014 by Robi Lambie as a small coffee shop named after the beautiful Cairngorm area in Scotland where he grew up.
With the help and support of his family, he started Cairngorm Coffee and turned it into a specialty coffee shop. In the years to come he opened a second location in the heart of Edinburgh.
Today he has a great team besides him, including Patrycja Zych, in charge of social media and manager of the Melville Place Cairngorm Coffee shop.
"Robi's father has a coffee shop in Cairngorm. That's where he got the idea to come to Edinburgh and start his own place. He quickly realized that speciality coffee is the future so he created Cairngorm Coffee with this in mind. Right now every single coffee shop in Edinburgh is pretty much a specialty coffee shop, which is amazing.

What's also really great is we're growing and learning together. We all got a chance. When I joined the team I basically had no experience with speciality coffee and Robi gave me a chance. He said: 'I see potential in you'.

Since then, I started learning and became so passionate about coffee. Now I manage an entire coffee shop and all of our social media. It was all baby steps in the 2 years and a half since I joined the team."
After two successful coffee shops, Robi decided to change things up and began the process of roasting his own coffee. The yellow labeled sortiments are now easily recognizable and show up more and more in their followers' feed.
"Slowly the coffee became really popular, so we started creating this really strong brand around it. We got our yellow signature color which you can now see everywhere on social media. As our community grew we realized it became more of a lifestyle. That gave us the idea to expand into merch: t-shirts, hoodies, cups etc.

We're trying to show people that we're very relatable. That's what we try to express on our social media as well. We're open to chat with anyone and answer all questions."
Social media is key to building a brand and a community around it. It can be even more powerful when it comes to smaller businesses. If used in a smart way, it quickly leads to an engaged strong community that will happily promote your brand without trying.
Fitting social media in your day-to-day job
Social media is everywhere. We all know it, we're all on it. So it's easy to underestimate the complexity of brand social media management.
"Before, Robi used to post himself. He'd just take a photo and post it from his phone when he found something interesting to share. Afterwards we worked with a team, but the message just wasn't personal enough so we decided to go back to doing it in-house.

However, I still had an entire coffee place and all its employees to manage, so I had to figure out how to do this. I was a total newbie when it came to social media management."
When you're handling social media for your own company, you might think it's a good idea to "wing it". You already know when something cool is going to happen so you can just post on the go.
It can work at first, but it's not scalable. Especially since in smaller teams, the person handling social media usually has other responsibilities as well. So fitting this into their schedule and saving time becomes an important part of the process. Especially if you have multiple accounts and social media pages to manage.
Planning is just as important for small teams
No matter if you're a team of 3 or of 30, planning ahead is necessary. It allows you to have an overview of what's to come, prioritize, and stay productive. Handling social media post by post becomes unproductive really fast. It fragments the workday and distracts people from any deep work.
"It can be really difficult to do everything and post in real time. In my personal case I plan all social media on Monday so then I can focus on something else, like managing people at the shop. This way I know all the posts are planned for the whole week and I don't need to worry about it again. That's really handy."
A clear process and workflow gives you the right framework for efficiency and productivity. Even if it only involves a couple of people. Coming up with a routine helps you dedicate time to developing and growing the business further.
"Each Monday I visit both of the shops, I take photos, and chat with our employees. I make sure I'm up to date with what each shop is doing. Are we serving any new coffees this week? What are our specialities? And so on. I collect all this information and use it to plan the social media content for the week ahead."
Having everything in one place, one workspace, allows you to see "the bigger picture". It's easier to keep track of all posts and plan ahead when everything is under one roof.
Collaboration: the X factor
It's just as important for smaller businesses to make sure there's no miscommunication in their social media. Especially when they have such an engaging community like Cairngorm Coffee does. The way to do that is through collaboration. Having an extra set of eyes to double check posts. Or even help you create awesome content. Social media is rarely a one-person game.
"Sometimes Robi or other employees will take photos and send them to me. Or even customers that happen to be photographers take some really nice shots that we can use. So I gather all these pieces of content and plan them for the following week."
A media library is great to gather content from different sources and have it ready to access whenever you're planning your posts.
Of course another big part of collaboration is feedback. An easy and simple way to comment on posts is always a plus. This is also the case for Patryczia and Robi:
"Most of the time, Robi just takes a look at the new content I add. He logs in from his computer or on his phone when he's on the go. Just to have an overview and make sure I put out the right information. If he feels like he could add something, he just edits the post directly, and it's ready to go out. It's really useful that he can easily check and see if everything looks good."
With small businesses you usually don't have a dedicated social media team. The people involved have another million things to get done. A tool that makes your content collaboration as efficient as possible is key. An easy way to give feedback and approve posts simplifies the whole process. And leaves everyone assured that things are under control so they can focus on their other tasks.
Working with Planable
When you begin a journey with social media you need to do a couple of things: create, plan, collaborate, schedule, and publish. Luckily, Planable can help with all of that. And what's even greater, is that it's super user friendly. Don't take our word for it!
"When we decided I was going to be in charge of social media, I knew I would only have one day a week dedicated to this. I needed something where I could schedule and plan content ahead.

Not having much experience with social media before, the first time I opened Planable it took me a second to see where everything was.

I remember in the beginning I was focused on choosing the right shots and writing the captions. I spent a couple of hours learning how it all works and in the end all the posts for the next week were scheduled. So I was really happy about that and knew it was the right tool for us."
As any marketer knows, time-saving tools are great. But how much time you spend getting to understand those tools is just as important. Any tool that's too complicated and gives you additional headache is not ideal.
Thankfully, we created Planable with that in mind. Simplicity is one of our core values. Why click twice when you could click once? Nothing should be complicated, ever. If it's not as easy as turning a boxed mix into cake (add water, stir, bake), it never leaves the drawing board.
"Overall I feel like I figured it out pretty easily. By the end of the day everything was clear because it's so easy to operate. I really enjoyed that Planable is really logical, so that helped me a lot. I didn't have any trouble getting started."
In today's day and age social media is a must for any business, big or small. Managing it has to be on someone's agenda. Planable is just as useful if you're an agency juggling dozens of clients, or a small business focusing on creating engaging content for your community.
You get the same clear, clean interface where you can easily preview, collaborate and schedule all of your social media posts.
5000+ teams trust Planable with their content