Rakuten Viber & Planable — Making Personalization Efficient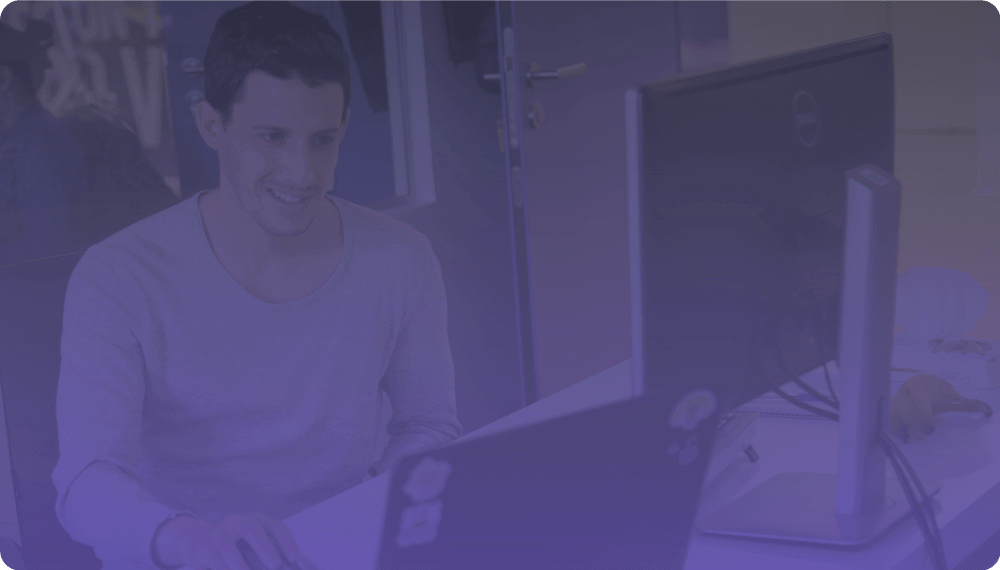 Industry
Team
Business size
Rakuten Viber is one of the most popular instant messaging apps in the world, with more than 1 billion people using it. It started out in Israel in 2010 and has taken over the Middle East, Russia, Eastern Europe, and some Asian markets.
You've probably heard about Viber. In case you haven't, the platform connects people with their friends and family. An interesting fact is that it didn't actually start as a messaging app at first, but as a VoIP solution. It used to allow people to have free calls between mobile phones. It was going great but as we all know, the world decided talking is inconvenient. When chatting became the new calling, Viber turned into a messaging platform.
Today, they are present in over 180 countries globally. And Matan Kauffman, Product Marketing Director, tells us that their biggest focus is privacy.
"We really believe that our product is the most secure messaging app in the world. That's basically our mission in the world, to connect people no matter who they are or where they're from. This is a very important message to us. A lot of the features we create are based on that. With the perspective of letting people communicate privately, securely, and expressively."
Rakuten Viber's mission is to connect people. However, the company takes one market at a time. To do that, and to truly connect with each market they serve, Rakuten Viber has local teams in several regions and countries.
How does Rakuten Viber communicate?
Rakuten Viber is a global company, but they believe each market deserves its own unique approach. Strategies and messaging that takes into account the market's culture, values, and language. To truly personalize messaging, a company needs employees who understand the context of their audience. Local employees who are native to the culture. At Rakuten Viber, local teams help support and communicate new features, branding, and mission.
Being culturally relevant while maintaining brand consistency is no easy task. It's why so many brands skip it. The trick lies in working together. Rakuten Viber puts collaboration first.
Social media @Rakuten Viber
Rakuten Viber gained maturity around 5 years ago. In some markets they are at the top, in others, they're still conquering. Matan made us realize that in the messaging space, the position in the market means everything. You're either in the first two, or you have no market share at all. That's because for a messaging app, the number of users is everything.
In terms of communication and social media, the number one goal for Rakuten Viber is strengthening their brand. They use social channels to reinforce their values. Privacy is the most important one. The second is to remind users that while the platform is free, they're not trading off their data.
Besides brand messages, they also share product information on their social channels.
"Feature communication is 90% of my work as a Product Marketing Director. In the end, it's a key part because we create more features, like any app, to drive more engagement. People spend more time on messaging apps than on any other social platform or even game apps. We use our social media as the key channel to communicate about features.

We believe in approaching people on social media because they have a different mindset there. It also creates better use cases and reasoning for why they need to use the new features."
Personalization can't be done without internal collaboration
For Rakuten Viber, personalization is essential. They don't want to be your typical international brand. They want to speak to their customers in their own language, with their culture in mind.
"The Russian market for Viber is so big and so important. We believe that we cannot just have a global approach. So we have marketing teams in Russia. We have marketing teams in Sofia overseeing the Central Eastern European countries. We have teams in Ukraine, in Singapore, in the Philippines.

These local marketing teams are our eyes and ears. They tell us how people use it locally, in different countries. This affects the way we communicate."
Doing that while keeping the brand messaging consistent is complicated. Local teams are the first and most important part. Flawless communication between those local teams is what makes the system truly work.
"We didn't have a platform where all teams could come together and work on social. We needed to make sure that nothing slipped through.

We used to schedule content through a different tool and it helped but we still had the issue of local teams being isolated. They wanted to publish targeted content. We didn't have the right way to create an approval process. We wanted to make sure that the global team can review content visually and ensure everything is aligned."
When personalized messages are crafted by different teams around the world, mistakes can easily happen.
"We tried other tools but they gave direct access to our global Facebook page. And sometimes people make mistakes. We had a message meant for a local page being published globally. It wasn't the end of the world. But the audience got a message not relevant to them. If this is something that happened over and over again, it wouldn't work.

We needed to find a solution to make sure the right audience is exposed to the right message at the right time. So we were looking for something to help us enable processes with tiers of moderation within a team."
Most mistakes aren't final. They're not the end of the world. They can start PR crises in the worst-case scenario. In the best case, mistakes happen, people notice, they move on. In time, though, such slip-ups can affect the brand. Dilute its image. Rakuten Viber realized that such mistakes can't be avoided while maintaining "band-aid" processes. They needed a solid workflow defined by clarity and ease.
Marketing teams deserve peace of mind
Social media is public. As public as it can get. No one, ever, wants to put the wrong content there. Rakuten Viber has about 15 people managing social media. Several pairs of eyes have to check a post before it goes live.
"When everything was done through emails, it was messy. If I skipped an email, the team didn't know if it's approved or not.

Everybody wants to get things done, which I'm really supportive of. But we needed a process."
Review processes are often scattered across multiple communication channels. Team members chase stakeholders. Stakeholders are buried in emails. Inboxes get full. Emails get accidentally deleted. No one has peace of mind and content goes out without being reviewed.
Clicking that publish button is rarely comfortable. When you're not sure if content has been approved, it can lead to downright anxiety.
Too many tools, too much wasted time
We're an industry that got used to working with what we had. Collaboration tools for marketers weren't exactly the priority for the tech industry. The marketing team at Rakuten Viber used to work together much like everyone else. In spreadsheets and through emails.
"A collaborative tool is crucial for remote teams to work together. Emails, spreadsheets, and other tools are not built for integrated processes. Workflows fall apart."
The team needed more. They need a place to organize their processes and avoid slip-ups. Content flowing through reviews without falling through the cracks.
"The team knew for a while that we needed a different solution. We all encountered the same issue. There was a process, but not a structured one where we could integrate everything."
When they were communicating using several different channels, time was wasted.
"In the past, it was tedious. The teams relied on us for approvals or content. To review, I needed to go on Facebook, in the Business Manager, which has become so complex and heavy.

We shared the documents, spreadsheets, emails, it was all over the place. Not only not collaborative, but the execution was hard as well. So many channels, and so much copy-pasting was involved."
Matan summed it up perfectly. The difficulty isn't only in collaboration but in execution as well. Because when those two parts of the process are separated, manual work is involved. A lot of it.
Efficient collaboration across borders, not desks
Contextual and culture-sensitive content means a lot to Rakuten Viber. To their audience as well. That's why they have teams for each market. Teams working remotely, together.
Working remotely is one thing. Working remotely together is another. It needs efficient collaboration. That's where great tech comes in place.
"I remember I went on LinkedIn and asked people if they can suggest a social media management platform for remote teams. That was our issue. I got like all the big names, and tried them all. None actually did what I needed. Did some googling myself and found Planable."
Collaborating efficiently is something often overlooked. "Big names", as Matan calls them are good tools. For most of them, though, collaboration is an add-on. A feature. A part of it all. For us, at Planable, it's the core of the product. It's why we started Planable. To help teams align, from anywhere.
"The Russian team, for example, is doing its own thing on Planable. I'm giving them the guidelines and they're using them as the go-to for all the social platforms, which I think is awesome. We're running the global channels from here and the local teams can also pitch local content. They can propose posts for the global pages, we review them, and set them live on Planable. With the targeting features, it works perfectly.

Now we have one central spot. We coordinate everything together, in one place. That helps me and the team be more effective. I no longer have to review individual Facebook links to scheduled posts."
Reviewing and publishing should be in the same place. It's the only way to get rid of copy-pasting. Fragmenting these two parts of the workflow is duplicated work. It's wasted time. Hours and hours of valuable employees filled with tedious tasks. Once again, a world where people work from anywhere at any time needs collaboration tools. It's "crucial" as Matan says.
"Planable is a collaboration tool that I find very crucial for remote teams to work together on. Emails, spreadsheets, and other stuff simply don't work. Can't sustain processes. I think the fact Planable enables a lot of options to do social posting as well, makes it all even easier."
Time is quite an undervalued currency. Especially in marketing. New projects are always taken on, posts always have to go up. The processes behind all that are never prioritized. Creative minds in marketing, though, deserve better. A lot better than being squished to fit spreadsheet cells, that's for sure.
One place for everyone and everything social
Fragmented workflows don't only affect efficiency and workload. They're also prone to mistakes and slipups. It's impossible to keep it all together without clarity and coordination. Moving content, sending it, and sharing it across a mishmash of tools is bound to have leaks. Just like any game of Jenga, it's bound to crash.
"What we actually needed for a long time and didn't have, was a platform where all teams can come together and work together. Unite all the social efforts and make sure that nothing slips through. We needed a strong process and that's what I think Planable allowed us to enable.

We needed something easy to use from brainstorming to execution and I think that's the purpose that it serves. It's not three different platforms. We don't have to constantly remember to upload content everywhere. It's all in one place."
One united platform fixes all those cracks. The ones you knew about, and the ones you didn't. Another key factor is flexibility. All teams have different ways of working. Places, times, and devices. Rakuten Viber' CIS PR Director, Yana Rozhkova, says that's the biggest benefit for her:
"I really like that I can visualise posts in both desktop and mobile formats. Reviewing and approving content cross-platform like that is very helpful."
Leak-free workflows that leave space for flexibility. Those are the benefits of having everything from ideation to publishing in one place. Another important aspect is overview. It's impossible to put all the pieces together through sheer imagination. High-level employees need to see everything at a glance. It's the only way to keep the brand consistent, and all the efforts in the same direction.
"Planable has enabled me to continue being the owner of how Viber is presented visually to the world and what the global tone-of-voice is. Planable helps us overview all marketing efforts on different channels. It offers different ways of visualising content and plans and, in the end, I think it simplified my life"
That's the best thing to hear for us. Simplifying the life of marketers is, in the end, our entire goal. We're here to make room for creativity to shine. We declunk the processes. We get rid of the boring and the tedious. We give marketers back their control and their time.
A happy team means good work
Technology on its own doesn't do anything. It's an aid, a way to help marketers do what they're already doing, but better. The only way technology can help marketers is if they like it. If it makes them happy.
"I think the happiest people were regional teams, the remote ones. Because now they have a clear process and nothing can fall between the cracks. They can have the peace of mind that when they create content and assign it to us, we'll see it. We quickly review the week and send our notes where it's relevant. Things just became more streamlined."
Anxiety and uncertainty lead to mistakes. Social media marketers face enough pressure due to how public their work is. It's out there for the world to criticize. They need peace of mind behind the scenes. Clarity over who reviews what and when. Confidence that when they publish content, it has been checked and approved.
The way to ensure that is through technology. Easy to understand and delightful to use technology.
"We started the trial and the team loved it. It was a very quick onboarding in the end. It's a "what you see is what you get" kind of platform. The team aligned right away."
Resistance to change is deeply rooted in any human's DNA. It's necessary but often unpleasant. A low to no learning curve at all helps. It's what usually gets technology to be rapidly adopted by the entire team. Yana Rozhkova, CIS PR Director, Rakuten Viber:
"The workflow in Planable was very easy to understand and it was very easy to use, too.

Alerts and notifications are a plus when you don't want to check posts over email. My favorite feature is that you can post different types of creative assets over Planable and see the preview in a timeline."
5000+ teams trust Planable with their content