Fact: content development is the backbone of any successful content-oriented marketing strategy. Another fact: it does look intimidating at first, especially for a new business under a lot of content pressure from all around the market.
A carefully crafted content development workflow changes how teams approach and create content, making it more deliberate and cohesive. In this article, we'll cover what a content development process is, why businesses implement it, what content types benefit from having a sound content development system, and finally — our eight-step guide to kickstart your content development process. Drumroll, please!
What is content development?
Content development is a unifying name for a full cycle of activities related to content within a business or a brand. It includes strategizing, planning, creating, publishing, and analyzing all types of content to reach particular business goals. Content development aims to achieve marketing objectives by delivering high-quality, valuable, and relevant information to the target audience.
Content development includes everything that happens to a piece of content within the company:
Planning and ideation
Research
Creation
Publishing
Evaluating results
Audit
Repurposing and updates.
Sounds like content marketing? That's because those things are very similar. Hear content marketing — think content development.
Why is the content development process so important?
Content is the king of the market: businesses and brands invest more than ever in their content marketing strategies, despite the looming recession. Here are four reasons businesses are going all in on content development:
Alignment with the strategy
A sound content development process is like the rails keeping the content marketing train on track. Establishing clear objectives for the business in relation to content provides a guiding light for all content-related efforts to align with.
This systematized approach helps teams plan, collaborate, repurpose, automate, and analyze content with the strategic objective in mind. It also allows content marketers to stay sane while tackling multiple different tasks and brainstorming new angles on existing content.
Easy collaboration
The content development process brings together team members from different departments, such as marketing, design, and content creation. With smoother collaboration, the business ensures that everyone is working towards the same goals and staying consistent across the brand.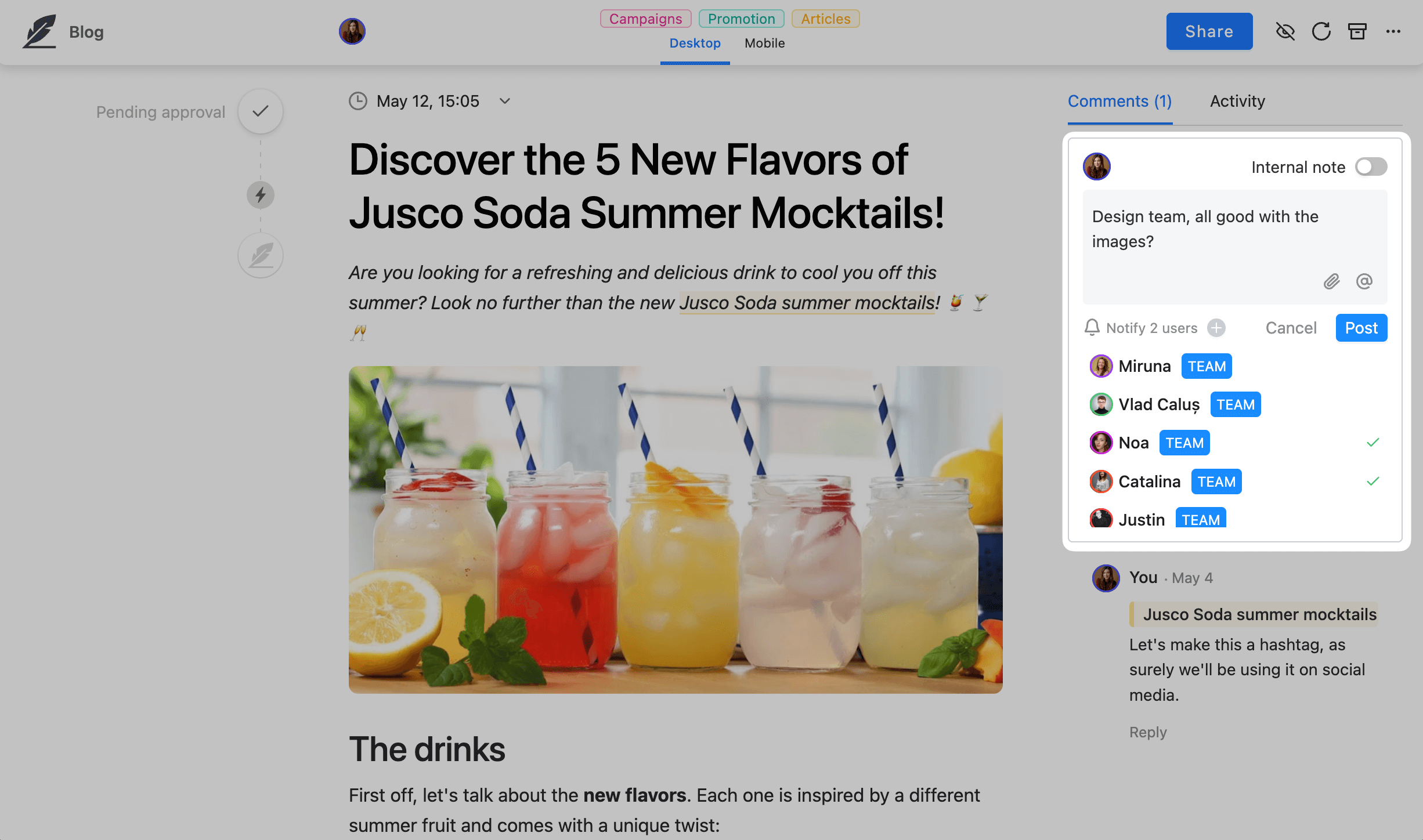 By collaborating efficiently, team members provide constructive feedback to one another and brainstorm new ideas. For example, in Planable, teams of all sizes can easily work on the same content piece and share real-time feedback to comply with all the brand guidelines.
On-demand scaling
A company can increase the volume of produced content quite dramatically in a relatively short time. It can be through repurposing existing content, creating templates for recurring forms, or even tapping into outsourcing and freelancing.
Take repurposing alone: long-form content like an article can become a video, a series of social media posts like Instagram carousels, infographics, and more, creating lots of semi-instant content out of one piece.
Improved efficiency
Content marketing is a cost-effective solution when it comes to reaching business objectives. With a clear content production system in place, the team has a very clear idea of what content the audience needs, when the content should be delivered, and which distribution channels work the best.
An entire process of intentional content development means thoroughly allocated resources and more relevant, high-quality content. Good content equals more leads converting into customers and, therefore, more ROI. Dedicated content marketing software tools also bring a boost in efficiency to your team.
What content benefits from a content development process, and how?
Blog articles, webinars, case studies, YouTube videos, podcasts, social media posts, infographics — all content types you plan to publish regularly will perform at their best with an in-depth systematized content development:
The research stage helps identify your audience's needs and habits. This is where you decide what you want to say, how, and to whom. Keywords, trends, and search intent analysis are also a part of audience research.
Planning helps you stay on track with the deadlines and understand what you're trying to achieve. On a larger scale, planning also offers a better overview of your content efforts.
A meticulous production pipeline eases the collaboration and navigation around particular tasks to bring content ideas to life timely and precisely how you want them to be.
An approval workflow ensures the content follows the brand guidelines. Reviewing and approving content involve multiple stakeholders giving feedback, suggestions, and the final green light.
Approaching any content as a part of the brand's cohesive content system is always a win. So no matter what content you produce, a content development strategy will help you deliver faster, better, and more performative content.
Blog posts
A straightforward approval system is essential for a blog post, especially when multiple teams are involved.
Andreea Stefan, SEO Coordinator @ Planable
Imagine writing an article, submitting it for the editor's approval, and automatically pushing the approval from the legal team. No back and forth emailing, just a green checkmark and a couple of comments right inside the copy in case something needs tweaking. We don't have to imagine it, you can see it in Planable👇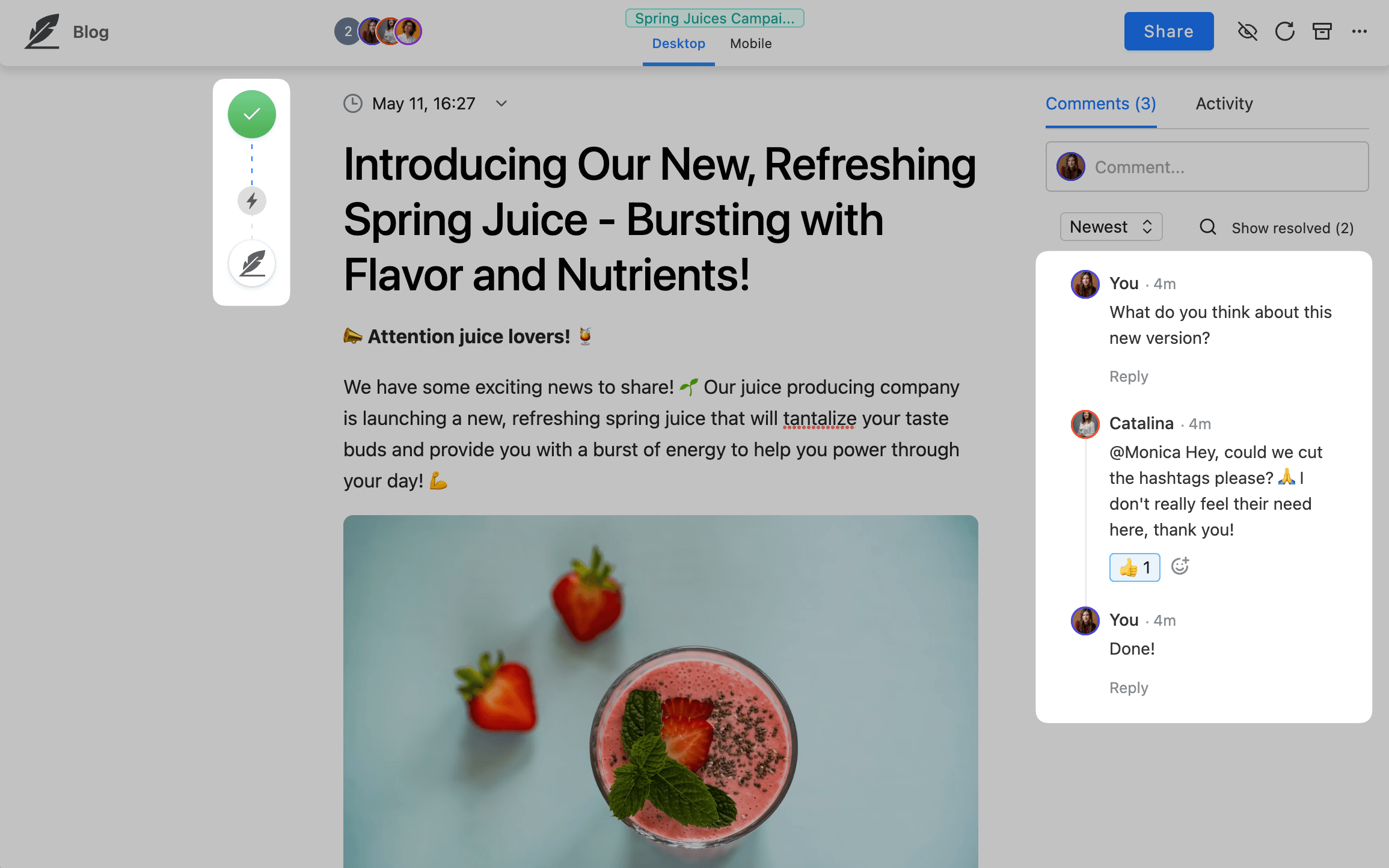 Infographics
To create a great infographic, designers and content experts have to ensure the design supports the content and vice versa. A well-executed content development process enhances collaboration and results in visually captivating infographics that drive your message home. Approval software also comes in handy here, as the brand team gives the final ok on the visuals.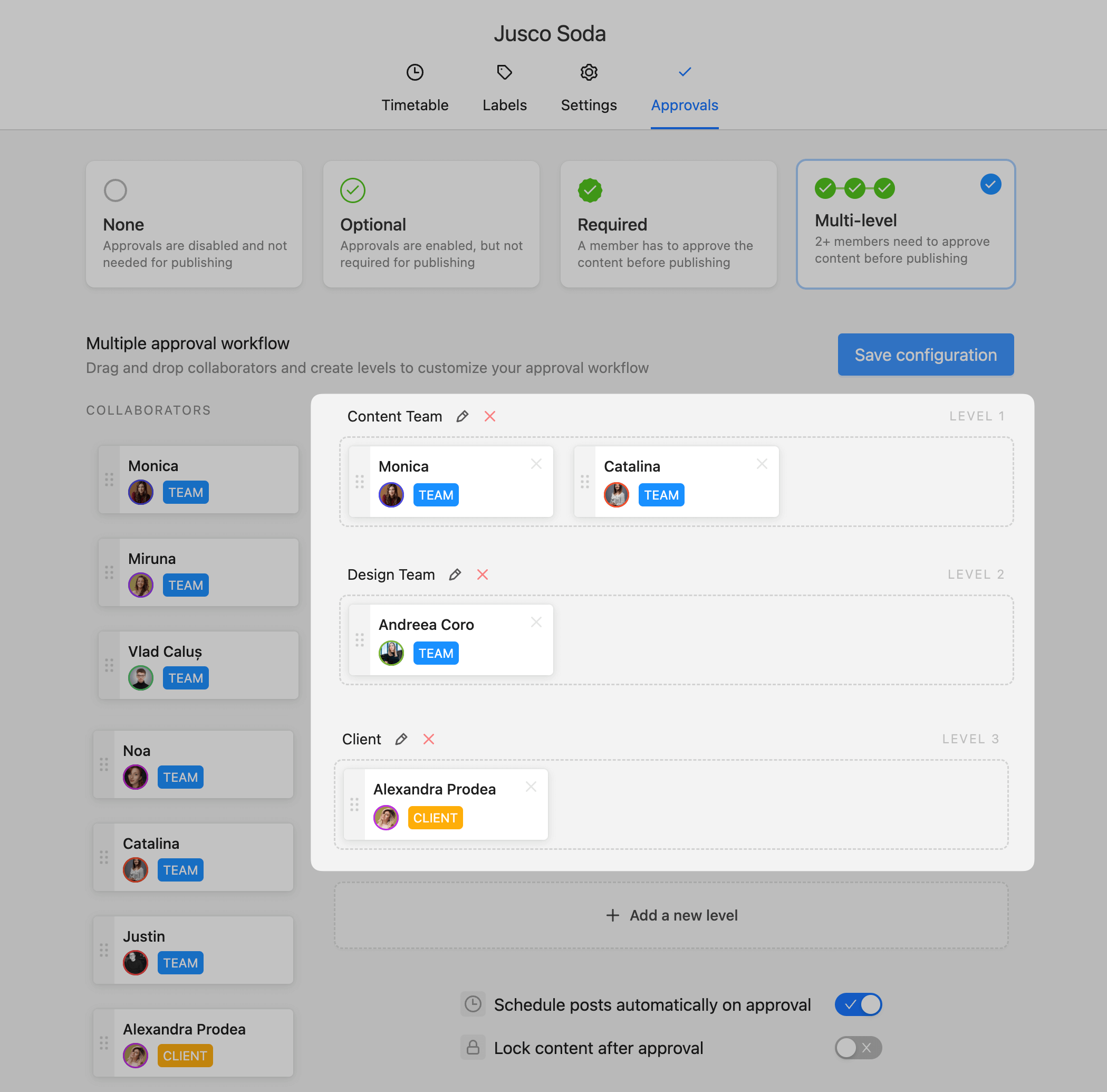 How to build a solid content development process in 8 steps
A content development process helps you level up your content game. But how do you build one that really works? The eventual content development process might differ depending on the team, goals, and budget. However, there are some ground rules. Here's our step-by-step guide to building a viable content marketing approach.
1. Establish your content goals
First things first — a content development strategy begins with identifying your business goals. Ask yourself: what problem do you want to solve with your content? The answer to this question will define your primary content forms and distribution channels.
The most common woes solved with content marketing are:
Increasing brand awareness
Driving sales
Establishing an expert position
Promoting your employer brand
The trick is that most content forms do a great job serving multiple purposes, depending on the accents you place. For example, blog posts are highly optimizable to drive organic traffic and boost brand awareness. But add a lead magnet, and it becomes a perfectly viable sales instrument. Thus, you can target multiple goals by balancing your content strategy.
2. Understand your audience
All content is done for the audience. No amount of creativity and strategic planning can compensate for not knowing your target audience. That's why audience research is vital for ensuring your content will perform and deliver.
So your goal here is to build a reliable buyer persona — a detailed description of a hypothetical ideal customer. This includes their demographics, behavior, motivations, goals, pain points, and buying habits. Here are three places you can source that data from:
Reddit, Quora, and forums. A perfect place to dig for topics. Find out what your potential customers are asking, what they're looking for, and what they like and dislike.
Competitor analysis. Scout your competitors' content resources and try to understand why their best-performing content piece works.
Your own audience. Just ask them what they're missing. Seriously.
Armed with this info, you'll know how to provide users with relevant content. And remember: focus on one buyer persona per content piece!
3. Create your strategy
Content development strategy is more than just planning: it's an entire process. Taking a strategic approach ensures that your content is aligned with your objectives and target audience and drives the desired outcomes.
Establish your process for each type of content
Content creation looks like a black box for those outside content marketing: an idea comes in, the magic happens, and the idea comes out as a business asset bringing tangible results. But content marketers know there's no magic — only a strategically built pipeline.
When building a detailed workflow for content creation, try to think of all the stages your content passes. For instance, some pieces of content, like press releases, have to go through several rounds of approvals within the content team, legal, brand, and PR. Each round probably requests changes, bringing an additional issue of multiple "final.final(1)" versions.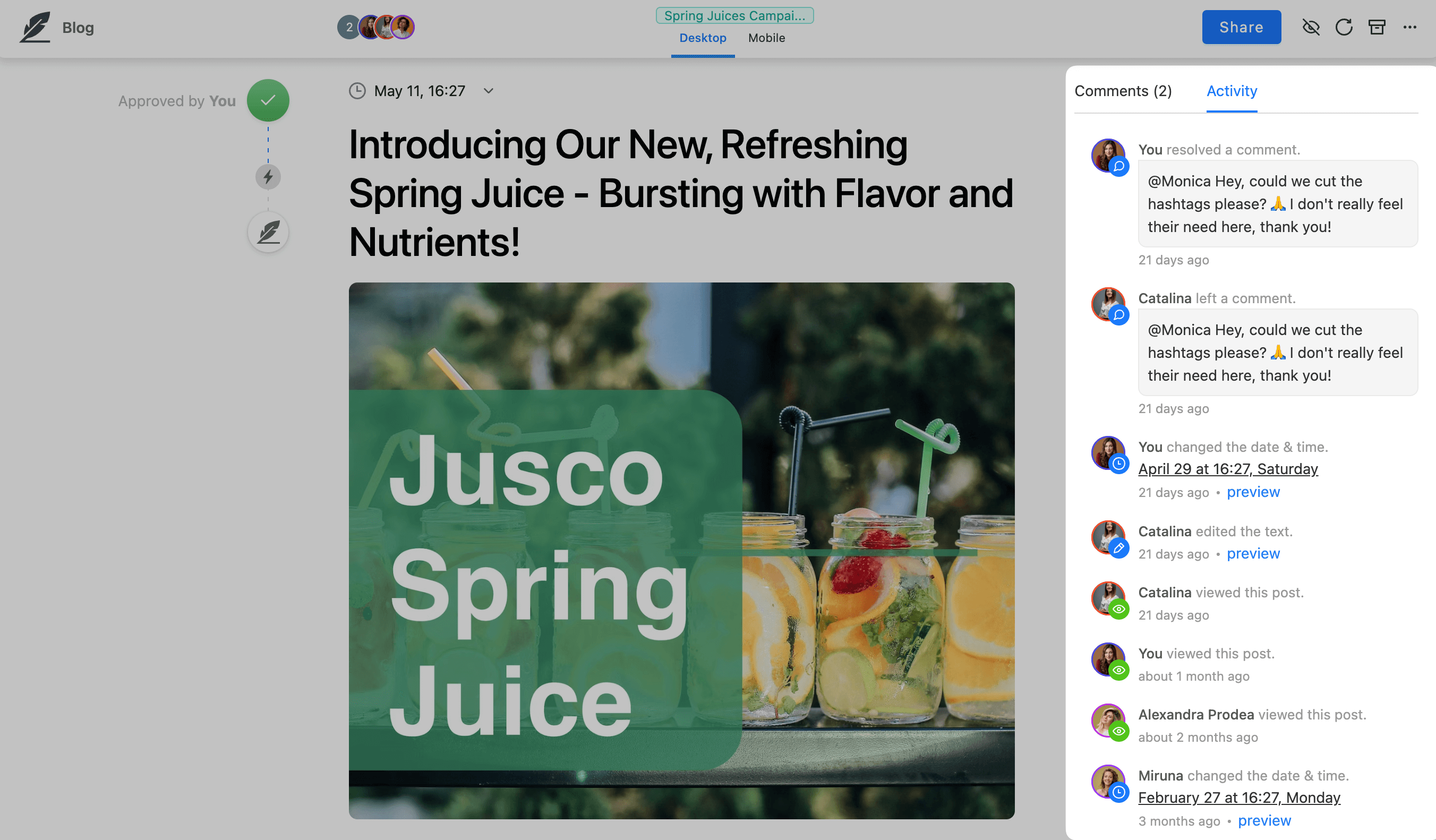 So to handle the handover efficiently, your process should include a) dedicated teams and specific workflows for each type of content; b) multi-level approvals to keep all relevant stakeholders in the loop, and c) version history to ensure everyone's on the same page, approving the freshest copy. Planable has activity logs to help you track the final version and also review previous wordings and passages in case you need to restore some from the declined draft.
Set roles and expected timelines
Roles vary greatly from team to team. However, it simplifies creating content considerably when you know exactly who's in charge of what. So when you're establishing your content development process, think of who's going to be responsible for each stage.
Timelines are also not set in stone, but content planning goes smoother with at least approximate ideas of how long the production takes. For instance, before you tweak it to your own pace and setup, your role sheet and timeline for a blog article can look like this:
Planning: content strategist, 2 days
Research: SEO specialist, 1 day
Creation: content writer, 3 days
Editing: editor, content team lead, or product manager, 1 day
Publishing: content manager or content writer, 1 day
Analytics: content strategist, in 5 days after publishing the piece.
Create reusable templates
In times of rapid and immense content creation, templates are your friends, so use them where you can. For instance, having templates for blog briefs, press releases or landing pages ensures consistency across your brand and saves time in preparing the task.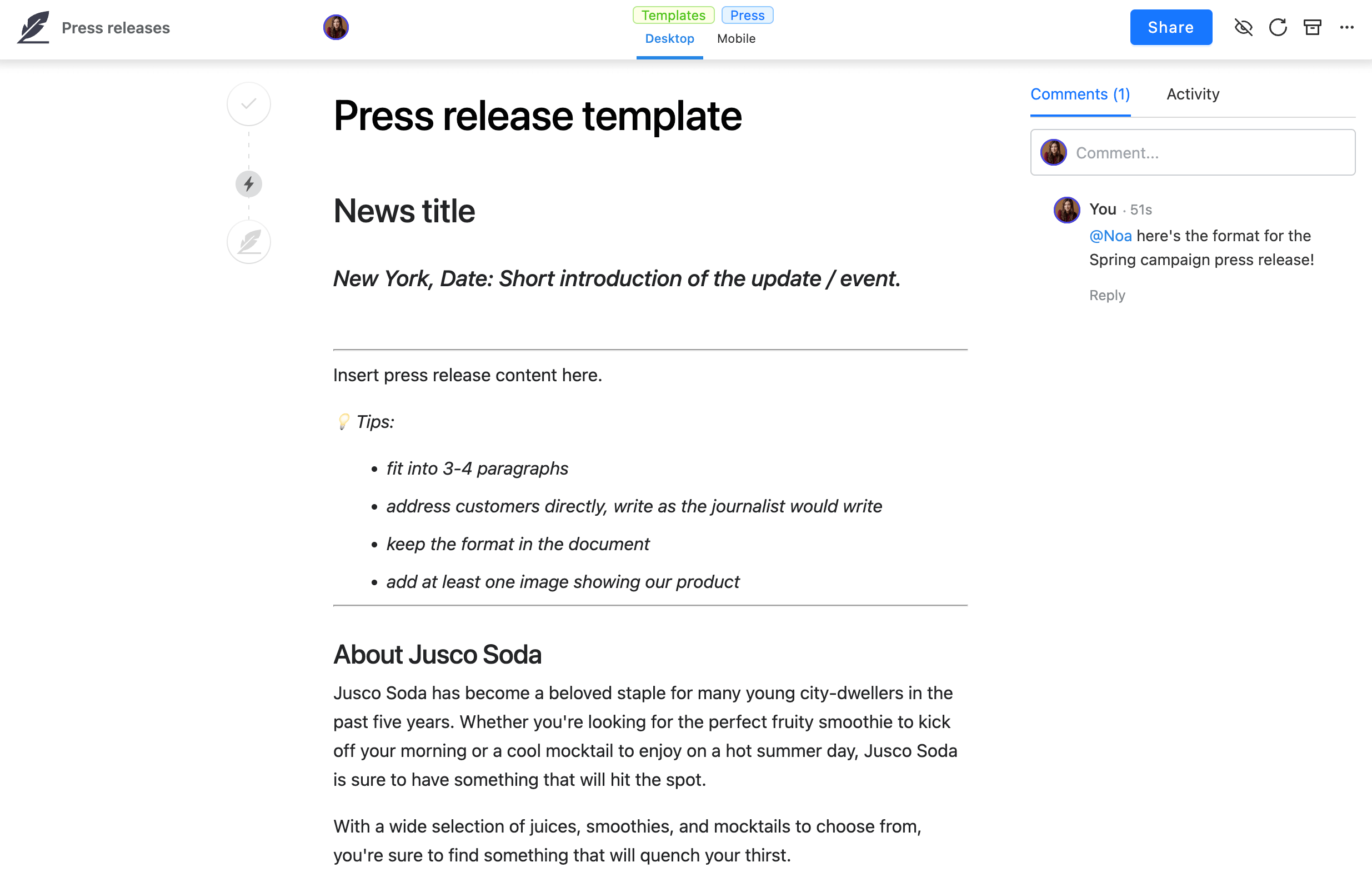 However, it still provides enough room for creativity: the template is always an outline rather than a strict form.
Do your keyword research
If you think search engine optimization is a necessary evil, it's you and me both, reader. However, keyword research is a must to ensure you reach your target audience. Here's a little step-by-step checklist:
Brainstorm relevant topics. Remember Quora and Reddit? Add Google Trends to the mix and develop several relevant topics for your audience.
Source the keywords. Use a keyword research tool to find popular keywords and phrases related to your topics. Look for keywords with high search volume and low keyword difficulty.
Analyze the keyword intent. Determine the search intent behind each keyword and select the most relevant to your topic and the funnel stage you're aiming at. For example, "best running shoes" and "buy running shoes" target different funnel stages: the former is informational, while the latter is transactional.
Use keywords strategically. Incorporate them naturally throughout your blog article in the title, headings, body text, and meta description. Search engines don't like content written for the crawlers, so keep it cool with the keywords.
Build your content calendar
A content calendar is a nifty tool that helps you organize your content efforts in one place. It tracks your progress, gives a comprehensive overview of the content strategy, and allows your team to plan accordingly and stay consistent in their posting.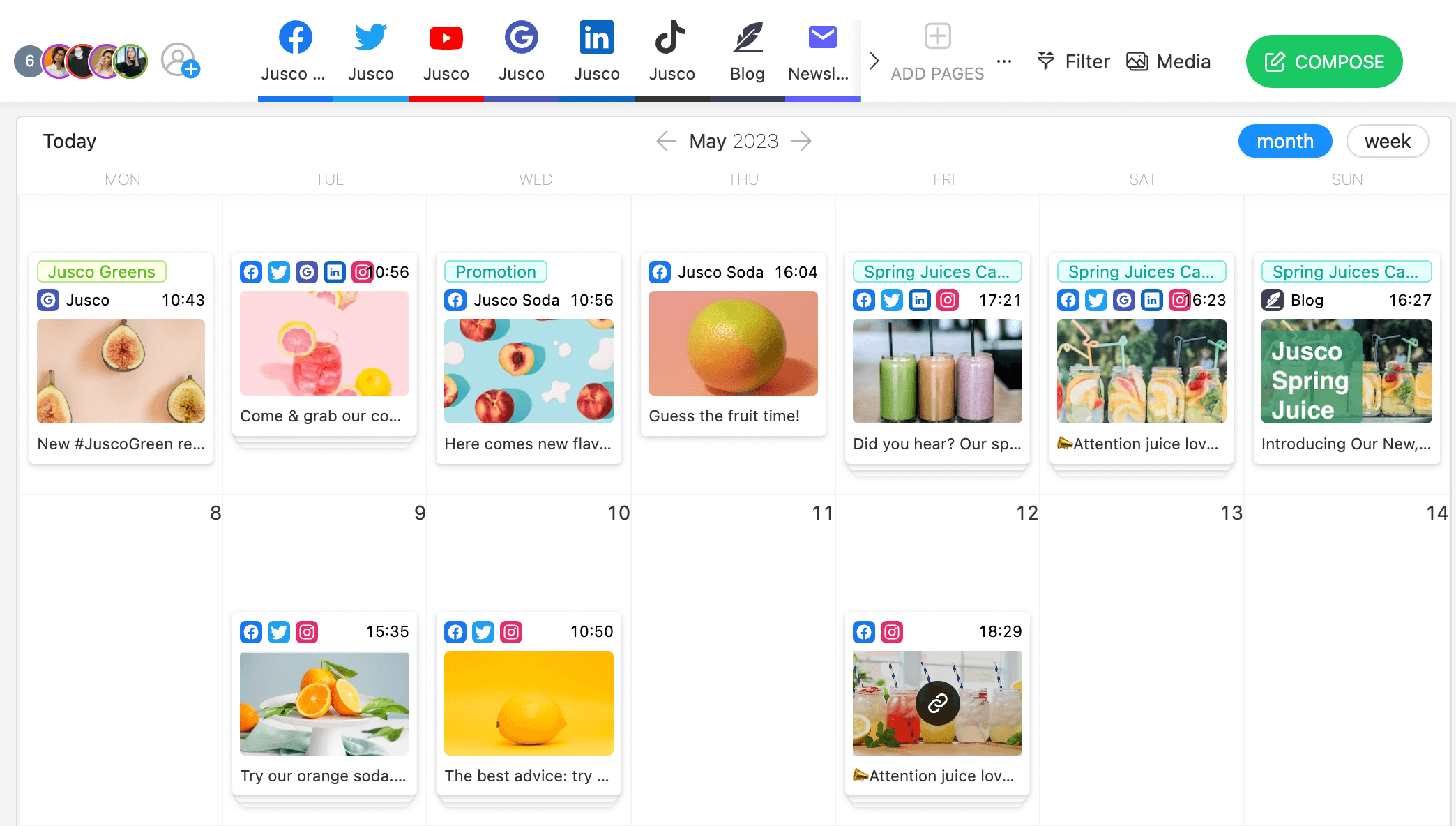 An editorial calendar includes all kinds of info on each piece of content: the topic, the publishing date, the platform, etc. Planable, for instance, also has color-coded tags to organize and filter all types of content. With a handy calendar view, you can give your current content development process a good look and easily tweak it.
4. Brainstorming
Sourcing content ideas can be both fun and painful. Once the ideas run dry, the brainstorms become harder. But fear not — content makers always find yet another source of inspiration:
Tap into the community. It's no coincidence that social media marketers spend so much time on social media. They're researching new potential topics: from their own audience or other social media managers.
Check your competitors. Take a peek at what your competitors are doing and see if you can do it better or find a different angle. Or identify ideas not worth exploring — after all, crossing irrelevant ideas out of the pool is also helpful.
Revise your own content. Repurposing content is a trend worth following, especially when ideas are low. Find a content piece that worked well, update it, break it in two, and send it in for another lifecycle.
5. Produce your content
When it comes to content production, there are two core approaches you can choose from: either manage it with your in-house team or delegate it to freelancers, or mix both, depending on the type of content and your capacity.
In-house Team
Working with your own team of content developers gives you the benefit of always being in the loop. It's easier to assign tasks, brainstorm new ideas, and participate in the decision-making process when every coworker is aware of the strategy and last week's all-hands results. You can also leverage collaboration within and across teams: Planable makes it especially efficient with real-time content creation, prompt feedback, and internal comments.
So let the creativity flow! And if some idea is still lagging, you can always send it back for another round of feedback in Planable. Then, once it fits the brand perfectly, greenlight it with one click in a custom approval workflow created for your internal use.
Freelance writers
The best thing about working with freelance writers is flexibility. Whether you rely entirely on freelancers for operational work or hire them as an additional pair of hands to support your team, your content development strategy can leverage that flexible approach.
However, freelancers are outsiders to your organization: to get the desired result, you might need to spend more time onboarding them and creating highly detailed briefs. Some things are up to their own subject matter expertise; others, like word count, internal links, or related keywords, are non-negotiable.
Building a team of trusted freelancers is a great way to ensure reaching your content goals eventually. So keep those who provide high-quality content close, and don't hesitate to wave goodbye to those who underperform — the perks of said flexibility at its best.
6. Optimize and publish
Optimization is tricky: there are many things you can accidentally overlook that can affect your stats dramatically. So here's a little checklist for blog post search engine optimization:
Title. Does the title accurately reflect the article's content and include a relevant keyword?
Structure. Check if the hook is strong, the flow is smooth, and the word count fits the requirements.
Links. Insert internal links to other blog posts, your landing pages, or white papers where appropriate.
Images. Add titles and alt text for your images.
Keywords. Check that all relevant keywords fit the context well without over-stuffing the text.
Metadata. Ensure meta descriptions and title tags are in place.
Value. The hardest of them all — take a critical look at your piece and think if it brings value compared to the competitors.
Once you're positive you didn't miss anything, it's time to publish your content.
7. Distribute and promote
Hitting publish is not the final step of the content development process. There are two things to consider next: what are your content distribution channels, and how will you promote your content?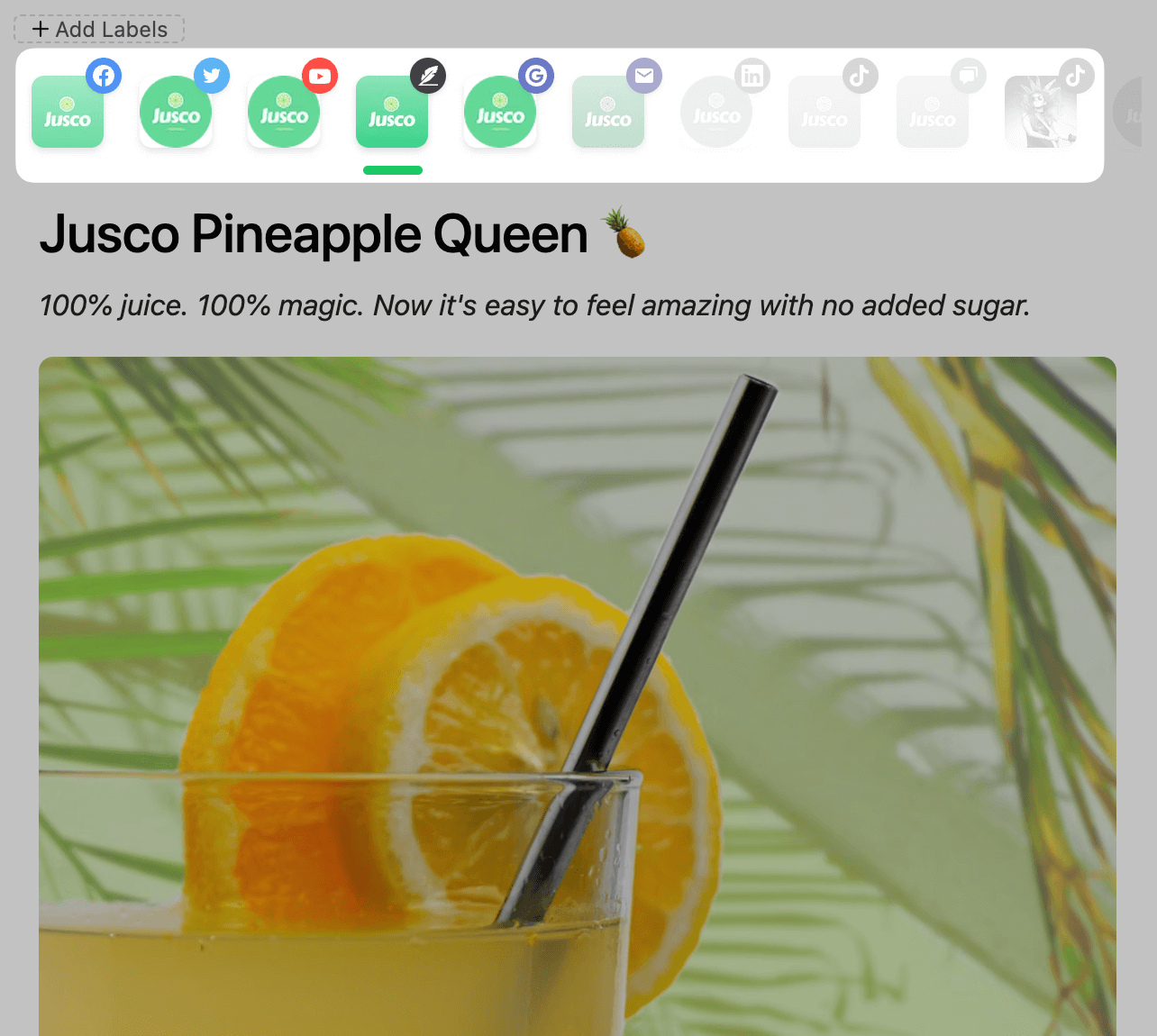 With channels, it's straightforward enough: aim for those that have your desired audience. Ensure you choose your distribution channels according to your goals and the content you produce. Some channels are more B2B-oriented (like LinkedIn or industry media like TechCrunch), while others gravitate towards B2C (like Instagram or TikTok). That doesn't mean B2B brands can't do TikTok — just make sure you play by the rules and see ROI coming from this channel.
Regarding content promo, you can get creative:
Leverage ad campaigns on social media.
Boost separate posts.
Consider establishing contact with influencers and industry experts.
Don't be shy to tag people and partners in your posts or reach out to an opinion leader you'd like to feature — there's a much higher chance people will repost your content when you contact them personally. Remember to stay reasonable in nagging other people and keep your audience in mind, though. And once you have it all figured out, use a content distribution software to speed up your publishing efforts.
8. Track performance
Did your article generate leads? Did your social media post make the final push to convert a follower into a customer? Tracking results and evaluating content's impact on the audience is also vital to the content development process.
Gather your intel and compare it against your planned content goals: this is how you know whether your content is working and what you have to tweak. Google Analytics gathers data on your website content and blog performance, while social media platforms have their own built-in analytics.
Let's do it!
A content development process, from strategy and content planning tools, provides a comprehensive approach to content as a tool to drive business. By following the steps outlined in this guide, you'll be on your way to creating a successful content strategy that drives results — and Planable's right here to assist you!