Planning your Instagram feed should be an essential step of your social media strategy. Regardless of your field of activity, Instagram can be a gold mine in terms of reaching the right audience and converting visitors to users. That is, if used correctly. 
This article goes over planning, rearranging, previewing and publishing the dream feed of your Instagram account. And we have the perfect Instagram feed planner for this exact purpose. Let's get to it!
The best free Instagram feed planner
Here's how Planable can help you plan and preview your IG feed:
And here's how you can easily crop and add filters to your in-feed posts in Planable:
What's more, with Planable you can schedule your Instagram posts in advance, including direct publishing for both Reels and Stories.
Instagram Feed Planner — the steps
1. Design, design, design
Obviously, your feed needs to look good. Aesthetic. Pleasing to the eye. It's the first thing people see when they stumble across your profile.
Now, because I am the farthest one could be from a design expert, I reached out to our own Creative Lead to chip in. Here's what she had to say about designing your Instagram feed:
I believe consistency is key when it comes to branding. It is almost equal to trust because it creates predictability and your consumers know what to expect. No confusion. That applies to your feed as well.

It's that first millisecond when the viewer decides whether to trust you or not. It can make the difference between "It's appealing, and I would like to know more," vs. "You're messy, let's skip."

Having a consistent feed gives you more structure and ease with organizing your content, so the way I see it, it's a win-win.
Alexandra Prodea, Creative Lead @ Planable
Alexandra designed this example to illustrate her point: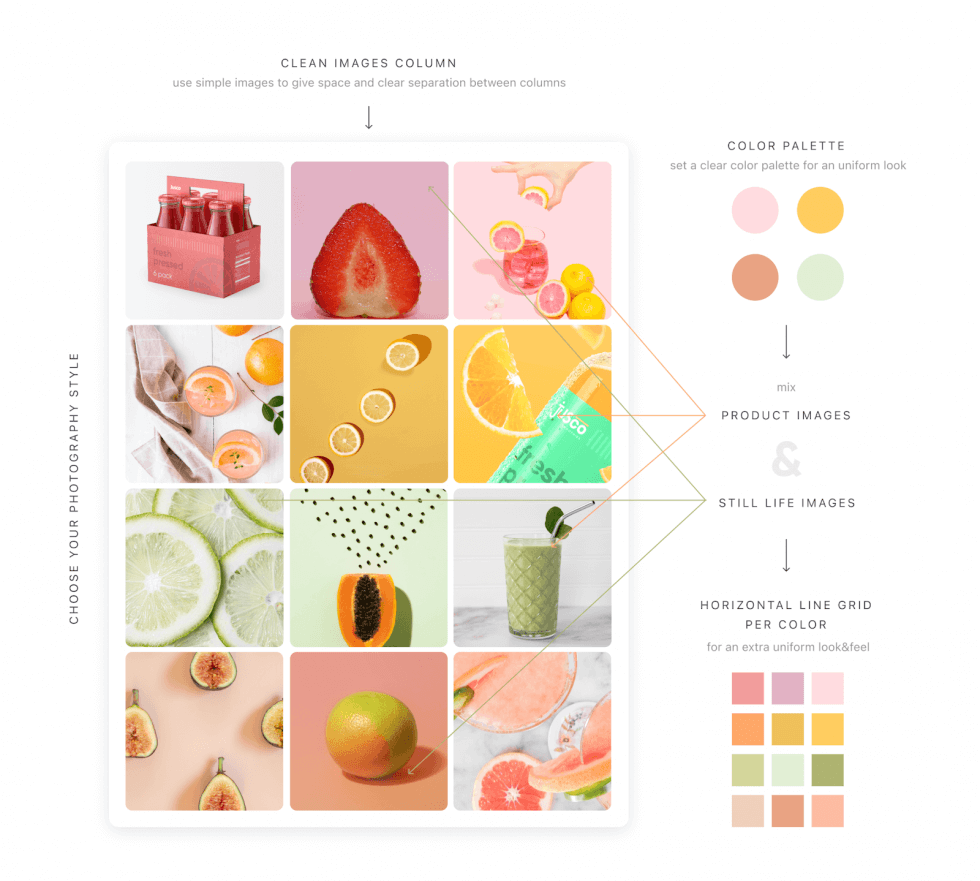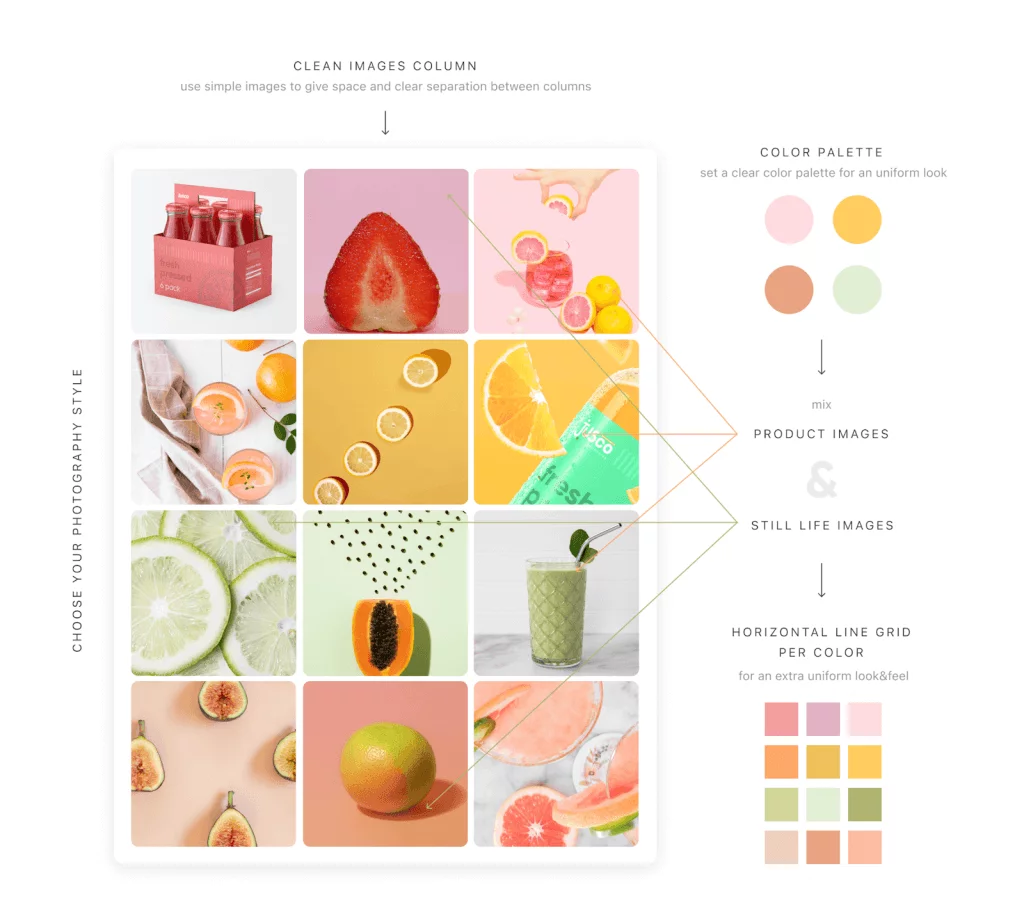 Basically, planning your Instagram feed is not just a matter of arranging posts in a specific sequence. The color palette, theme, and creating the illusion of "space" and "uniformity" through aesthetical choices also play a role.
2. Choose the Instagram feed planner that best suits your needs
Every plan needs a planner. That's an indisputable fact of life.
The same principle applies to your Instagram feed planning efforts. Luckily, we got the perfect tool to help take your Instagram feed planning to the next level — Planable, the most visual platform out there.
Planable has a bunch of nifty features that can help you plan the perfect Instagram feed. Let's say you want to plan your Instagram Grid. Planable's Grid view allows you to do that with just a few swipes: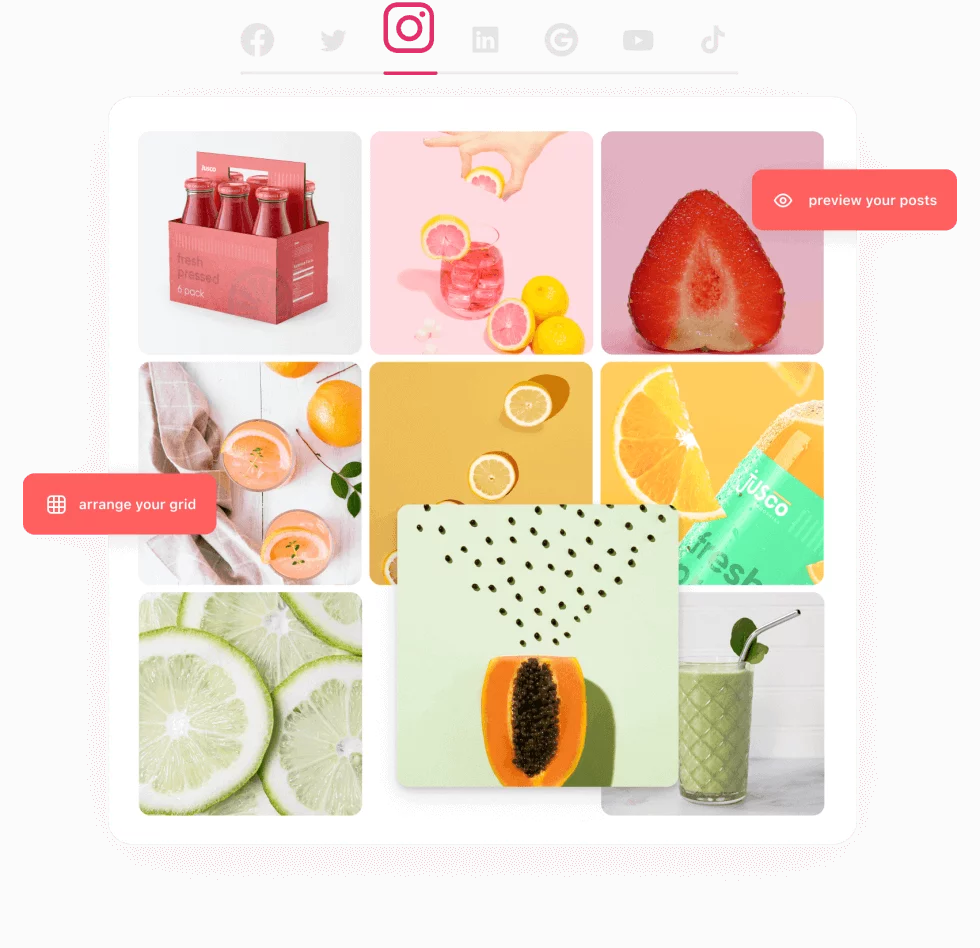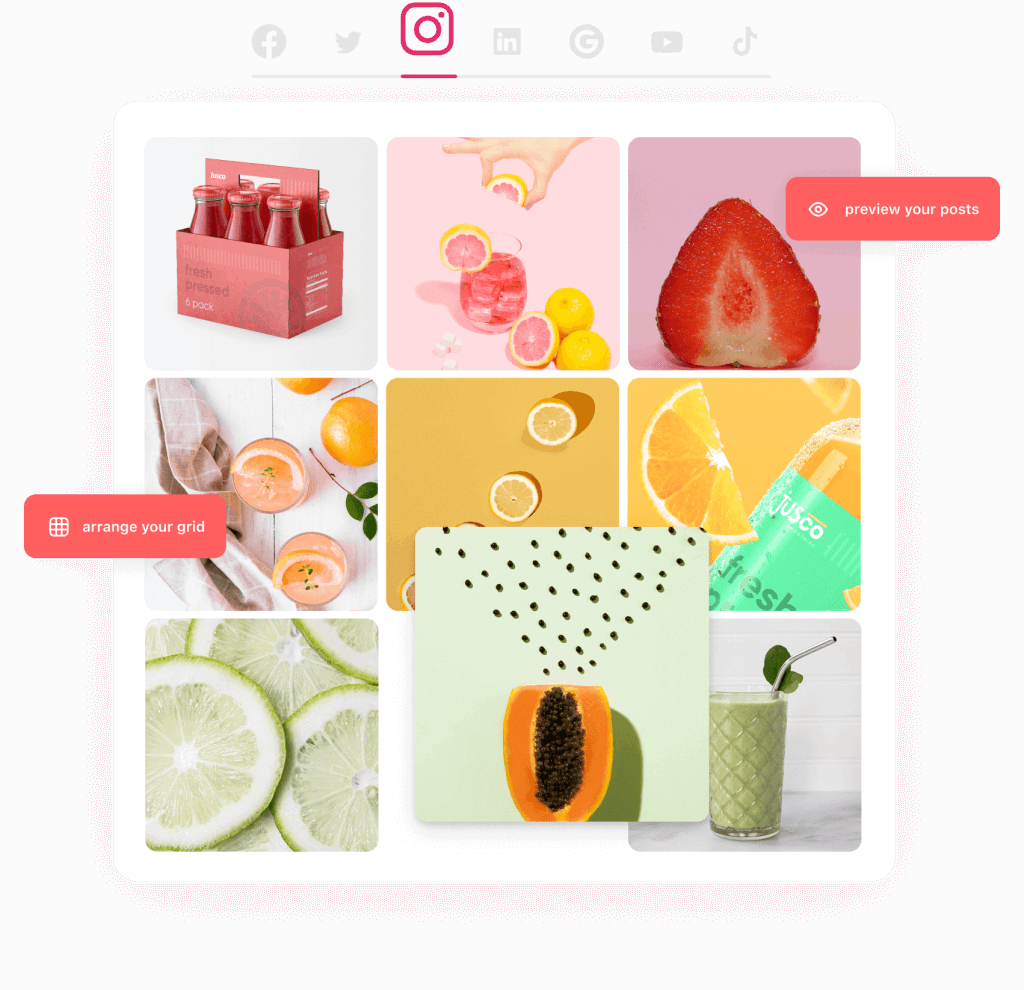 Or let's zoom out to a more global view and talk about planning Instagram feeds in general.
You got a Calendar View that offers an overview of your Instagram content and scheduled posts: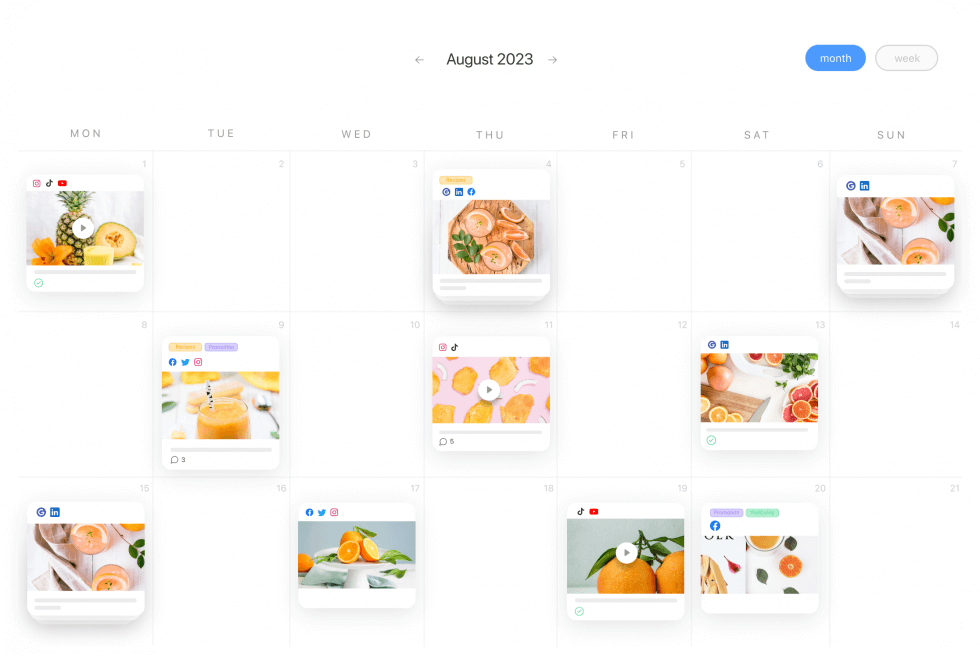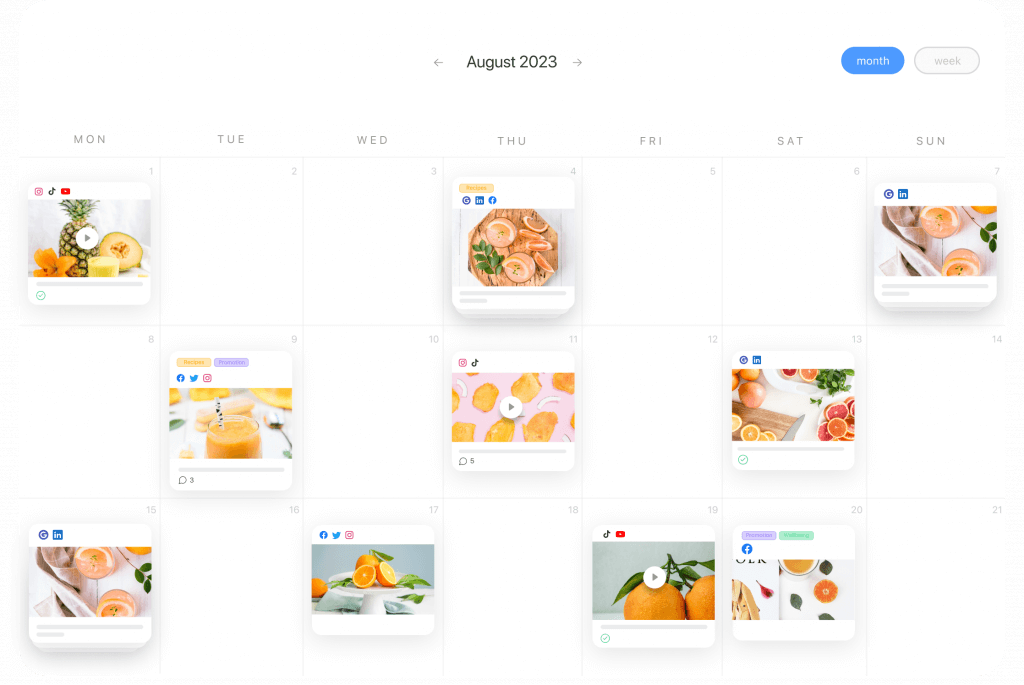 A feed view that mimics the feel and flow of Instagram (essentially a pre-publishing preview of how your content will look like):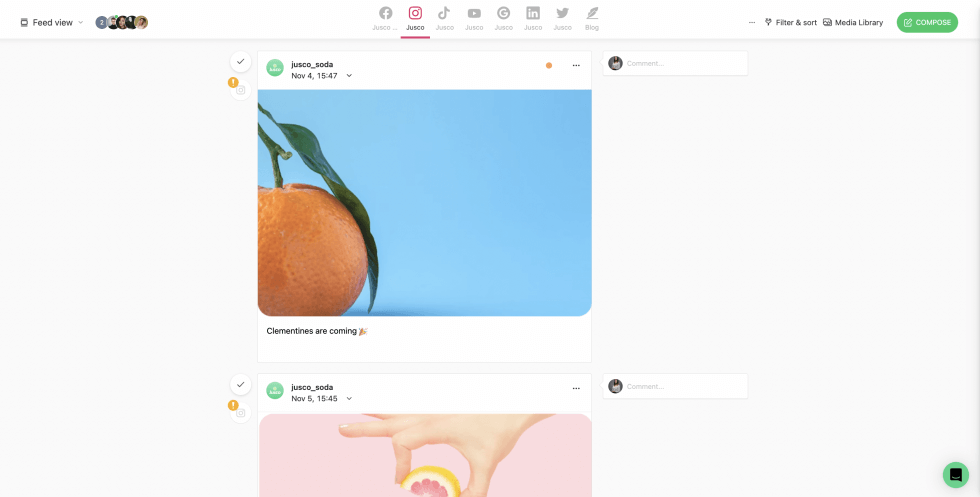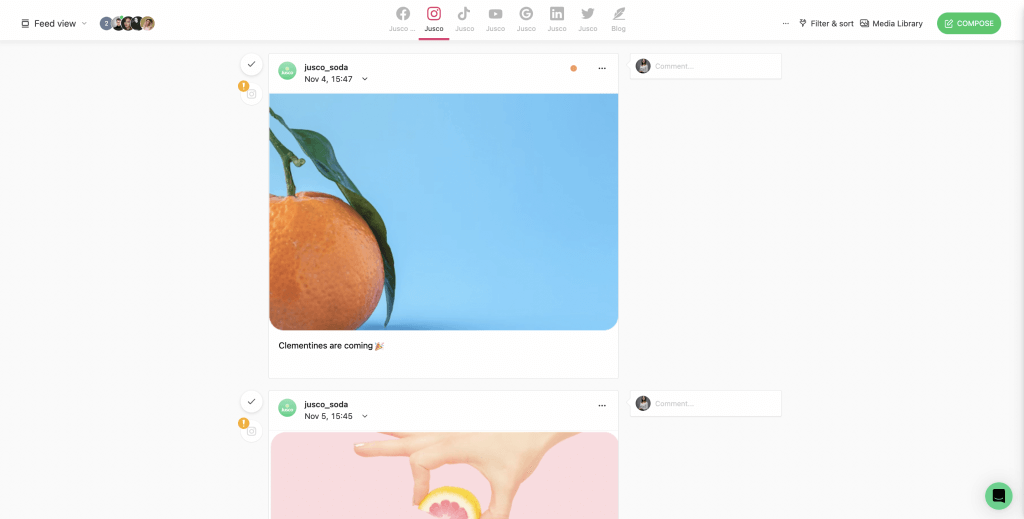 AND, for those of us who like to stay organized, labels to keep Instagram content neatly categorized by topic, theme, or whatever strikes your fancy: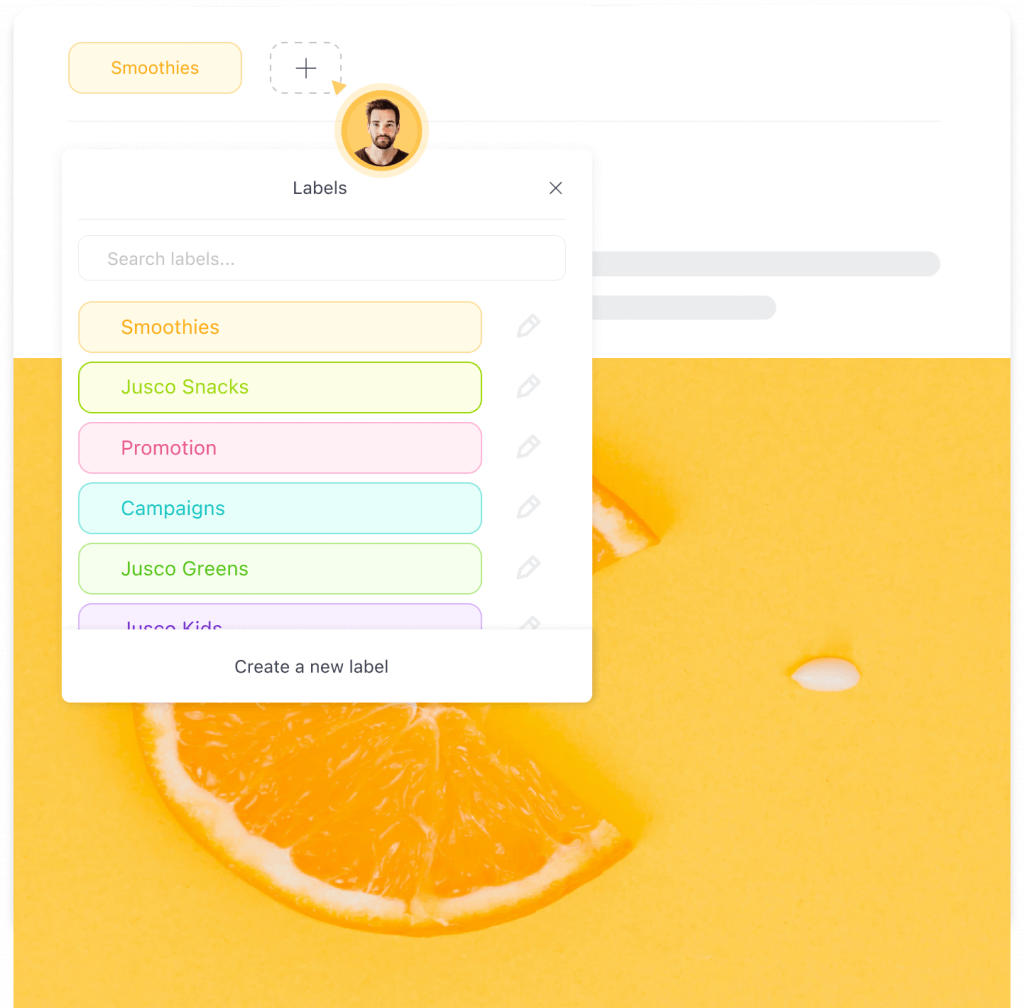 There's also a sync on/off feature just in case you manage multiple Instagram accounts and want to post consistent content:
And this is just the tip of the iceberg. Sign up and try our free plan to find out how Planable can help you with scheduling, collaboration, and approval.
3. Determine the frequency of posts you want to make
Posting consistency is something we all (should) strive for. 
Still — there is no tried and tested formula. Sticking to a schedule is entirely up to you and will depend on several factors, such as your time, what kind of content you're posting, and who your target audience is.
If you're just starting out, it's a good idea to start with one or two posts per week and then increase the frequency as you get more comfortable with it. On the other hand, according to Databox, "one post per day seems to be working just fine for most businesses", as it's just enough to remind your audience that you are there.
Then, according to a study by RivalHQ, the median across all industries is 4 posts per week: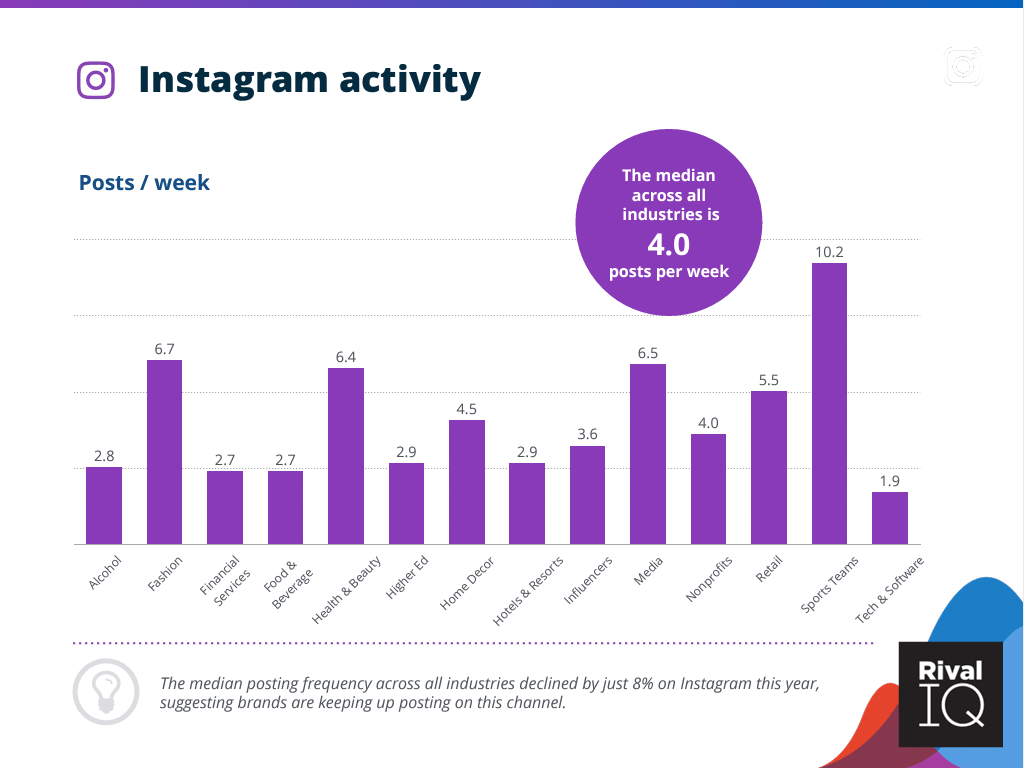 There are many ways to go about it, so the wisest approach is to find the sweet spot between those numbers and what works for you.
Extra tip: repurposed and user-generated content
If you're looking for an easy way to increase your posting frequency, repurposing content is the way to go. For one, it's relatively low effort, especially if the content is created with repurposing in mind from the beginning. And then there's the benefit of building a "recurring posts schedule" — think bite-sized chunks extracted from a blog post reposted over the year. Sounds like a lot of wiggle room for workshopping new content ideas, doesn't it?
You can rewrite your older blogs and develop new content. You should also not omit the utility of user-generated content. There are lots of people out there creating awesome original content, so why not take the opportunity to showcase it, especially if it concerns you?
4. Fill in your planned content for each day or week
Figuring out the content is one thing — filling out your Instagram content calendar with a month's worth of high-quality, evenly-spaced out content is another beast. Any social media manager worth their salt can attest to that.
It doesn't have to be that hard, though — you can use Planable's calendar view for those exact purposes:
Planable's calendar addresses the number 1 issue impeding efficient planning — lack of visibility — head-on by offering an overview of your content initiatives. One quick scan is all that's needed to spot gaps in your posting schedule and fill them with content.
Want to adjust your posting schedule? All it takes is dragging and dropping posts from one day to another. Feel like a post needs a few more tweaks before publishing? Click-and-tweak on the spot. You can then schedule posts just as easily: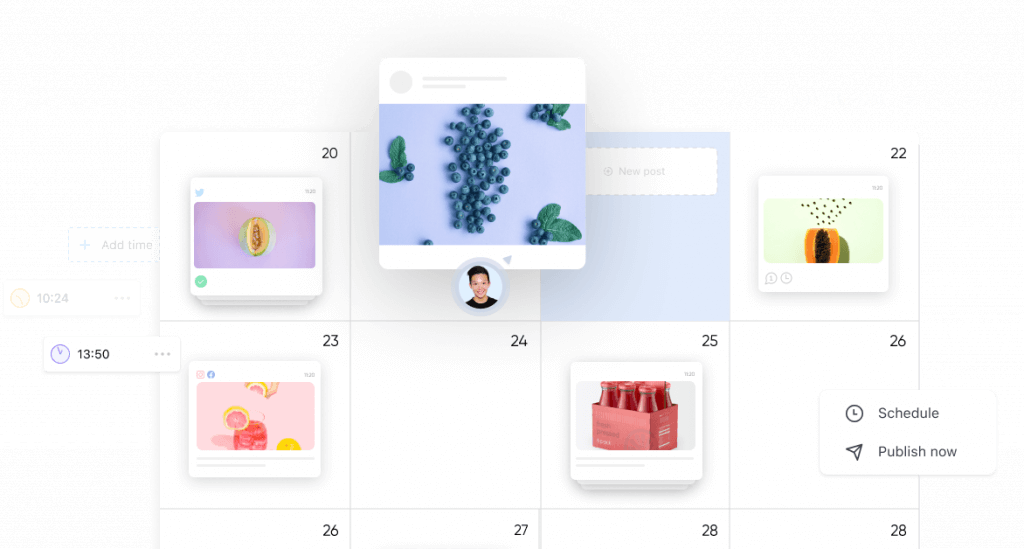 5. Make sure all photos and videos are high-quality and properly edited
Obviously, right? Social media is an inherently visual medium. Still, there are those times when you really, really don't feel like booting up 5 different tools just to change the photo's filter. So allow us to suggest an alternative — Planable's in-app editing tools:
There are a bunch of cool things you can do with it:
Crop images

Adjust settings — everything from brightness, contrast, saturation, exposure to temperature, gamma, clarity, and vignette.

Use filters — 13 of them bad boys, to be precise.

Leave annotations.

Add text and shapes to images.

Resize — pretty self-explanatory.

Add stickers.
And because Planable is all about not using 100 different tools, you can do all those things in-app.
One more thing — social media asset management is just as important as ensuring your images are properly edited. I'm not talking about storing images in a Google Drive and hoping they're easy to find, no. I'm talking about an actual feature from an actual tool explicitly designed for this purpose. This is where Planable's media library comes to the rescue: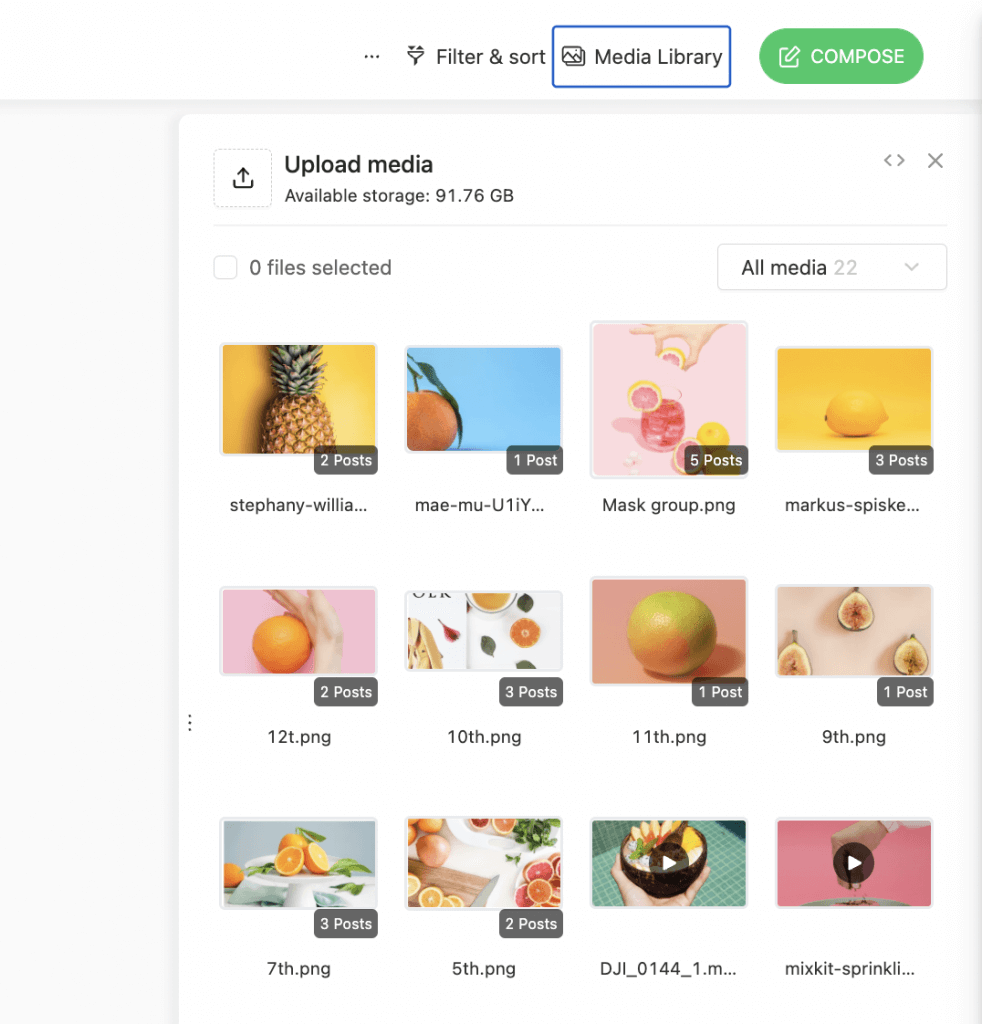 Planable's media library displays lots of helpful information that makes managing assets for multiple accounts easier. Things like:
Storage left.

File title.

The number of posts an asset is used in.
To keep things neatly organized, you can opt to view files stored in the media library by 4 criteria:
All media.

Used media.

Deleted media.

Unused media.
So, if you need that extra bit of clarity and control over your content, you can use Planable's media library to visually plan all the posts across multiple platforms. Instagram included, of course.
Instagram Feed Planning Ideas
With that out of the way, let's have a bit of fun and explore some awesome Instagram feed planning ideas. 
Puzzle grid
One of the more creative concepts out there, the puzzle feed is a great way to combine visuals with text into an overarching theme. Maybe use Planable's Grid View to make things easier on yourself? No pressure, just a suggestion.
Diagonal, vertical, horizontal, dots, zigzag…
… is yet another way to go about things if you want to take your Instagram feed planning to the next level. It's especially effective if you want to promote a product launch in a visual way.  
Tile or checkers, row by row, row by row vertical
There's definitely something to admire about Instagram accounts that go for ever-so-subtly color-coded pictures, just like the examples above. What's cool is that it's the kind of thing one notices only when it's pointed out to them — so there's something there both for casual scrollers and those that pay close attention.
Four repeat, blocks of six, alternate dark light
Who would've thought that those hard-earned Tetris skills would be transferable to planning Instagram feeds? 
Why should I care about planning my Instagram feed?
Three main reasons to use an Instagram feed planner:
Consistency. Whether from a visual or editorial perspective, you want your Instagram content to pop and leave an impression on visitors.
Efficiency. It goes without saying, but following a tight-knit plan instead of doing the ol' create-and-dump will do wonders for your Instagram feed.
Experimentation. Considering your feed as a whole instead of individual posts will give you the global view necessary to experiment without deviating too far off the course.
In other words, an Instagram feed planner enables you to produce high-quality content consistently (more on that later).
Plus, you can save time by batching your content creation and scheduling Instagram posts in advance instead of doing everything on the fly.
With that out of the way, let's talk a bit about how Instagram feeds work.
How Instagram feeds work
An Instagram feed is an overview of your latest IG posts, and it's often the first thing your visitor will see. 
When it comes to how they work, we have to delve a bit into algorithms. Now, a lot of ink has been spilled over the intricacies of Instagram's algorithm, so we won't bore you with the details in this article.
Since Meta keeps things under wraps on purpose to prevent bad actors from gaming the system, nobody actually knows with 100% certainty how the algorithm works. Some pages hit the algorithmic jackpot — others have such a unique theme that they get featured in The New York Times.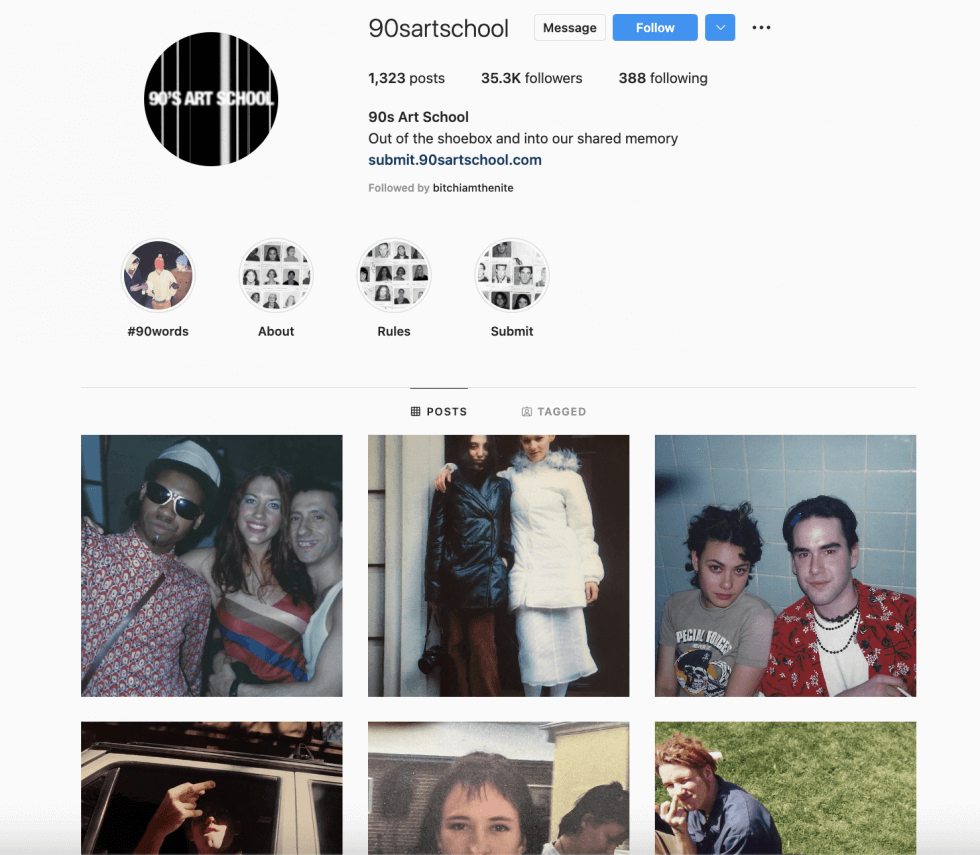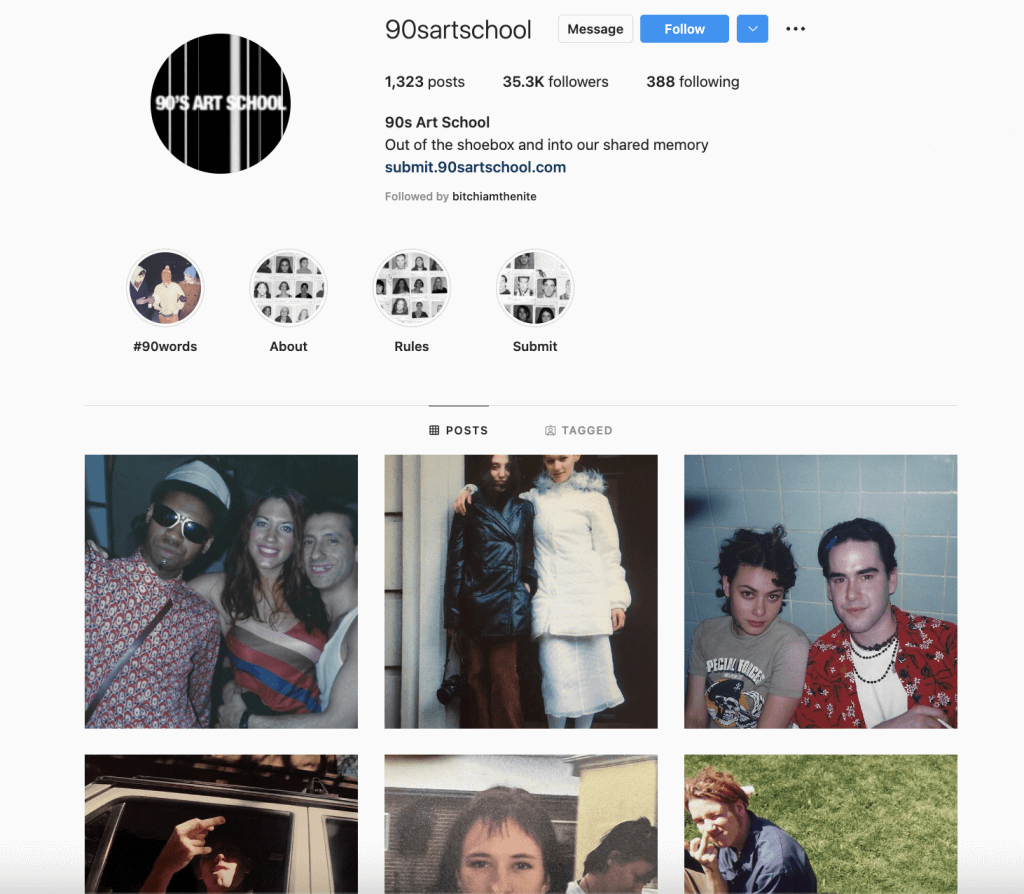 However, there are two key elements that every social media manager should account for, regardless of algorithm changes:
Community building. Building connections with followers trumps highly optimized, trend-chasing content any day of the week. 

Content relevancy

 is the actual value your content provides. 
Notice how you can't attach a numerical value to these 2 key elements. If only it were as easy as coming up with a formula: 2 community buildings x 5 posts – Meta = 23 Instagram algorithms. it all comes down to providing value, which means creating content with a "community-first" kind of mindset. 
Now, to efficientize (that word should exist and I'm going to die on that hill) all those things, you will need an extra hand in the form of a nifty little tool. An Instagram feed planner.
Instagram Feed Planner FAQ
How do I categorize my Instagram posts?
While Instagram has a built-in feature to save posts in collections, social media managers could find great value in Planable's labels feature. With it, you can categorize and sort posts by any criteria you wish — topic, campaign, team platform, or recurrence. You can also color code labels to add visual flair and ease of use to your categorizing efforts.
How do I organize my Instagram feed?
Planable's grid view can help you organize your Instagram feed visually. Managing your feed with Planable is as simple as dragging and dropping Instagram post drafts.
Grid view is not the only way to organize your Instagram feed. Planable offers 3 additional viewing modes:
Calendar 

Feed view

List view
Planable is built to mimic the feel and flow of social media, with the Feed view being the centerpiece of this design philosophy.
Feed view offers a pixel-perfect preview of how your Instagram content will look once live. You can use this view to spot any potential mistakes. For instance, an image looking off — say it's cropped badly, the ratio is wrong, or the filter just doesn't mesh with the visual you've chosen.
Now, list view is the way to go if you want to get an overview of your content across all your Instagram pages and plan actions in bulk — say, you or a client or a manager wants to approve content en masse: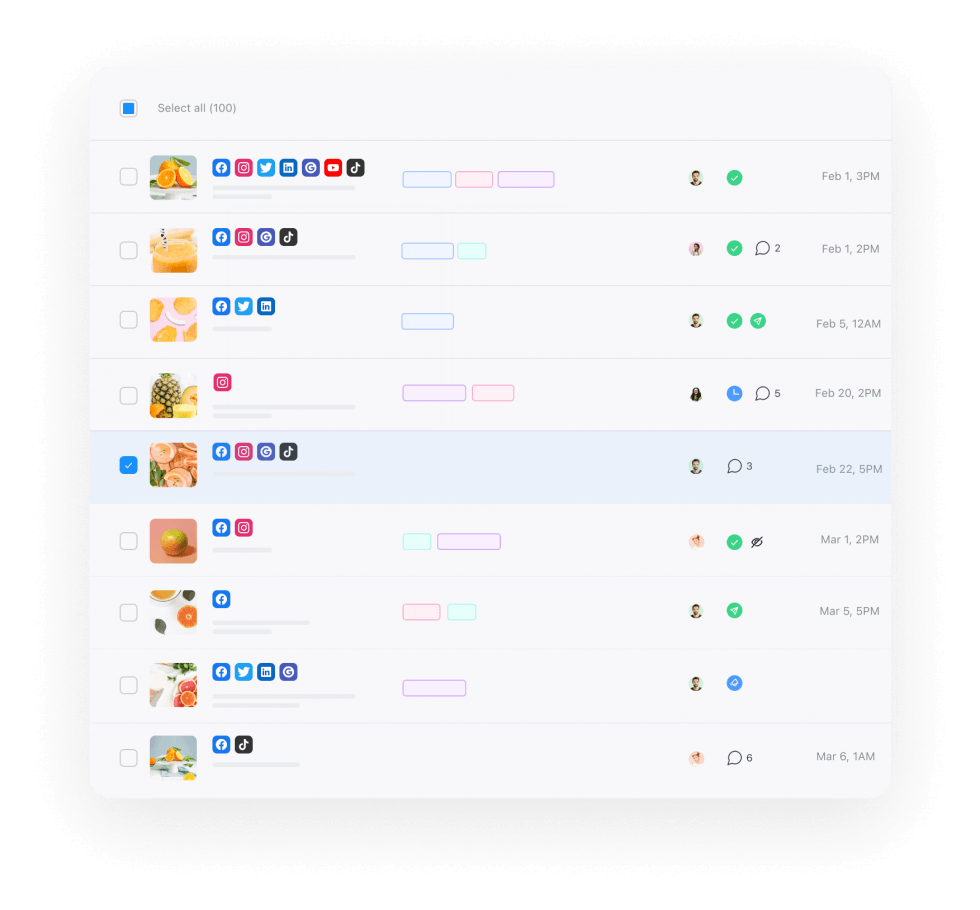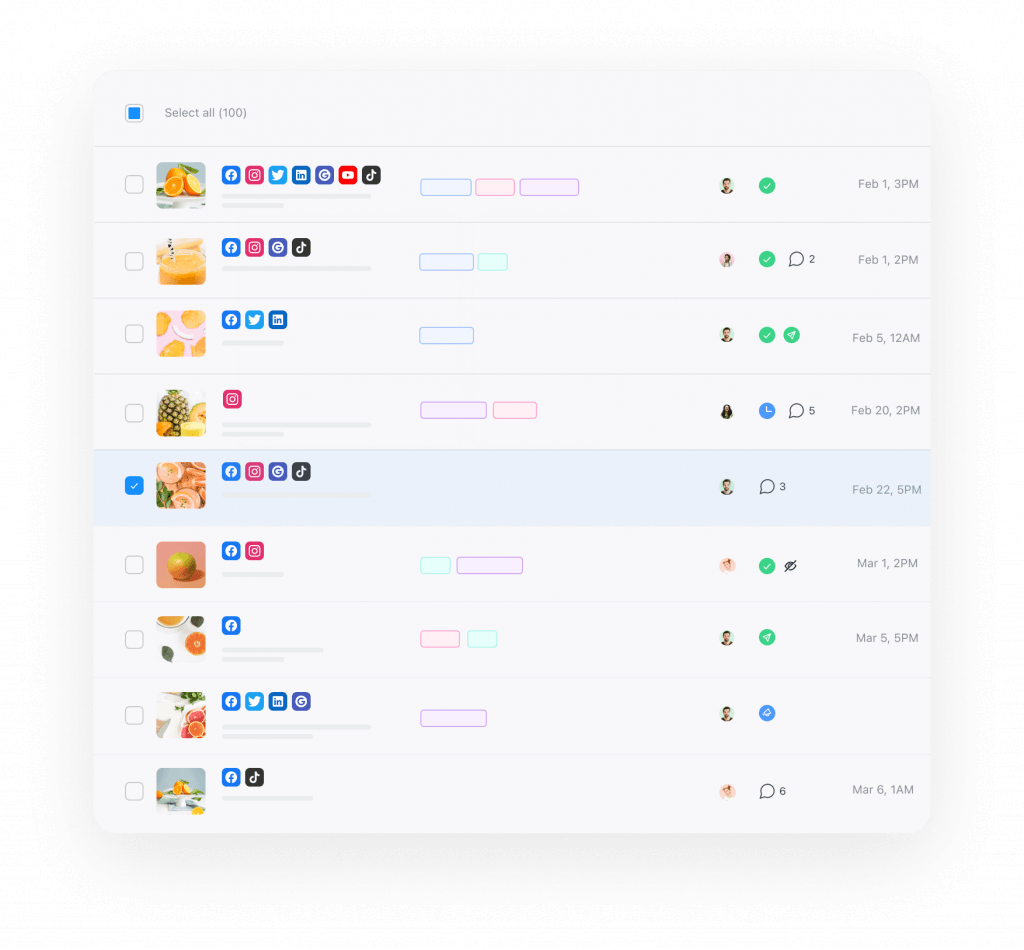 Speaking of which — did you know Planable makes it super easy to approve content and share feedback? A tight approval workflow will do wonders for your Instagram feed planning:
How frequently should I plan my Instagram feed?
Ideally, you want to plan your Instagram feed quarterly on a macro level. Create a rough outline of the topics and ideas you'll commit in that specific time frame. Then, take inventory of your resources and adjust accordingly. Planning quarterly will allow you to set clear goals for your Instagram feed, and it will provide you with the data and historical context you'll need for future planning sessions. 
Ready to harness the power of an Instagram feed planner?
Creating a content strategy for your Instagram feed is no mean feat. Still, by following the steps we outlined in this article, you should be able to develop a process that works best for you and your team. And again, you can always use Planable to plan the ideal Instagram feed.