Whether to increase brand awareness, generate new followers, or encourage user-generated content, hosting an Instagram takeover is a powerful marketing tool. For social media managers, it's an excellent way to inject some personality into a business account, be it in feed or over stories. But it takes careful planning to ensure the takeover guest is the perfect fit for your brand.
So, how do you start planning the account takeover for an Instagram profile? Who do you approach for the takeover, and how do you schedule it?
This article teaches you the core considerations of an Instagram takeover and shares advice to ensure you plan effectively for a successful takeover to increase exposure and engagement. If you're ready to create a fresh perspective for your brand or business, keep reading!
What is an Instagram takeover?
An Instagram takeover involves one user temporarily taking control of another user's Instagram account. The guest user takes over content like Instagram posts, stories, or lives, and interacts with the followers of the host account. This collaboration provides a unique opportunity for the takeover user to reach a new audience and showcase their creativity.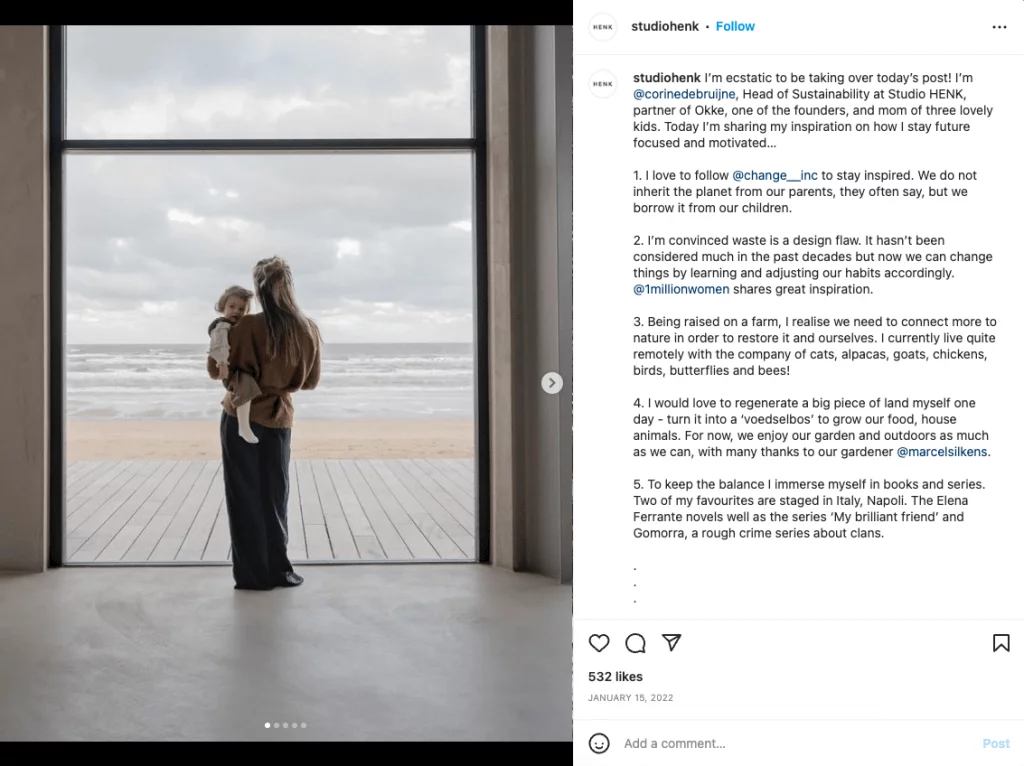 How do Instagram takeovers work?
The host account typically announces the takeover, whether with a brand or influencer, to its followers in advance. It then invites the takeover user to share their content, engage with followers and promote their own personal brand or business.
A takeover can go on for a set period of time, such as a day or week, and is especially useful when delivered as part of a particular campaign. Often the best results are when you give the host takeover creative license to ensure the content shared is genuine and recognizable of the takeover brand.
The best outcome is to provide a fresh perspective for the host account's followers and increase key metrics such as engagement. For a social media marketer looking to create buzz on a brand's account, an effective Instagram takeover is a brilliant, collaborative marketing strategy.
Why run an Instagram takeover?
Instagram takeovers can offer a range of benefits for both the host account and the takeover user. By collaborating and sharing content, both parties can increase their exposure and reach a new audience.
In addition, Instagram takeovers offer the opportunity to showcase different perspectives and create potential long-term collaboration opportunities.
View this post on Instagram
Here are the four main benefits of using Instagram takeovers:
Reach a new audience
Instagram takeovers provide the opportunity to reach a new audience that may not have otherwise been exposed to the takeover user's social media content, potentially increasing the host account's Instagram followers. 
In most cases, this provides an accelerated approach to tap into a highly engaged audience and build a following, which would normally take much longer to achieve.
Offer a different perspective
The takeover user can showcase their creativity and personality through their Instagram posts, Instagram live, or direct messages. They can also take over the company's Instagram stories to provide an engaging behind-the-scenes sneak peek into the business, adding fresh content and a new perspective to interest users.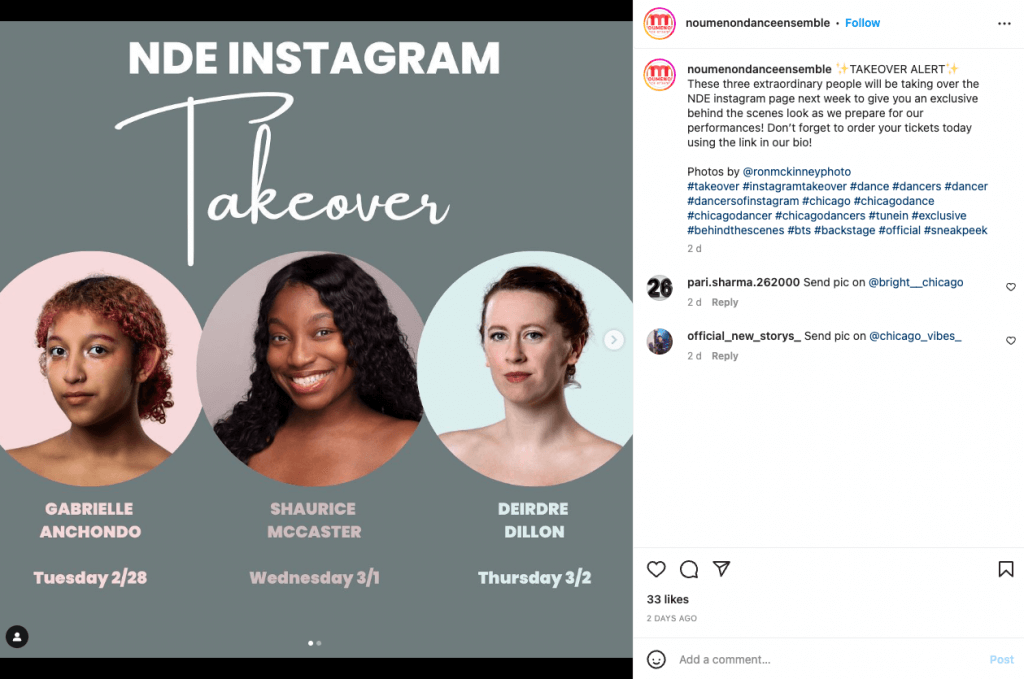 New collaboration opportunities
Successful Instagram takeovers often result in future collaborations between the host account and the takeover user. Both parties can establish a relationship and explore other opportunities to work together in the next takeover – perhaps even on other social media channels to reach an even wider audience.
For brands struggling to create fresh content on the daily – relying on the guest for new content can be a welcome break. 
Collaborations can also be a great way to introduce brands to new platforms. By tapping into the guest user's audience, you can notify new followers and encourage engagement on your growing channel where discoverability, initially, will be low.
Increase credibility
For influencers and industry social media experts, an Instagram takeover can increase credibility. It highlights how the guest user is trusted as a reliable source of endorsement that it is given the freedom to act as or with the brand.
This trust between the host and takeover partner results in a more engaged Instagram following, especially in 'dream' partnerships where the guest user clearly aligns with the brand.
For new and growing accounts, a partial account takeover or full account takeover is a successful early marketing tactic. It can help attract and define an ideal audience, giving the host account a chance to build its presence and potential followers.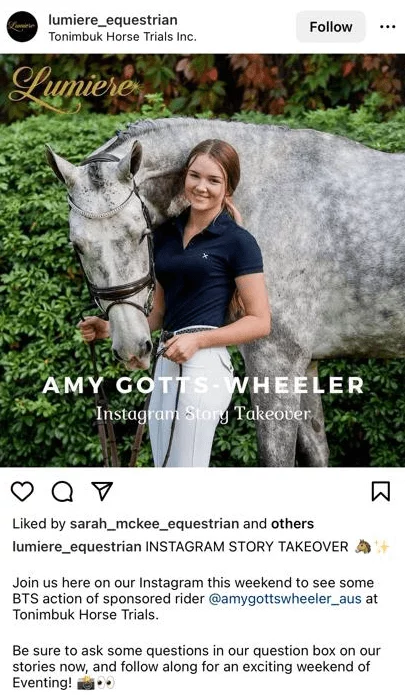 How to host a successful Instagram takeover
Hosting a successful Instagram takeover involves careful planning and preparation. By understanding the goals and objectives of the takeover and ensuring proper communication and collaboration with the takeover user, you can create a positive experience for both parties and achieve the desired results.
Follow our easy step-by-step guide on how to host an Instagram takeover, including the different types of content that can be created.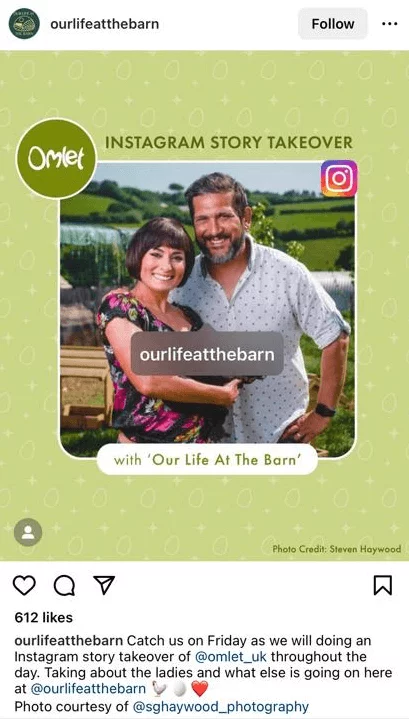 1. Define your goals
As with any social media strategy, it's important to define your goals and set key expectations for what both parties wish to achieve from the takeover. 
If engagement is a key objective of the account takeover, then set guidance on the types of takeover content and how many posts should be created, and where on the Instagram app. For example, the takeover strategy could be confined to content created in the Instagram feed to generate likes, shares, and comments.
If generating website link clicks is key, then the focus should be on Instagram story takeovers, where the link button can be appropriately shared for instant results.
2. Find a takeover host
Finding a takeover partner will depend on the business account type and whether you wish to engage with an existing or new audience. The takeover's success largely depends on finding the ideal match, which can differ for B2B and B2C businesses with different end goals.
We've highlighted four of the most popular takeover host types, and their benefits:
Influencers/content creators
As we know, influencers and content creators have a large and engaged following thanks to their bespoke and authentic content creation methods. This means brands can tap into a wide audience, creating large exposure for the brand that is seeking new potential followers or customers.
Customers
Take a closer look at your loyal customers – those consistently engaging with your brand on Instagram. Is there someone happy to share their experience of using your brand's products or services? If so, you can create a more authentic and trustworthy experience from a real customer's perspective – especially as a story takeover.
Employees
Don't forget to look around the office if you want to host employee takeovers! By using a colleague to share the culture of a brand or a behind-the-scenes look at how the business runs, you can create a more human and approachable image for the business. This can result in higher-than-average engagement and follower growth.
SMEs (subject matter experts)
Using a notable expert is an excellent way to further educate your audience and provide that third-party endorsement of your brand. This is especially needed in the long sales pipeline associated with B2B campaigns.
If you are unsure what would suit your business best, you may wish to open it up to pitches. See this great example from Brandeis University, which focuses on students or staff sharing college life through Instagram stories, with clear guidelines and best practices for a smooth takeover.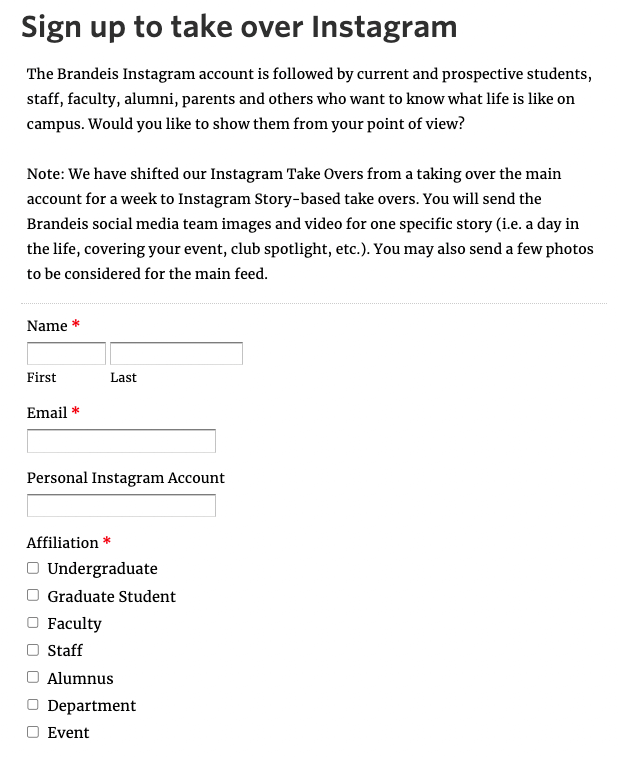 3. Choose the type of takeover
Defining the type of takeover is equally important to finding the takeover host. Once you know your overall objective (engagement/sales), you can choose the right way to promote the takeover.
Instagram Post Takeover
An Instagram post takeover is when a guest, such as an influencer, content creator, employee, or SME, takes over a brand's account and posts content on their behalf. The guest can post a mix of their own content and content related to the brand. This popular type of takeover can increase brand exposure and provide a unique perspective for the brand's followers.
View this post on Instagram
Instagram Stories Takeover
An Instagram Stories takeover involves a guest taking over the brand's Instagram Stories for a designated period of time. This type of takeover allows the guest to showcase their daily life and routines which provides a more personal and relatable experience to the brand's followers.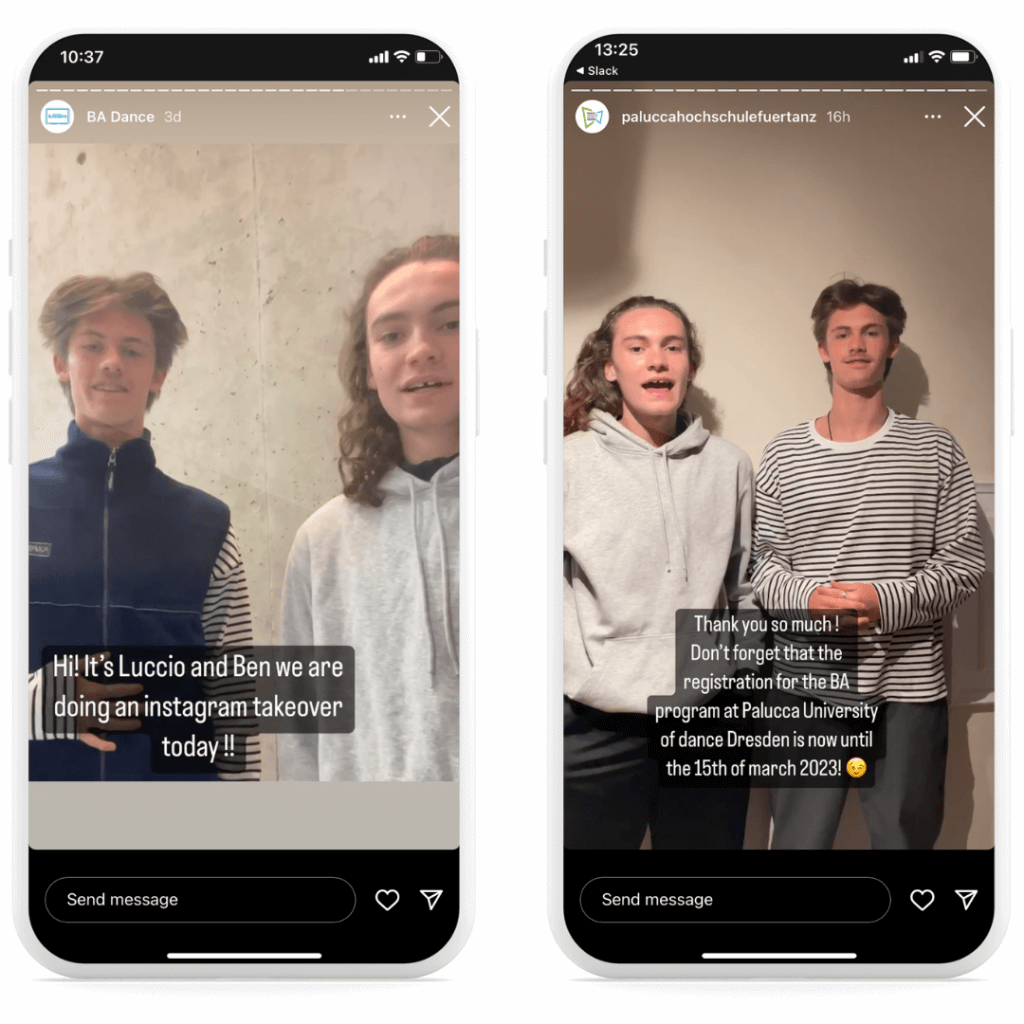 Instagram Stories takeovers are an effective way to increase engagement and build a more personal connection with the brand's audience. However, the nature of this content means after 24 hours, it'll disappear unless you save it as a highlight and promote it in another post.
Live Video Takeover
A live video takeover involves a guest taking over the brand's Instagram account and going live to interact with the brand's followers. This fun type of takeover allows the guest to respond to questions, showcase products or services and provide a real-time interactive experience for the brand's followers. Bonus points if organized with a VIP guest as a surprise!
Instagram Collaboration
An Instagram collaboration is when two or more Instagram accounts collaborate on a post or series of posts. This involves cross-promoting each other's content, creating joint content, or hosting a giveaway or contest together.
It's an effective way to increase brand exposure and build relationships with other brands or influencers in the same industry and benefits both accounts with new audiences and engagement levels.
4. Create the rules/guidelines
Don't forget to consider the rules and guidelines for any takeover to help make it a success and ensure all parties understand what's expected of them.
Deciding when and how long the Instagram takeover should last will come back to the overall objective. Suppose the Instagram takeover is to support a particular campaign, and you have an influencer taking over Instagram stories promoting a specific product. Does this fall at a time when your customers are most likely to take action, e.g., purchase the product?
If this falls on the weekend, you may wish to consider the guest host scheduling posts in advance. Planable's auto-schedule feature can support easy posting when content is approved.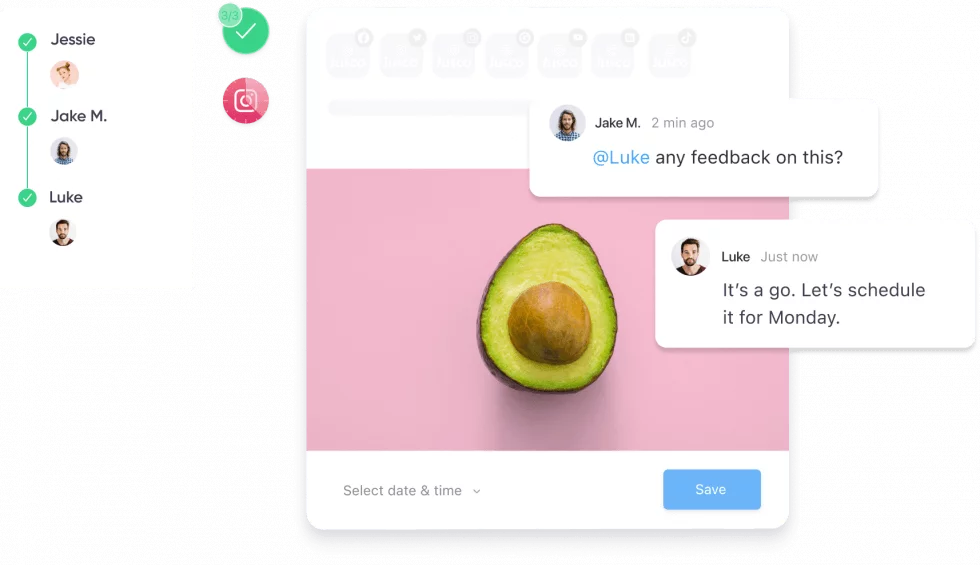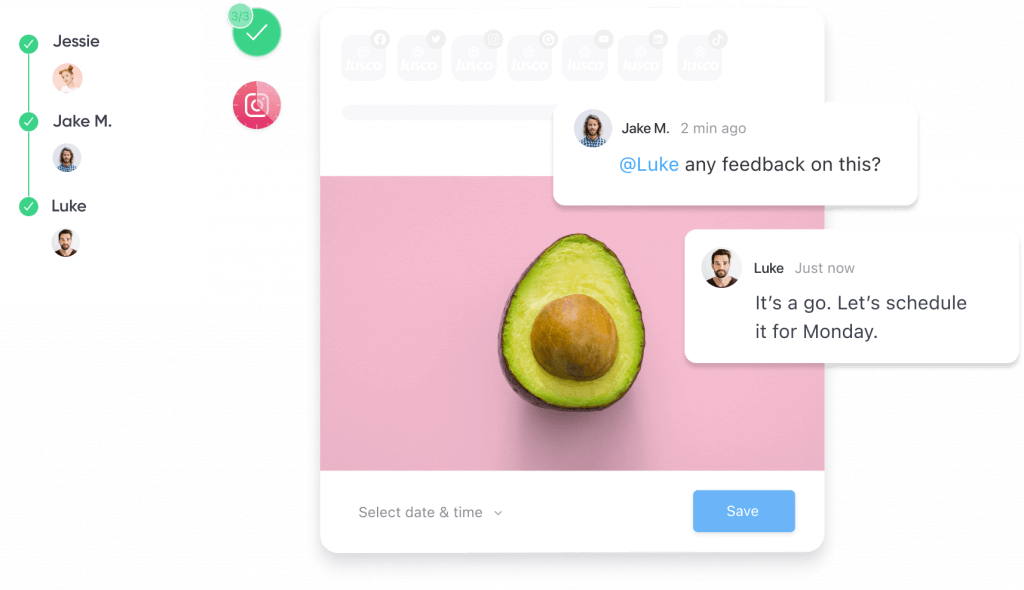 Having the target audience in mind will help shape the overall strategy and define the rules and guidelines for the brand's Instagram account.
If the Instagram takeover is part of a campaign, then a branded hashtag will be an effective tool to keep track of posts specific to that takeover and the subsequent engagement from new and existing followers. Consider whether other hashtags need to be used – and stipulate in the guidelines how for best results so you can effectively analyze the takeover's performance.
There will also need to be considerations for what type of content is produced, ensuring it aligns with the brand's identity and values and it's relevant to the audience. An influencer takeover may sound exciting, but it might be more beneficial to use an existing team member to showcase that particular business.
5. Promote the takeover
Promoting the takeover on different social media platforms can help to build anticipation and excitement for your brand's upcoming Instagram takeover. By creating buzz around the takeover across multiple social media channels, such as Facebook, Twitter or LinkedIn, the brand can create more awareness among its followers, leading to increased engagement and participation during the Instagram takeover.
View this post on Instagram
This is especially important if the brand's target audience is active on multiple social media platforms, as they will need as much notice and information as possible as to where the Instagram takeover is going to take place.
Consider how the takeover partner can also cross-promote content in the lead-up to the takeover to ensure its followers are also aware of the event and how to get involved.
View this post on Instagram
6. Give access
Before an Instagram takeover can even take place, you'll need to let the takeover partner know some key login details and any approval process to follow.
You can either send the password details securely or add them as a contributor to your Meta Business Manager and provide them direct access to the Instagram account.
You can also connect their account with your Business Account through the Instagram settings, ensuring you have two-way access to both Instagram accounts.
Content approval can also be given in advance, ensuring all takeover content has the sign-off from social media managers.
7. Monitor the takeover
Monitoring an Instagram takeover is an important aspect of ensuring its success. By actively engaging with comments and reactions, social media managers can ensure that the takeover remains relevant, engaging, and responsive to the brand's audience.
One of the key responsibilities of monitoring an Instagram takeover is replying to comments. This means regularly checking the comments section of the posts or inbox and responding in a timely and relevant manner. Replying to comments can help to build a personal connection with the brand's followers and increase engagement. It also demonstrates that the brand values and appreciates its audience, which can increase loyalty and engagement in the long term.
Engaging with reactions is another important aspect of monitoring an Instagram takeover. By paying attention to how the audience is reacting to the content, social media managers can get a better understanding of what is resonating with the brand's audience and what isn't. This information can be used to make informed decisions about future takeovers and inspire future content creation to attract interest.
8. Follow up
After the conclusion of an Instagram takeover, it's important to follow up with the guest to express gratitude for their participation. This is a good way to establish a positive relationship and open the door for potential future collaborations.
By reaching out to the guest and asking for their feedback, the brand can gain valuable insights and ideas for future takeovers or collaborations.
Instagram takeovers FAQs
Are Instagram takeovers effective?
Yes! Instagram takeovers are still an effective marketing strategy, especially for growing or stagnant accounts which could benefit from the fresh energy of a guest taking control of the content.
How do you do a takeover without giving out your password?
It's possible, but your guest is limited to just contributing posts which can be done through a third-party scheduling tool such as Planable, which makes content approvals nice and easy.
Ready to try out takeovers on your Instagram account?
Get planning! Discover how Planable can support social media managers with content creation and other resources.

Harriet Bolt
Harriet Bolt, an experienced freelance social media consultant, specializes in crafting effective social media strategies and generating leads. With over 12 years of creative PR experience in both agency and in-house settings, Harriet possesses a deep understanding of the online landscape. She is well-equipped to guide clients toward optimizing their social media presence.