Are you looking for PromoRepublic alternatives because you struggle with collaborating on written content in real-time, managing content approval workflows, and maintaining consistency across platforms? This article serves exactly this purpose.
As a freelance content writer, I've battled through each of the above challenges at some point. Particularly, when multiple stakeholders and approval stages are involved, things get even wilder. So, I know a solid social media management tool for collaboration can make or break your workflow.
In this article, I'll introduce you to 7 alternatives to PromoRepublic, discussing each one's key features, downsides, pricing, and more.
Why Should You Consider a PromoRepublic Alternative?
PromoRepublic is a social media management tool that helps agencies and small businesses manage their social publishing schedule for multiple social networks. It also offers content creation, social listening, advertising, and reputation management features
PromoRepublic is compatible with 6 social media platforms: Facebook, Instagram, LinkedIn, Pinterest, Twitter, and Google Business Profile.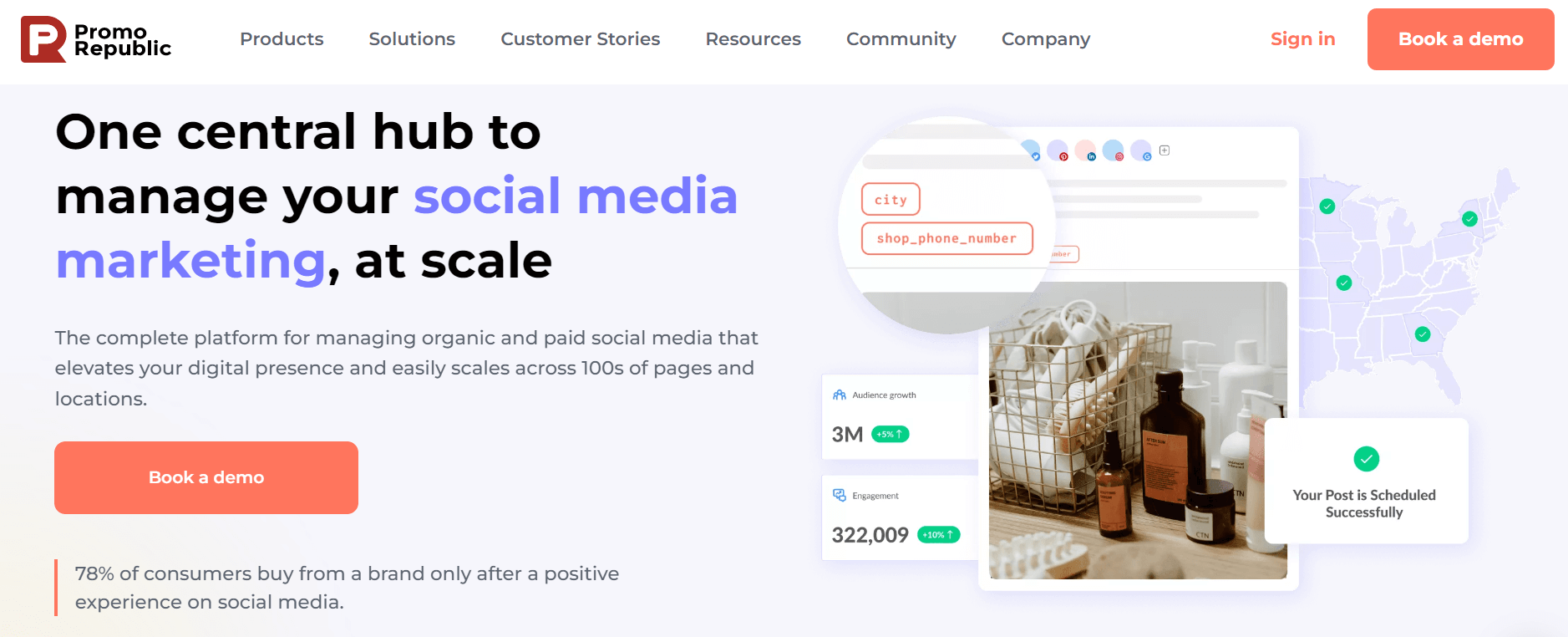 The biggest drawbacks of PromoRepublic? It doesn't support certain platforms and sometimes has connection problems.
For example, if you're into posting on TikTok and YouTube, PromoRepublic won't be a good fit for you.
Plus, some users reported the need to reconnect their accounts because of the unreliability and error-prone nature of the application. This means you might have to watch out for your accounts and fix any issues manually.
Here's why social media managers should consider a PromoRepublic alternative in 2023
Too many product lines: PromoRepublic offers different lines of products, such as review management, local SEO, digital asset management, and social media marketing. While each product serves its own unique purpose, having an extensive lineup of products can confuse users.
Connectivity: Sometimes, you might need to connect your social media accounts multiple times because the app isn't reliable.
Customer support quality: PromoRepublic's support team doesn't always get what users' problems exactly are, so it'll take a few back-and-forths to figure things out and get a solution.
1. Planable: best social media management tool for collaboration & approval
Planable is a collaborative platform that allows social media teams to create, organize, approve, and publish all sorts of written content, including social media posts, emails, newsletters, and content briefs.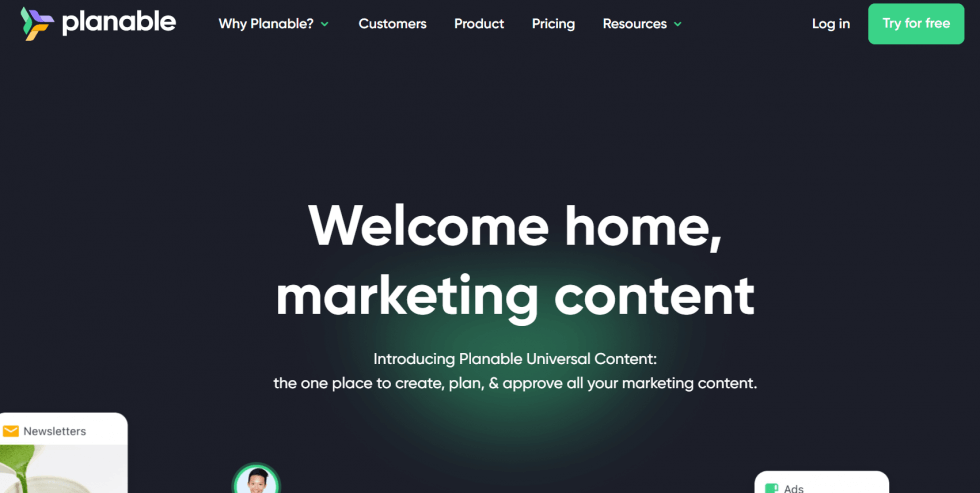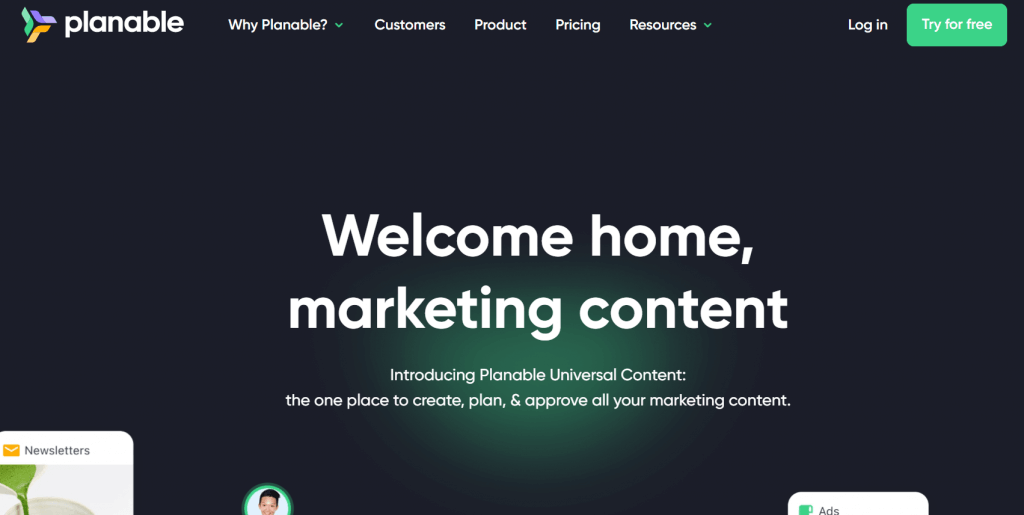 I absolutely love Planable. My favorite features are the approval processes, and you can publish to ALL the social media platforms easily.
Verified Planable review on G2
Planable is attracting more and more social media managers and agencies with its user-friendly interface, smooth navigation, and budget-friendly basic plan of $11/month.
Now, let's see some of Planable's key features:
Visualize your social media calendar with the drag-and-drop editor and get the full overview of your content efforts across multiple social networks.
Group your content and post simultaneously with the functional sync on/off feature.
Enable automatic scheduling of approved posts to win some time.
Keep your team up-to-date with internal notes, which external reviewers can't see.
Share a link to your drafts so others can view and comment without signing in.
The UI is beautiful and simple to navigate, and it's super easy to link accounts and can view the profiles I need and interact.
Verified Planable review on Capterra
Supported platforms
Facebook | LinkedIn | Instagram | Twitter | Google My Business | Youtube | TikTok | Pinterest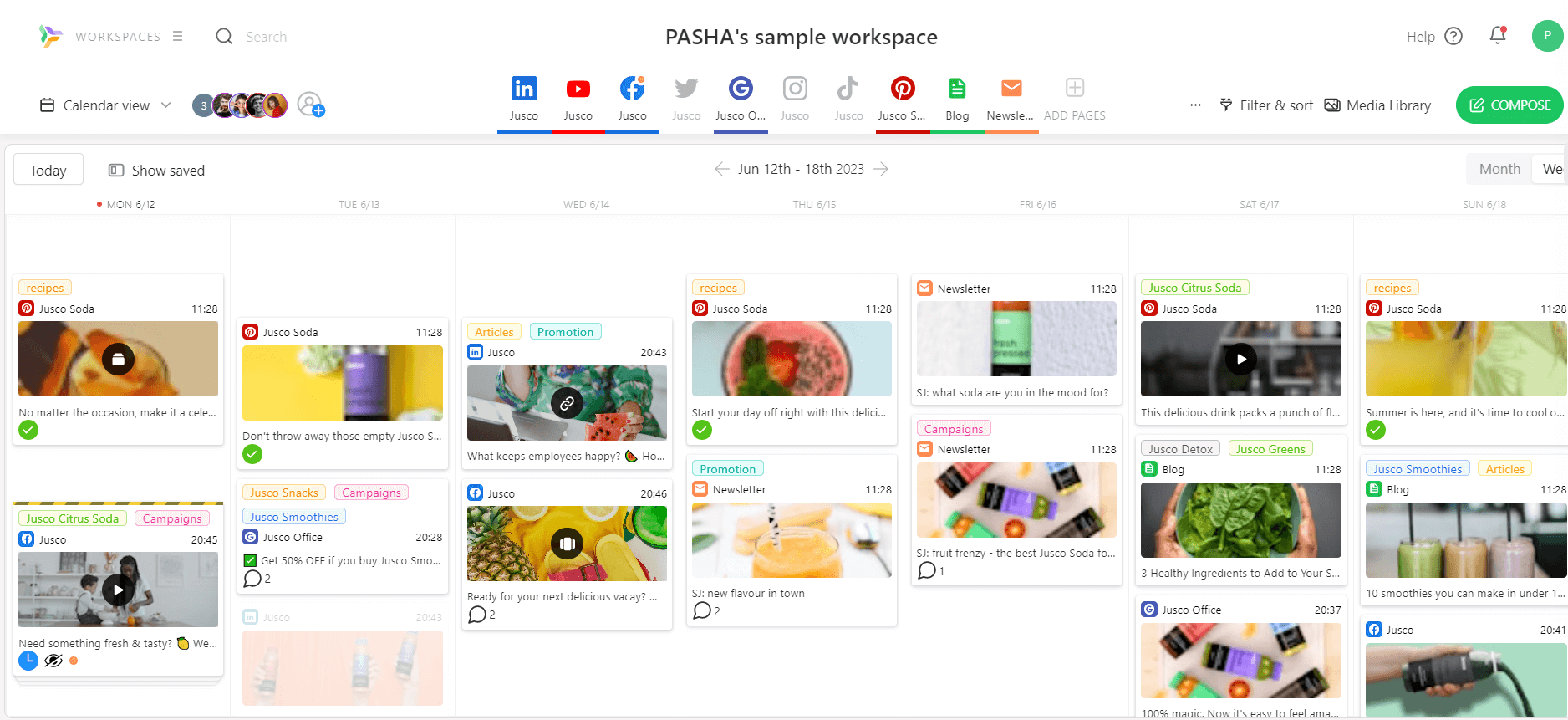 Downsides
Planable's specialty is collaboration, helping you keep your content workflow smooth so it doesn't offer built-in analytics and reporting for social media campaigns.
Planable pricing
Planable offers 4 plans: Free, Basic, Pro, and Enterprise. The free plan offers a whopping 50 posts to experiment with. But if you're ready to upgrade, its paid plans kick off at $13/month (on a monthly plan) for 1 user. Unlimited posts come standard with all Planable paid plans. Can't beat that deal!
Planable vs. Promorepublic
Planable integrates with 8 social platforms, whereas PromoRepublic connects with 6 platforms only.
Planable is more affordable than PromoRepublic, with a low starting price of $13/month. That's almost 5x less expensive than PromoRepublic's base plan. As a freelance writer myself, I can't resist such a bargain.
As the best PromoRepublic alternative, Planable enables real-time collaboration on written content through comments and notes. You can assign various permissions to keep content producers and clients organized.
When planning content in spreadsheets, we'd then have to move it to the social media pages. So then we'd discover we'd gone over the word count. Or had to add the emojis and the links. Planable saves you all this duplication, it just makes it a lot smoother.
Takeaway
If you're looking for a user-friendly content collaboration, planning, and approval tool for good value, Planable is the best PromoRepublic alternative.
You may want to check out Planable's case study with Rakuten Viber and see how they use Planable to overview all their content marketing efforts on different channels.
2. Hootsuite: best for holistic social media management and analytics
Hootsuite is a social media management software that offers features to facilitate content publishing, scheduling, multi-account management, and social media reporting.
Marketers prefer this alternative to PromoRepublic because it has great social media monitoring, social inbox, collaboration tools, and an easy-to-use interface.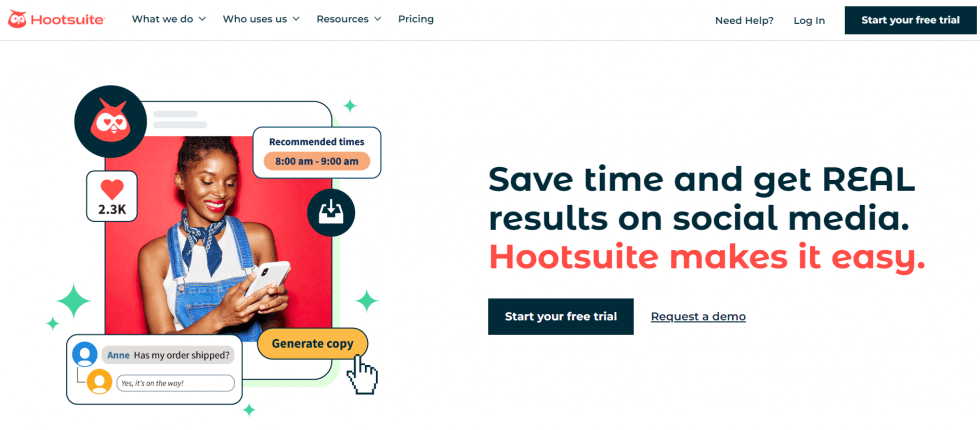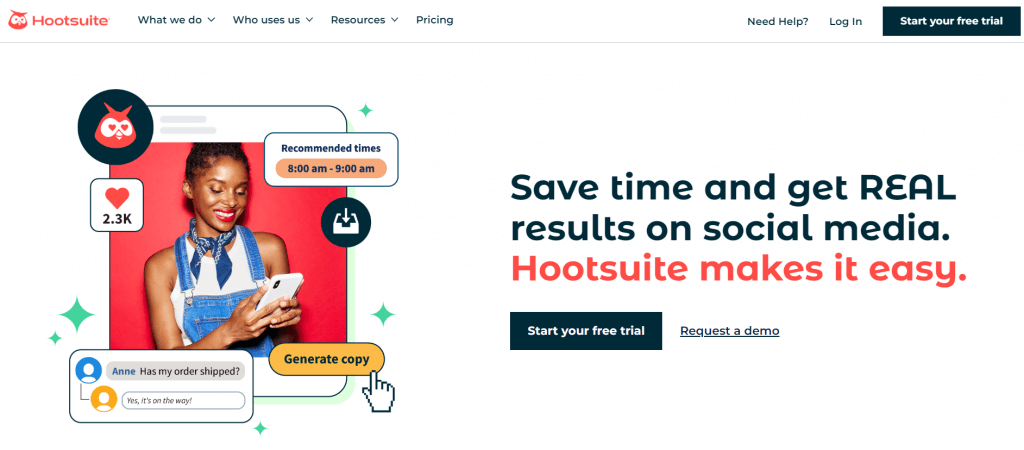 Hootsuite's key features are:
Schedule and manage content for different platforms from a single dashboard.
Have a complete view of all your social network messages.
Track all your KPIs through detailed social media reports.
Supported platforms
Instagram, Facebook, TikTok, Twitter, YouTube, LinkedIn, and Pinterest.
Downsides
Hootsuite's pricing is positioned at a relatively higher end, starting at $99/month for 1 user.
Hootsuite pricing
Hootsuite has 4 plans: Professional, Team, Business, and Enterprise. The base plan starts from $99/month (monthly plan). It also offers a 30-day free trial.
Hootsuite vs. PromoRepublic
Hootsuite is a great option for tapping into the booming TikTok audience, unlike PromoRepublic, which doesn't support TikTok.
Price-wise, PromoRepublic is cheaper than Hootsuite, with a base plan starting at $59/month.
Both have mobile applications for iOS and Android—a convenient feature for users who prefer to manage multiple social networks on the go.
Takeaway
Hootsuite is better than Promorepublic if you're looking for customizable reporting, dashboard notification, and multichannel post-boosting capabilities. But if you're on a tight budget, you'll need to opt for Promorepublic.
3. Later: best social media management platform for Instagram and TikTok
Later is a social media tool that helps digital agencies and individuals to schedule posts across different social media networks, manage multiple accounts from a single dashboard, and receive insights into marketing campaigns.
Social media teams favor Later because of its clean layout, social inbox, and the feature to view the posts from social channels with the most customer engagement.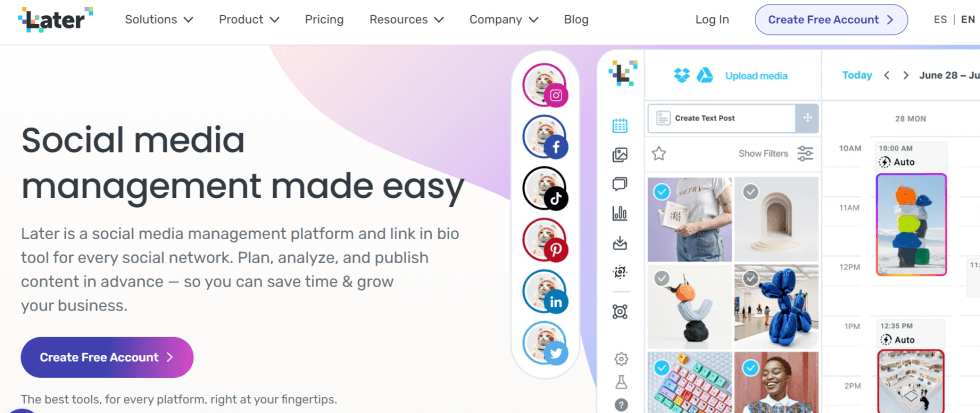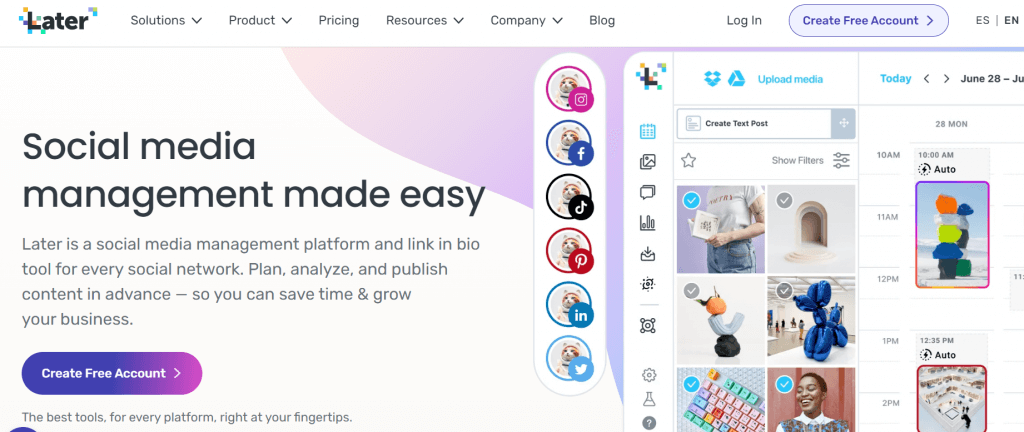 With Later, social media marketers can:
Get recommendations on the best time to publish content.
Schedule Instagram reels and reply to comments.
Find and save photos for Instagram via its Chrome extension.
Analyze content performance and optimize for better results.
Supported platforms
Instagram, Facebook, Twitter, Pinterest, TikTok, and LinkedIn.
Downsides
One major Later downside is that users might face occasional bugs that can mess up their scheduling process. Another drawback is that it doesn't sync up with YouTube, so users can't manage their YouTube content from the platform.
Later pricing
Later has 3 subscription options, with monthly pricing starting from $18/month. You can also sign up for their 14-day free trial to test the tool.
Later vs. PromoRepublic
Later focuses primarily on Instagram because most of its cool features, like caption generator and link in bio, are for Instagram only.
Compared to PromoRepublic, Later is three times more affordable, making it an attractive choice for marketing teams with low budgets.
Both solutions suggest the optimal time slots for users to post content for enhanced engagement.
Takeaway
If you're all about Instagram and it's your go-to channel, then Later is a solid PromoRepublic alternative to go with. Besides the features mentioned above, like the caption generator and link in bio, Later also has features like hashtag suggestions and stories and reel scheduling.
4. Buffer: best for publishing, scheduling, and managing content across different social media networks
Buffer is a social media management solution for publishing and scheduling posts, engaging with potential customers, and analyzing social media performance from a single dashboard. Buffer stands out from similar tools because of its features like built-in analytics, direct posting to Instagram stories, and team management features.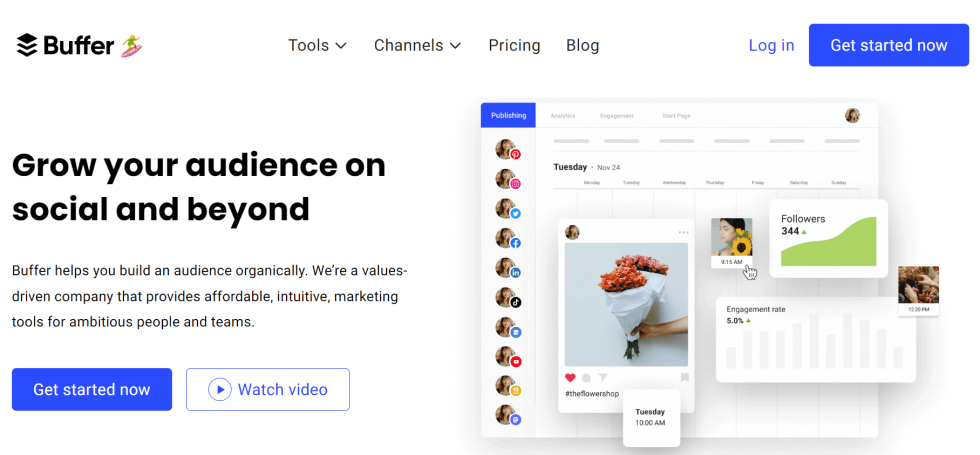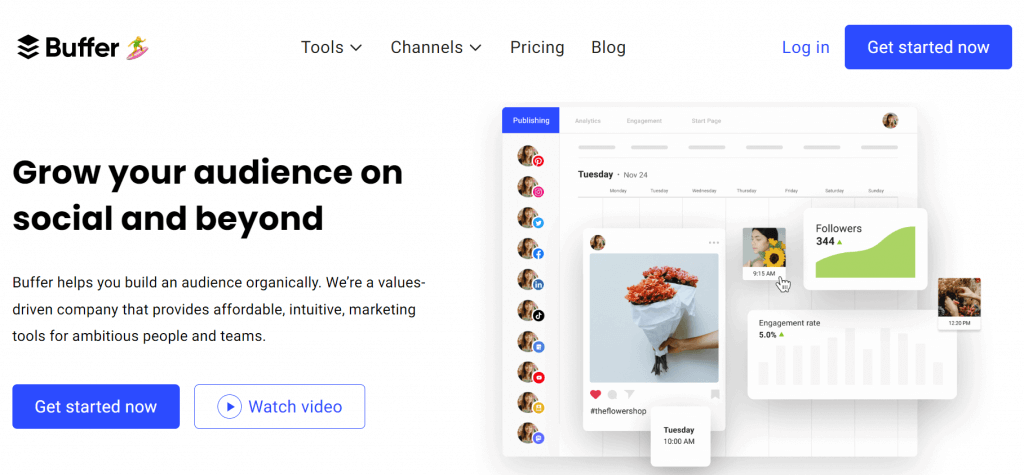 Besides content scheduling, Buffer enables users to:
View unanswered comments and prioritize important conversations.
Compare paid and organic results of boosted posts.
Measure the performance of stories and hashtags.
Supported platforms
Facebook, Instagram, Twitter, LinkedIn, Pinterest, TikTok, Google Business Profile, and YouTube.
Downsides
Buffer may get wonky, and it may crash when you upload multiple media files or manage different social media profiles all at once, causing a bit of a delay.
Buffer pricing
Buffer has 4 plans: Free, Essentials, Team, and Agency. Their paid plans start from $6/month for 1 channel or $18/month for 3 channels. They also offer a 14-day free trial.
Buffer vs. PromoRepublic
Buffer makes social media management more efficient with centralized control, link shortener, hashtag manager, and white label reports capabilities.
Buffer integrates with third-party tools like Canva, Zapier, Unsplash, and Google Drive.
PromoRepublic has a library of 6000+ templates for at least 17 industries. That's a goldmine of content that users can explore right away.
Takeaway
If you're looking for smarter engagement features, a Chrome extension, and third-party integrations, then Buffer is one of the best alternatives to PromoRepublic.
5. Loomly: best for social media content planning and community building
Loomly is another PromoRepublic competitor that helps social media teams schedule and plan content across different social networks. Marketers save time with Loomly's content optimization tips, automated publishing, analytics, and hashtag manager features.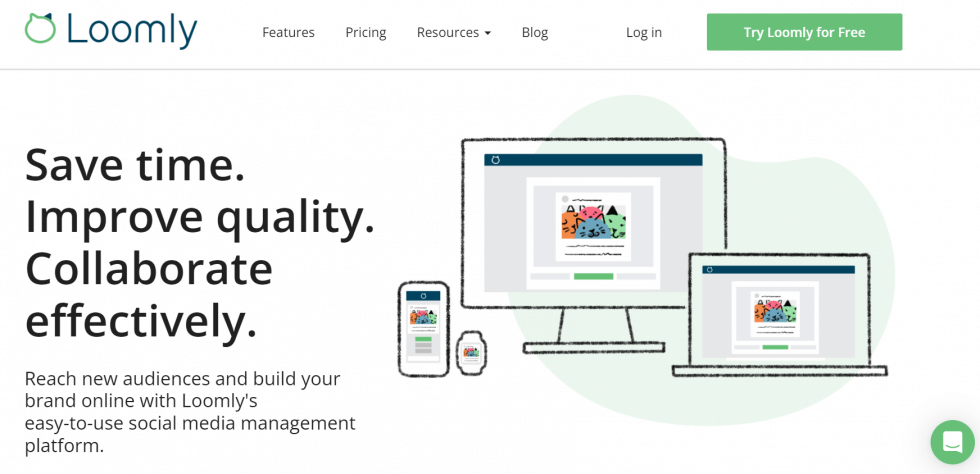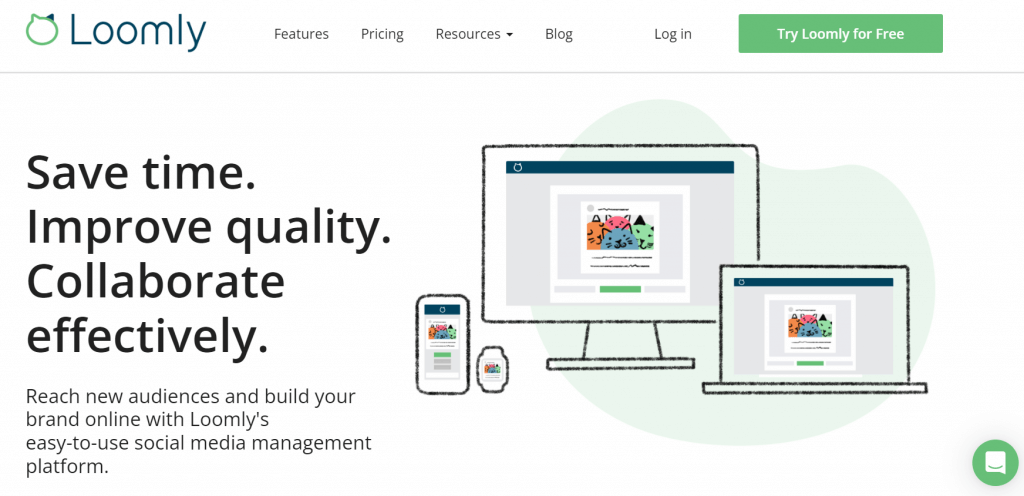 What can Loomly do?
Get a list or calendar view of your content schedule.
Receive push, Slack, or Microsoft Teams notifications.
Reach the people that matter to you via Facebook and LinkedIn audience targeting.
Supported platforms
Facebook, Twitter, Instagram, Pinterest, LinkedIn, Google Business Profile, YouTube, Snapchat, and TikTok.
Downsides
The Loomly interface requires some enhancements, as users on Capterra mentioned they found the interface disorganized. Plus, it'll take some time to get the hang of Loomly since there's a learning curve involved.
Loomly pricing
Loomly has 5 plans: Base, Standard, Advanced, Premium, and Enterprise, The cheapest plan starts at $35/month for 2 users and 10 social accounts. Loomly offers a 15-day free trial.
Loomly vs. PromoRepublic
Loomly is compatible with Youtube, Snapchat, and TikTok, which PromoRepublic doesn't offer.
When it comes to jazzing up your collaboration and streamlining workflow, Loomly is a great alternative to PromoRepublic. It's user-friendly, so even beginners can get going with no issues.
Takeaway
Loomly comes with a smooth content approval process, so your clients can quickly review your content or suggest edits quite easily.
6. Sprout Social: best for social listening and community engagement
With features like posting, social engagement, collaboration, and analytics, Sprout Social is a comprehensive alternative to PromoRepublic. Marketing agencies love using Sprout Social to craft their marketing strategy, organize posts, and have high-level oversight through social media reporting.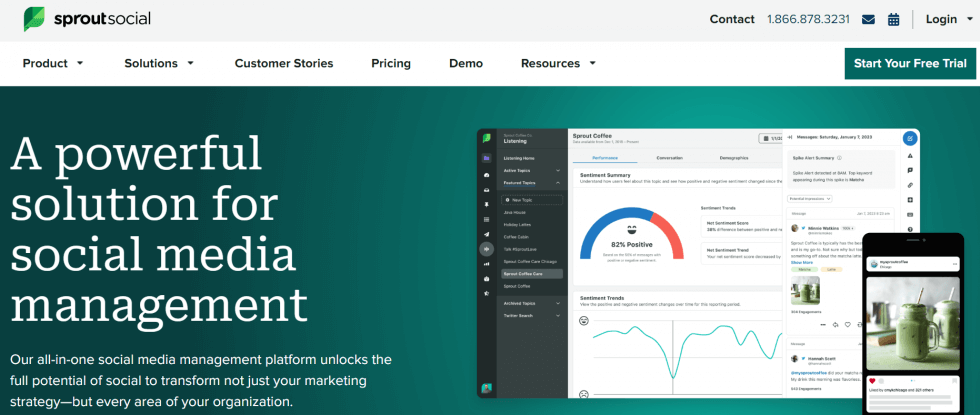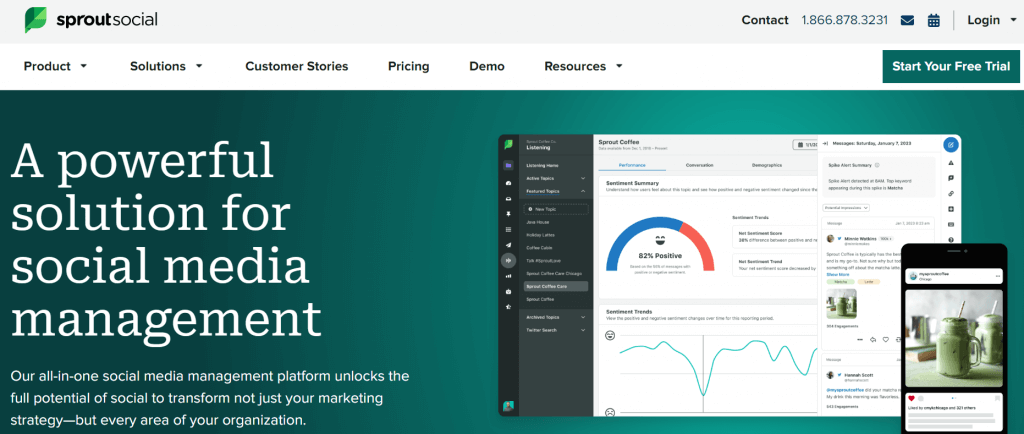 Besides social listening, Sprout Social can also do:
Use customizable reports for a big-picture view.
Collect all your shareable content in one place so your social media team can easily see what's already approved.
Use a visualized calendar to organize posts across networks.
Supported platforms
Facebook, LinkedIn, Pinterest, Twitter, Instagram, Google My Business, WhatsApp, YouTube, and Tumblr.
Downsides
The main Sprout Social downside is its high-end pricing, which can be a budget buster for small marketing teams. Also, as per this G2 review, be prepared to experience some occasional lag, as it may not always be as fast as you wish. Planable is the answer to the above Sprout Social downsides.
Sprout Social pricing
Sprout Social offers 4 subscription plans, with a starting price of $249/month. Users can try the tool for 30 days for free.
Sprout Social vs. PromoRepublic
Sprout Social stands out by providing WhatsApp integration for managing customer conversations, which PromoRepublic doesn't offer.
Sprout Social is more suitable for big and midsize businesses with deep pockets. So, if you're a medium-sized or small entity, PromoRepublic is your right choice.
Takeaway
Sprout Social has many advanced features, such as audience analysis, customer feedback, sentiment analysis, trend identification, and competitor analysis. If you're all about understanding the online buzz through unfiltered opinions online, give Sprout Social a shot.
7. SocialPilot: best for social media scheduling and analytics
SocialPilot is a social media marketing automation tool with features like post scheduling, analytics, social media calendar, social media reporting, and white-label features.
It's a hit among marketing agencies and big businesses as they use SocialPilot to plan their campaigns and prepare their social content in advance.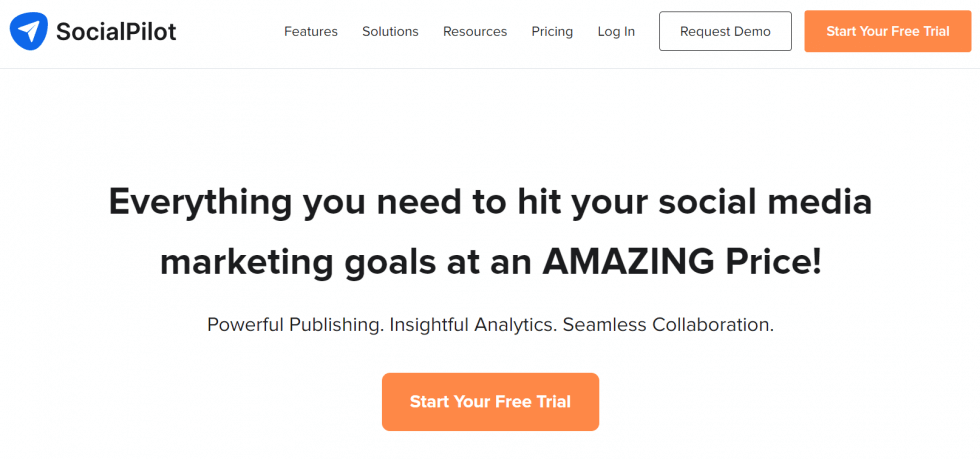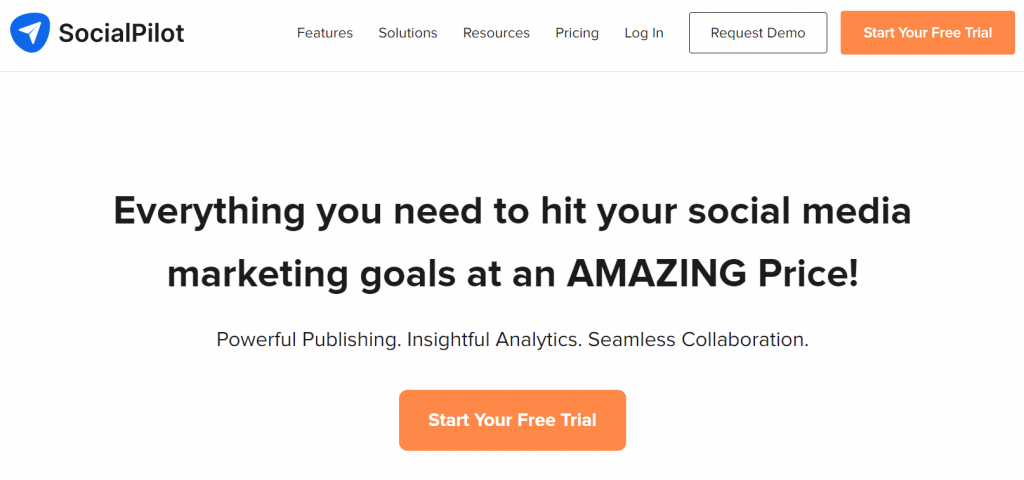 With the SocialPilot, creators can:
Get a granular-level idea of scheduled content.
Schedule up to 500 social posts in one go.
Receive detailed PDF reports via email or share them with clients automatically.
Supported platforms
Facebook, LinkedIn, Pinterest, TikTok, Twitter, Instagram, Google Business Profile, and YouTube.
Downsides
Some users complained about their social accounts getting disconnected occasionally, making them reconnect again. And watch out for SocialPilot's scheduling feature, as it doesn't publish posts on time, so you might need to reschedule manually.
SocialPilot pricing
SocialPilot pricing starts at $25.50/month for 1 user and 10 social media accounts. Overall, it has 4 subscription plans and a 14-day free trial option.
SocialPilot vs. PromoRepublic
With SocialPilot, navigating between accounts and monitoring analytics is slightly easier.
SocialPilot is like a social butterfly, integrating with your Slack workspace and making it convenient to stay in the loop about all the key actions. PromoRepublic doesn't sync up with Slack.
Both platforms offer the functionality to auto post content from RSS feeds—no need to constantly check your favorite sites to see if a new blog post is live.
Takeaway
Want to send out posts to different social networks and edit them slightly as per each platform while enjoying a calendar view with a neat interface? SocialPilot is a great alternative to PromoRepublic.
PromoRepublic Alternatives FAQs
What is better than PromoRepublic?
Planable is the best PromoRepublic alternative for seamless collaboration and approval workflow. But if you're looking for comprehensive social media analytics capabilities, then Buffer and SocialPilot are great options.
Is there a free alternative to PromoRepublic?
Yes, Planable is a free alternative to PromoRepublic. Planable offers a free plan that's loaded with a generous 50 total posts to test out Planable and fall madly in love with it. Once the trial's done, it'll only cost as little as $11/month.
Can PromoRepublic publish on TikTok?
No, PromoRepublic can't publish on TikTok, but with Planable, you can schedule content directly to your TikTik feed.
Pasha Abdulov
Pasha is a SaaS content writer with 3+ years of experience, specializing in content planning, product analytics, reporting, and data management. When he's not busy writing, he loves exercising, cooking Italian recipes in his kitchen, or immersing himself in the world of detective novels.