Plan & schedule Instagram posts faster
Create, plan, review, approve, and schedule Instagram posts in one place. Directly. Buh-bye push notifications. You can currently schedule Instagram feed posts, carousel posts, Reels, and Instagram Stories with Planable. Here's how:
1. Connect your Instagram page to Planable.
2. Compose your Instagram Post, Story or Reel.
3. Select the desired date & time and schedule your social media post 🎉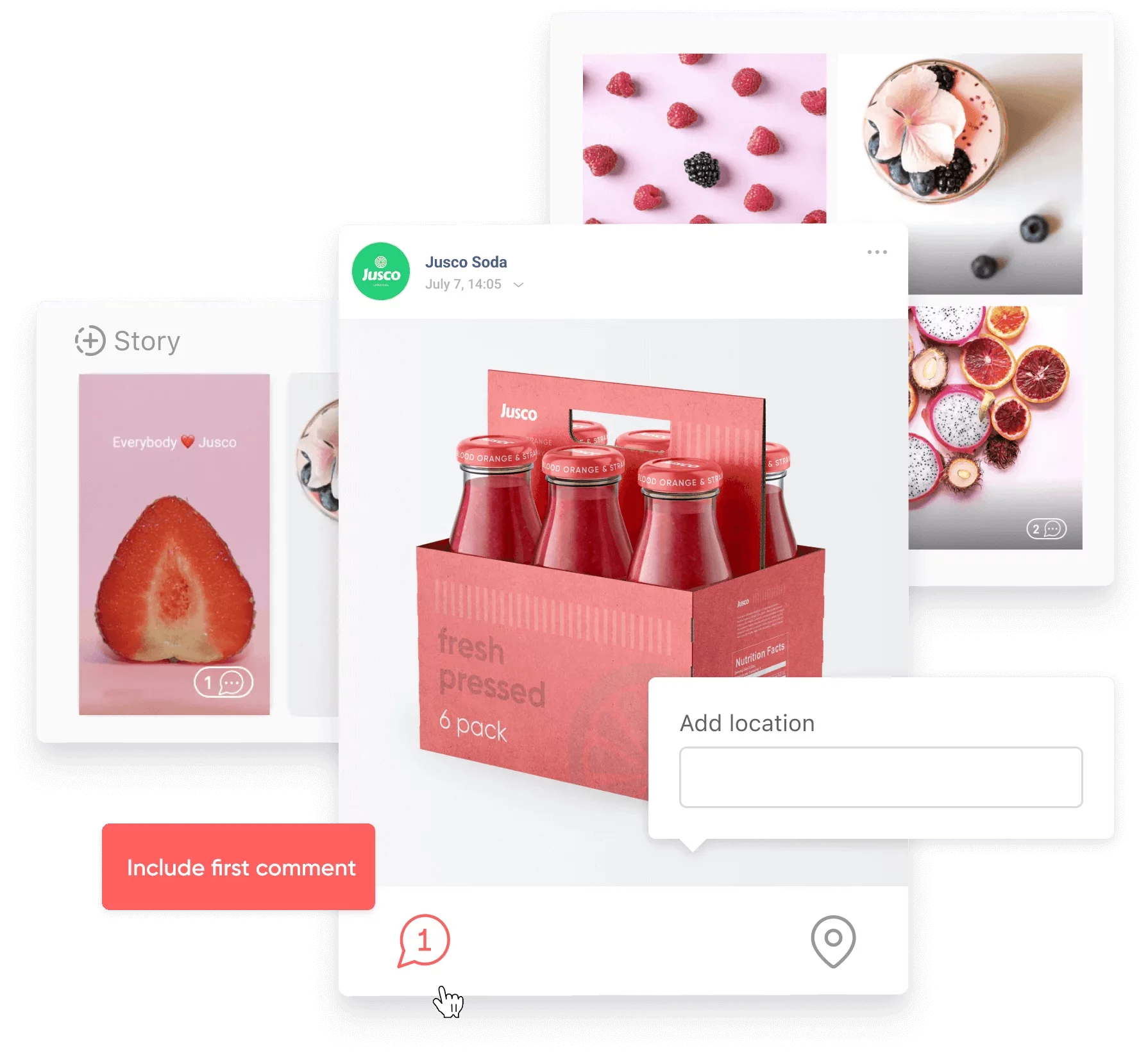 Scheduling Instagram posts has never been this easy
Planning
Multiple views for your Instagram account
The Instagram post scheduler that gives you options. Four, to be exact.
Plan & schedule the perfect 
Instagram Stories
Make that Instagram story yours:
✓ Change the font
✓ Fiddle with the background gradients
✓ Add some emojis
✓ Collage photos
✓ Plan it all in a calendar alongside all your other posts and pages.
(Because a 24h expiration deadline brings up your adventurous spirit. Admit it.)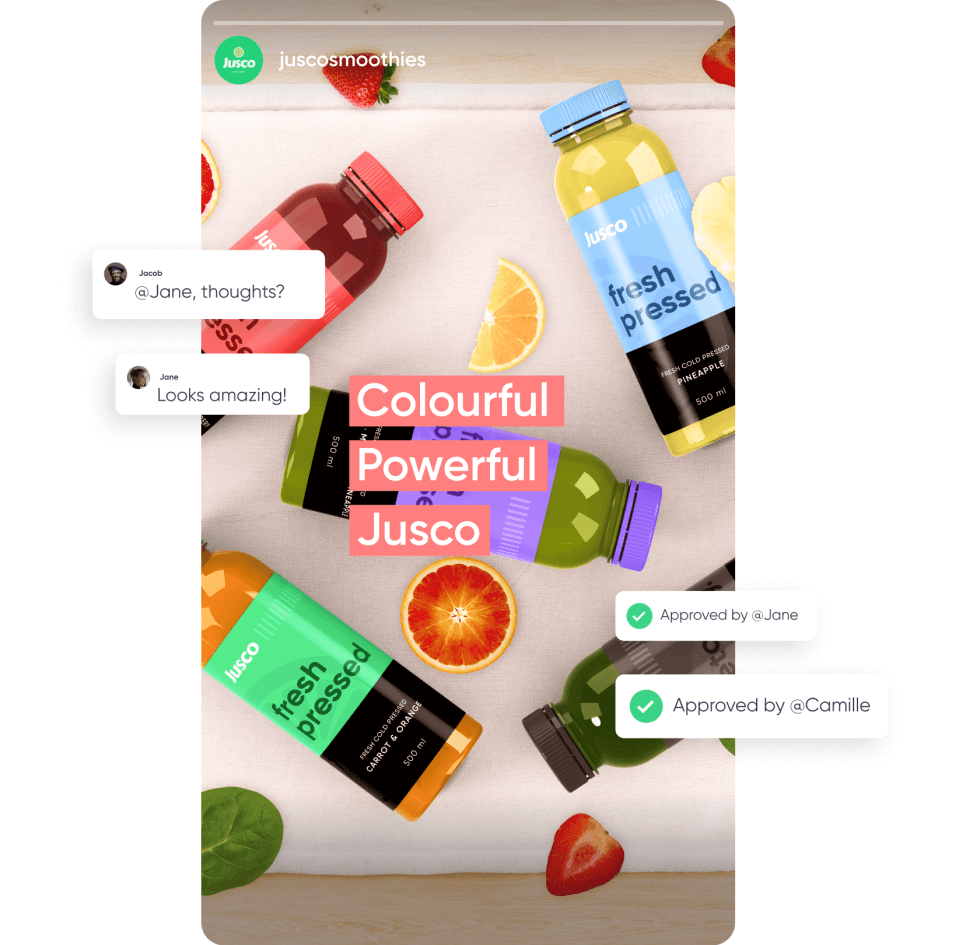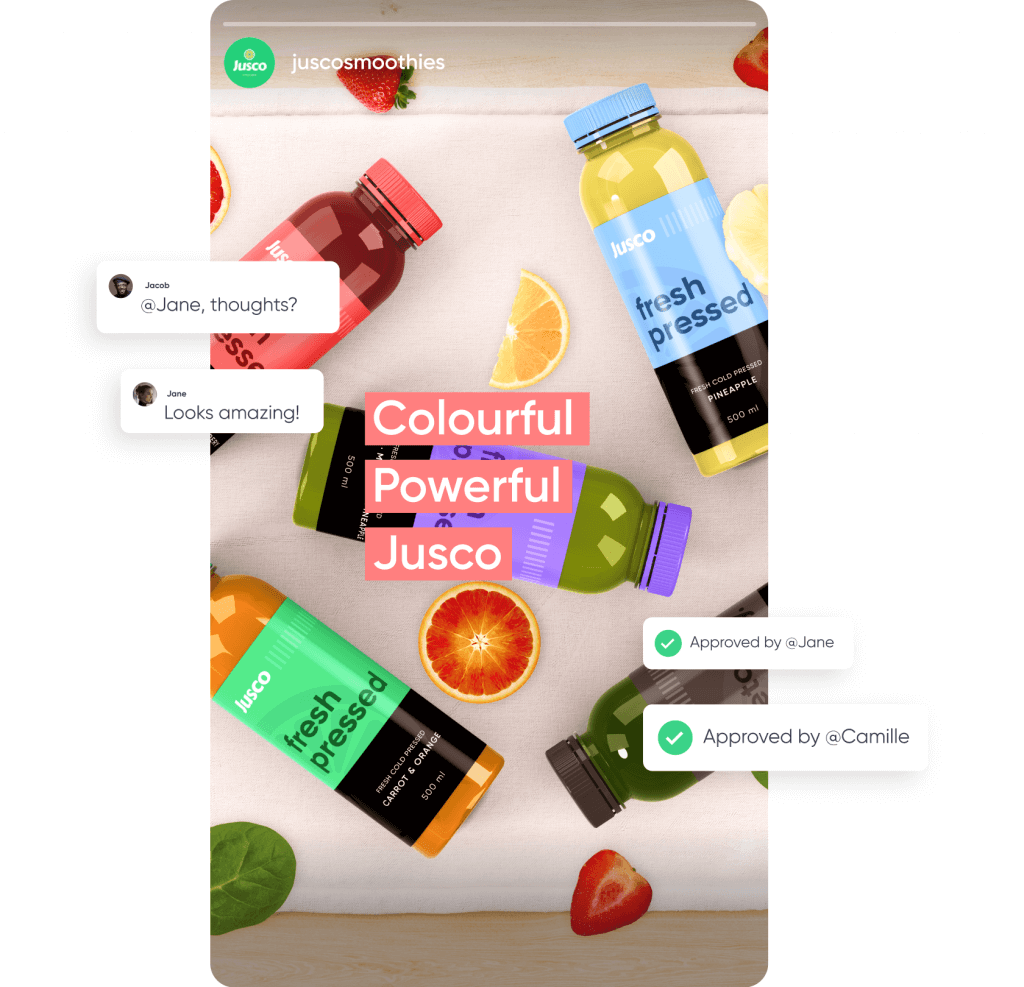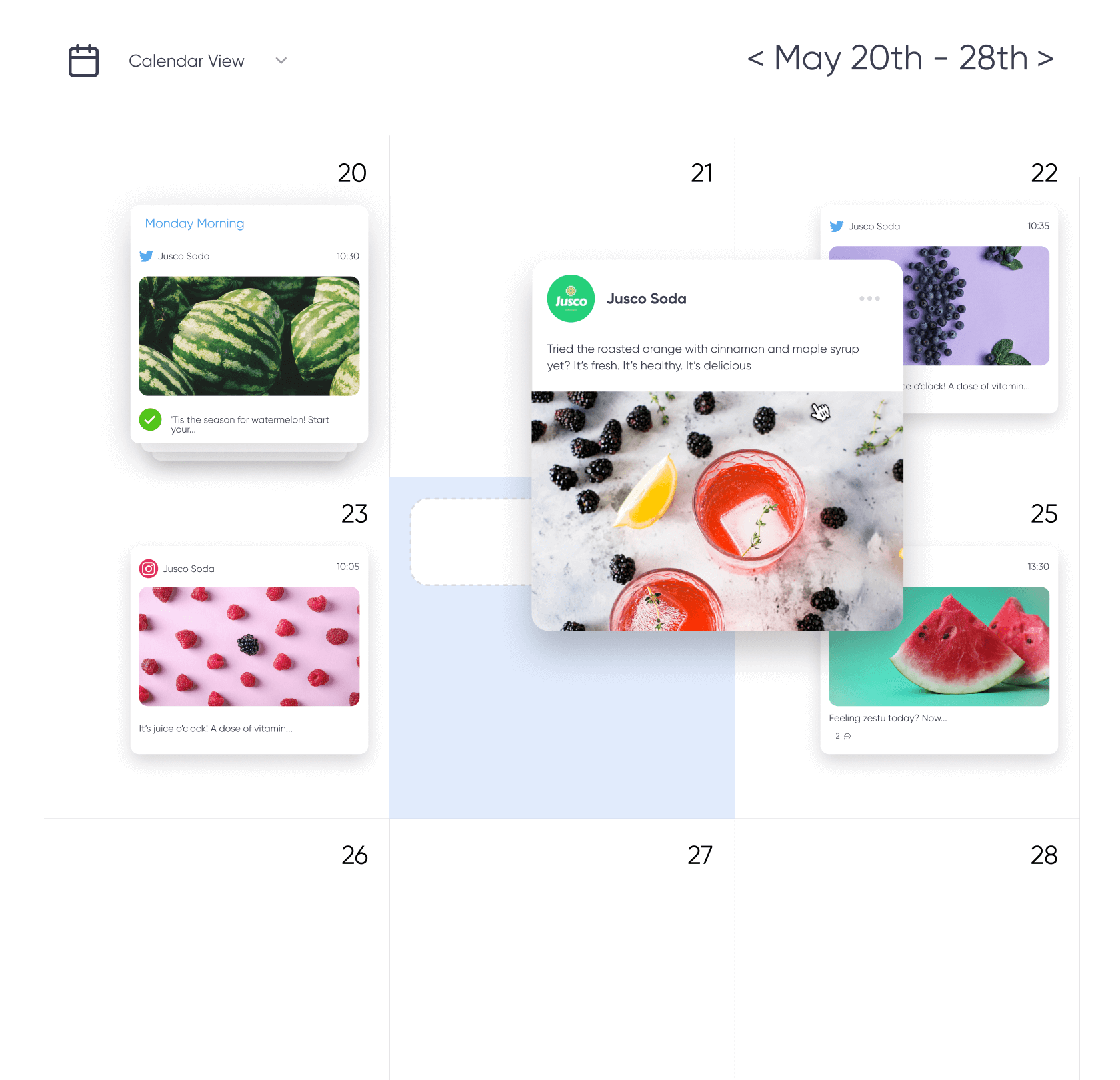 Plan in the sleekest Instagram content calendar
It's fashionable. It's functional. And most importantly, it impresses the heck out of your approvers.
✓ Create your posts, stories, and reels
✓ See them in the calendar view
✓ Drag & drop till you reach the perfect balance.
(Because you want to see your posts at a glance. Not after 54 clicks.)
Visualize your week or month at a glance. Without mental gymnastics.
Plan & schedule posts in advance using the no-sweat drag-and-drop feature.
Showcase your work to your boss or clients in the best possible light.
Create templates instead of manually scheduling Every. Freaking. Post.
Build an impeccable 
Instagram grid
Planning content for the most visual and competitive social 
network in the world requires a social media management tool up to the task. Planable offers just that:
✓ Preview your grids accurately
✓ Edit your images
✓ Apply filters, crop & resize
✓ Drag and drop til' it looks just right.
(Because you secretly envy all your photography-obsessed friends.)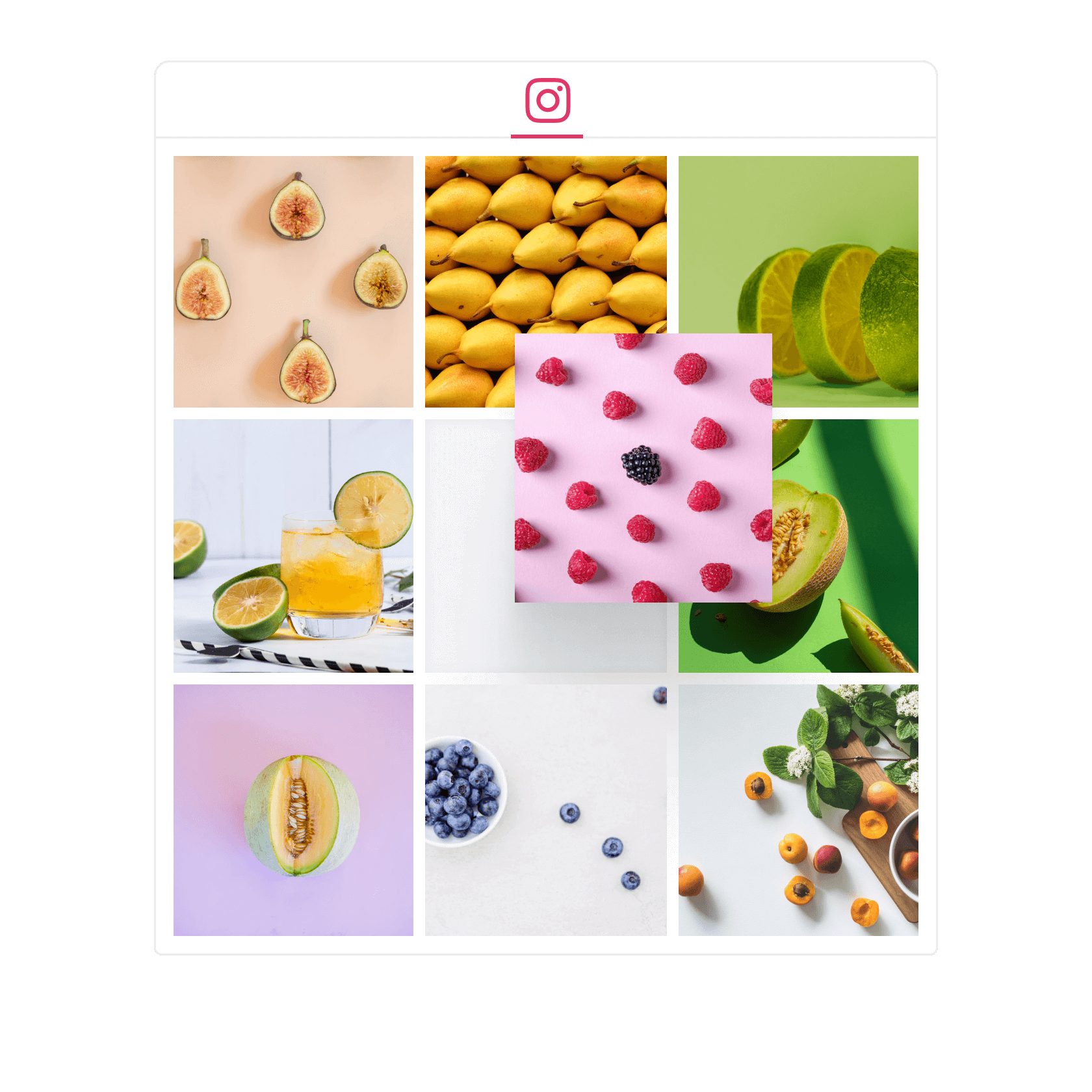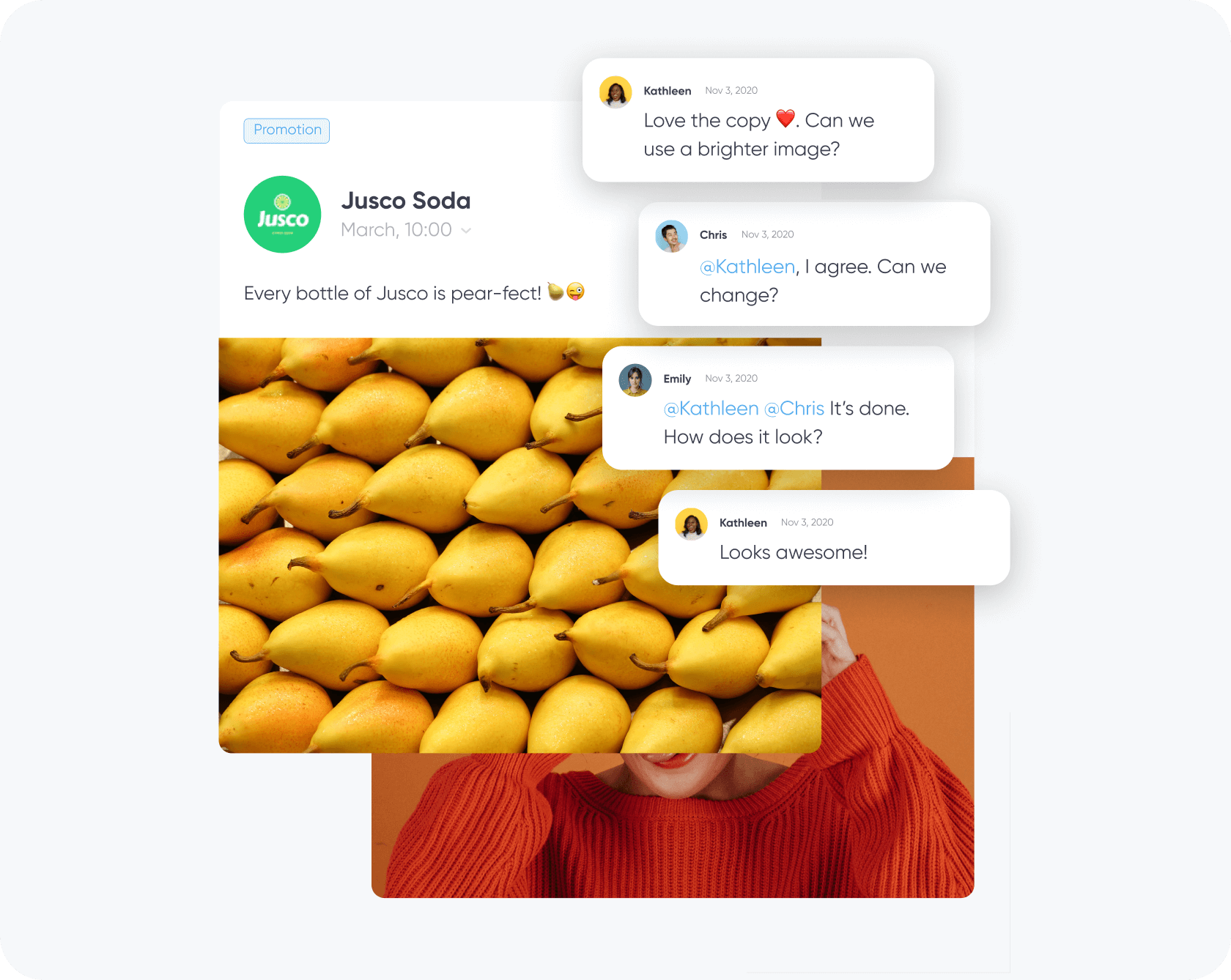 Collaborate on-the-go & in real-time
Searching for feedback in endless email threads?
Looking for that lost spreadsheet that had some feedback?
No more of that.
In Planable, you get your comments, internal notes, tags, and approvals in one place.
(Because you've got stuff to do, like creating more content and breaking the internet.)
Your team and clients never
have to leave the page
Keep your team members and clients in the loop with a single shared workspace. No need for endless back and forths – you and all the parties are literally on the same page. Need feedback from someone outside the organization? Share your content via a unique link. No need to sign-up – all existing comments and labels will be visible to guests.
Instant, in-context feedback
loop
Planable lets you gather feedback where it makes sense – right next to the post. Add internal notes for some team members only. Present the final approver with a polished, final version. Never miss feedback. (There's only one place to check, so it's sorta hard to miss.) Tag team members, choose the right people to receive notifications, and watch as your Instagram post blossoms.
Get your Instagram post
approved in a jiffy
Approvals at your desk or on the go are at a tap or click away. With Planable, you know for sure when your post is ready to be published. Our workspaces can accommodate any approval flow. Disable approvals completely or set up a multi-level approval sequence. Once posts are approved, you're done. They'll automatically schedule and post directly on Instagram.
Auto-post to Instagram
with one click
With Planable, you can actually schedule posts for all social media platforms

Boost your brand to TikTok stardom
With 1 billion monthly active users, it's clear that TikTok is where it's at right now. With Planable, you can harness the chaotic meme energy of TikTok and take your brand's online presence to the next level. Drop your TikTok in Planable. Invite your team and clients to collaborate and leave feedback on that hashtag strategy you've been working on. Then, schedule those TikTok videos and go about your day. All that in one place — you and your team are literally on the same page. Let Planable help your brand tap into the power of TikTok.

Never miss a trend
Twitter is the place to catch up with hot topics. Twitter is also the place where the biggest mistakes happen by virtue of that "no editing posts" thing. With Planable, you can avoid those huge Twitter PR crises. That's because Planable is all about collaboration on Twitter content. Scheduling posts. Outlining hashtag strategies with your team and leaving them up for feedback in Planable, where everybody can see them. Use Planable to make sure those 280 characters will be mistake-free and you'll have a good night's sleep.

Visualize your campaigns
Facebook is all about wide-reaching social media marketing campaigns, and Planable is the perfect tool for that. Jump into Planable's workspace, create posts and tag your team and clients to drop their thoughts. Worried about how a post will look? With Planable, you can preview content exactly as it would appear in feeds. Speaking of campaigns — adding CTAs to thumbnails, setting budgets, and targeting audiences in Facebook Ads Manager, all that is possible in Planable. With Planable, your Facebook campaigns are in good hands.

Schedule those videos out in a jiffy
When it comes to social media platforms, YouTube is an entirely different beast. YouTube campaigns have a lot of moving parts and just as many logistical requirements. Planable takes all that grunt work off your back and allows you to focus on creating videos. Set hashtags and write descriptions for multiple videos. Include your videos in the right playlists. Not sure if a title's good? Invite your team to leave feedback. Schedule YouTube videos with Planable and you'll never have to spend hours copy-pasting descriptions.

Be the thought leader you always wanted to be
LinkedIn is the place to go if you're looking for interesting insights and conversations about your industry. And Planable can help you harness the power of LinkedIn and become the industry leader you always aspired to be. Use Planable to schedule LinkedIn posts and raise awareness about your brand, business and projects; create and publish special, industry-specific content for your following; connect with LinkedIn's sprawling community of professionals through your next-level content. Planable can provide you with that, and more.

Attract customers from your own backyard
When it comes to attracting local customers, there's no better tool for small businesses to use than Google Business Profile (f.k.a. Google My Business). Well, that and Planable. Like any platform, getting traction on Google Business Profile requires consistency, and Planable is all about helping teams achieve it. Sign up for Planable and schedule your posts ahead of time. Inform your customers about your latest products and promotions. Ranking on search engines? Guess what, Planable can help with that, too. Sign up to Planable and your business will grow to its full potential.
Publish Instagram posts 6X faster
Create and plan on your desktop, review and schedule your Instagram posts on the mobile app. Sign up for Planable and download our mobile app to take your social media efforts to the next level.