Plan & schedule LinkedIn Posts 6X Faster
Create, plan, review, and schedule your LinkedIn posts. All in one place to your LinkedIn personal profile or company LinkedIn page. Whether you're an in-house or freelance social media manager, Planable makes scheduling posts a breeze!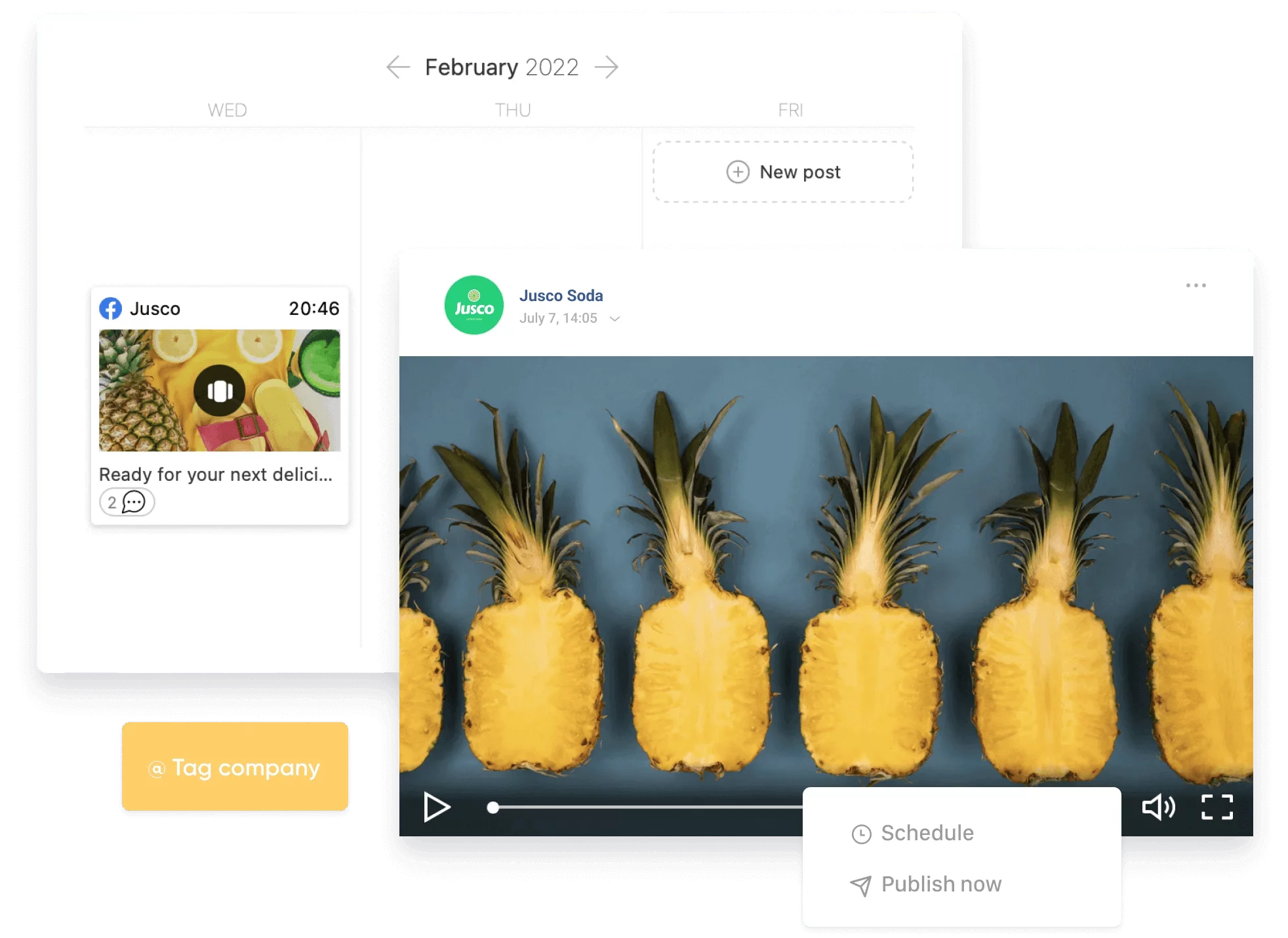 Post on LinkedIn with confidence
How can you create brilliant LinkedIn posts in spreadsheets? It's like hitting a pinata. And the pinata is a 1-inch-dot. Preview scheduled LinkedIn posts instantly, while you create them. Thumbnail post? Multiple images? Video posts? You get pixel-perfect previews and can post on LinkedIn with the peace of mind you deserve.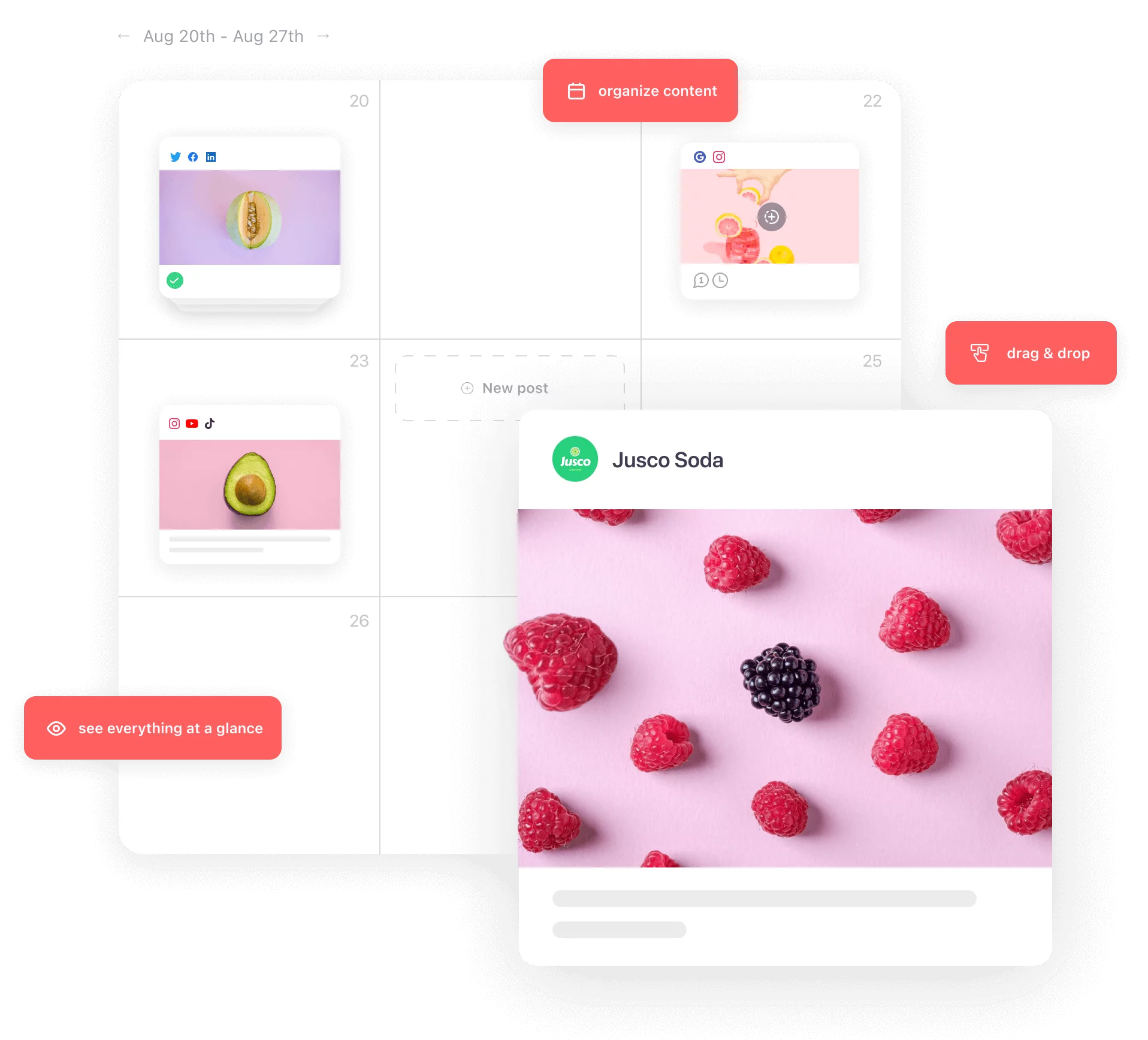 See it all in our sleek
LinkedIn Calendar
Get an overview of all your content with our calendar view. Build your LinkedIn content calendar by dragging and dropping posts. Add labels to see the balance of your topics. Glance at the monthly plan or deep dive in each week.
Your LinkedIn scheduler with
a collaboration superpower
Brian can now leave his feedback right next to your scheduled LinkedIn posts. So you don't have to decipher each message. You'll know what he means. You'll implement and resolve comments. Because managing multiple LinkedIn accounts is more than scheduling posts. It's about rounds of collaboration with several stakeholders for each post. And in Planable, that's effortless.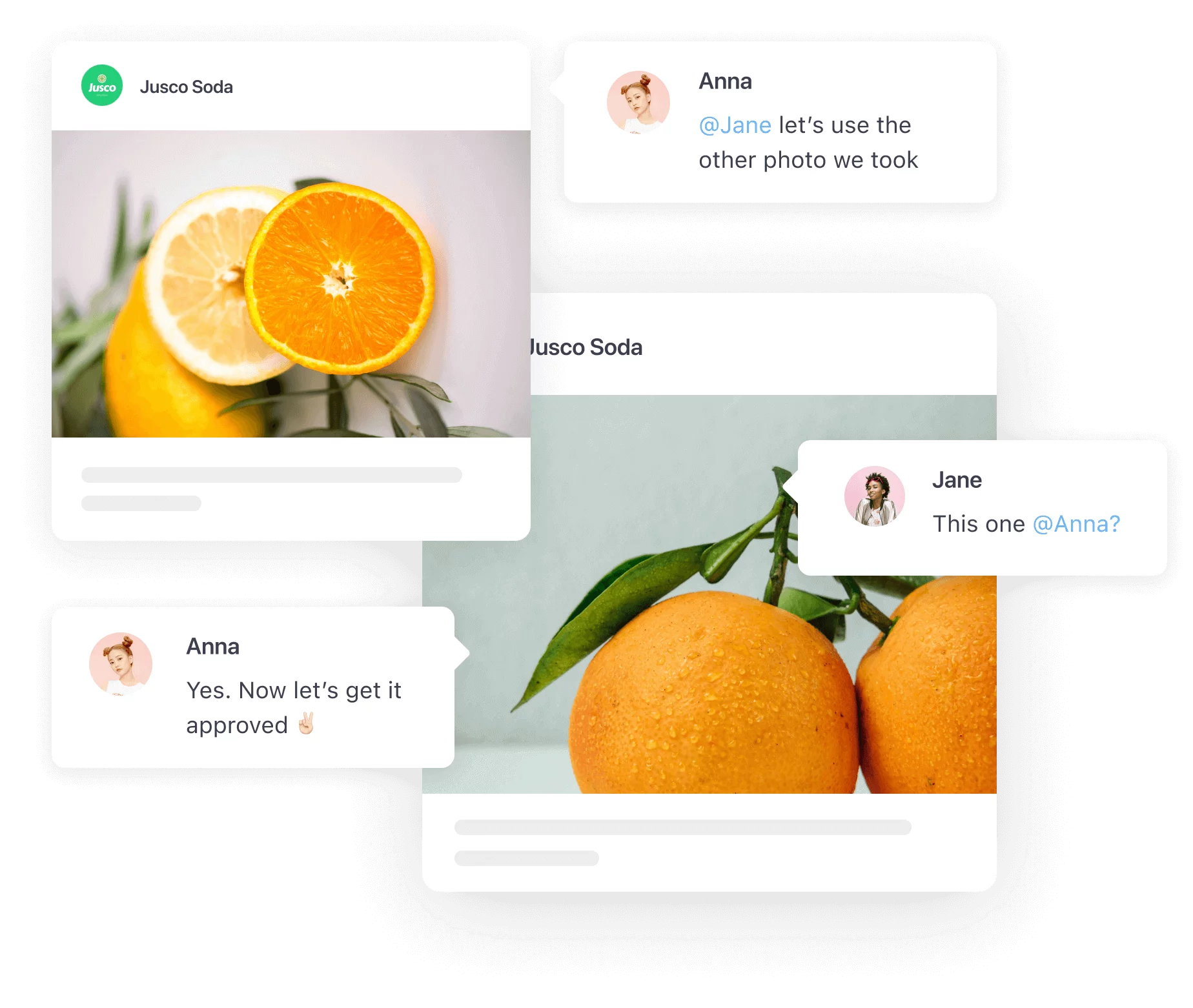 Schedule LinkedIn posts with an approval armor
Always afraid a typo might slip through the cracks and go live on your LinkedIn company page? Get approval from your stakeholders on each post. They click once. You sleep peacefully. And we'll schedule posts automatically on Linkedin for you.
How can you schedule posts on LinkedIn
So glad you asked. It's pretty simple to schedule LinkedIn posts with Planable:
Sign up — it's simple and free (no credit card required).
Connect your LinkedIn profile and create a workspace.
Start creating, planning, experimenting, writing, and whatever strikes your fancy. Schedule a post on LinkedIn — or 50, while you're at it. Play around in Calendar View. Bulk approve or schedule in List View. There are so many things you can do, and you're still here. Go. Try Planable out. Who knows, maybe your search for LinkedIn scheduling tools will end here.
And that's how to schedule posts on LinkedIn. For real. You literally have nothing else to do. Now go create amazing content.
LinkedIn scheduling and collaboration in one package
Imagine this — LinkedIn automation tools built with collaboration in mind. Even more — a workspace where your team can plan and create Linkedin content. All that without any extra tabs slowing down your laptop. Plus scheduling LinkedIn posts — let's not forget about that. 'Cause it wouldn't really be "automated" if you couldn't do the one thing that requires the most tedious manual work. Use this LinkedIn post scheduler and manual work will be a thing of the past.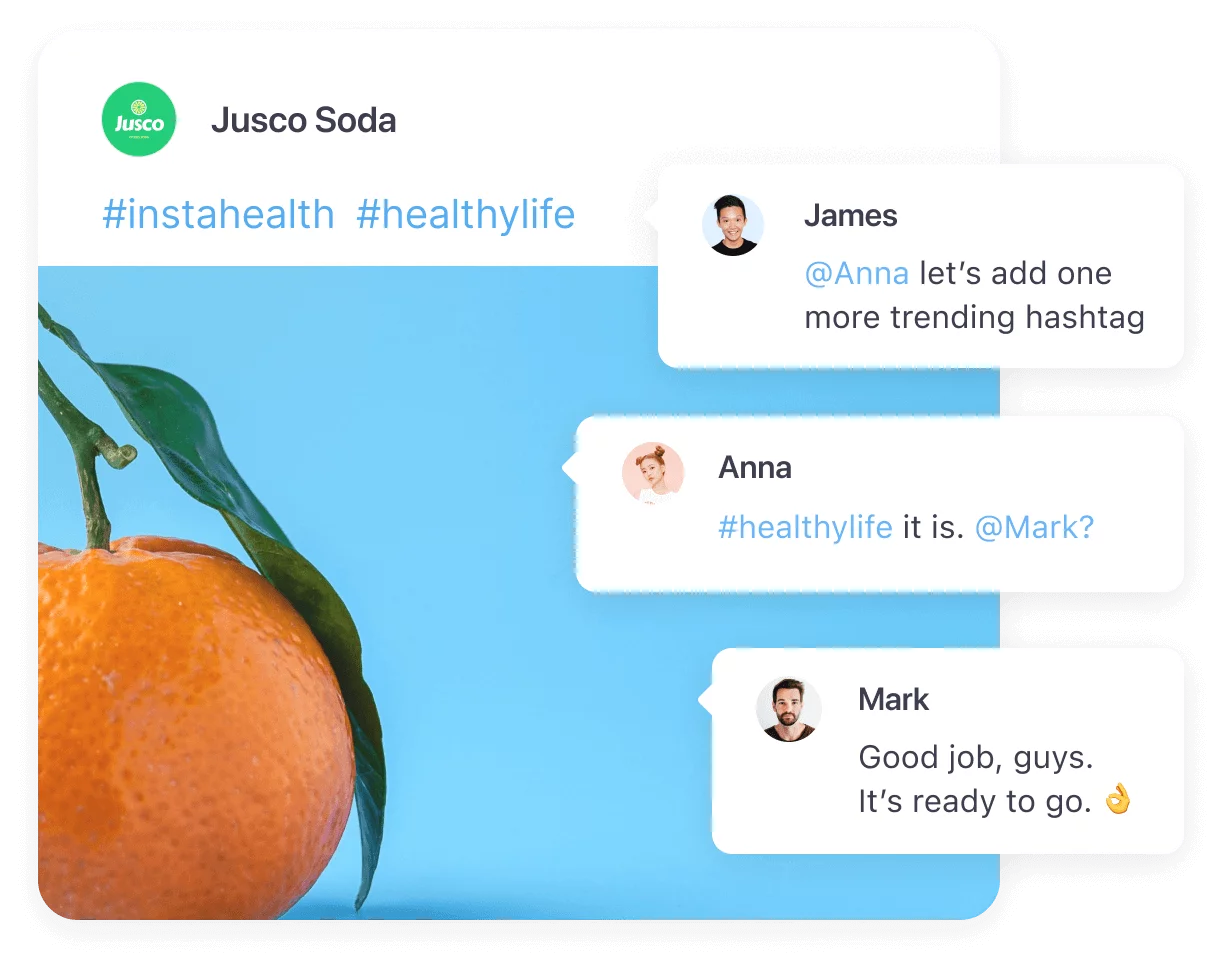 With Planable, you can actually schedule posts for all social media platforms

Boost your brand's visual appeal
Instagram's the most visual platform out there, and there's no better scheduling tool to take advantage of than Planable. Create stories in Planable and schedule them for later. Arrange your pictures in complex grids and preview them before hitting that "post" button. Wait, there's more. Nobody's saying you gotta lone-wolf the whole thing, and that's where Planable's collaboration features come in. Schedule posts, tag your team and invite them to leave feedback. Invite your clients, too, while you're at it. Let Planable do all the work and focus on creating.

Never miss a trend
Twitter's all about expressing ideas in 280 characters. That's the beauty of it, and if you're here, you want to harness its power and deliver snappy social media campaigns. Good thing there's Planable for that. Worried about the lack of an edit button? Don't. By planning and outlining your campaigns in Planable, the potential for making mistakes drops to 0. Sign up for Planable, invite your team and start creating Twitter posts. Drop a few hashtags for multiple posts instead of doing it individually while you're at it. It's that simple.

Visualize your campaigns
What's the first thing that comes to mind when you think "large-scale marketing campaigns"? If it's Facebook, congrats. Would've been nice if you said Planable, but you can't have everything in life. Anyway. Planable is the perfect solution for your social media marketing needs. Add CTAs to thumbnails. Change meta titles and descriptions. Post organically, or link it up with Facebook Ads Manager, where you can play with budgets and set your targets. Sign up to Planable and take your Facebook campaigns to the next level.

Schedule those videos out in a jiffy
Uploading thumbnails. Adding hashtags. Creating playlists and adding videos to them. Copy-pasting titles and descriptions. Over tens and hundreds of videos, that kind of grunt work adds up. YouTube can be an absolute chore, but it doesn't have to be like that. Planable can help you streamline all that boring, logistical stuff and free up your time to do stuff that you actually love — creating engaging YouTube videos. Oh, and you can also schedule YouTube videos with Planable, in the same place. You don't ever need to leave the screen.

Plan your videos with no hassle
1 billion monthly active users and counting — and that's far from the end of it. TikTok is the hottest social media platform right now, so brands and social media teams should strike the iron while it's hot. With Planable, you can plan, create, schedule and collaborate on your TikTok content with no hassle. Invite team members to drop their thoughts about your hashtag strategy. While you're at it, ask them to leave a reply about the effects you've used — in a comment, right next to the post. Then schedule those TikTok videos and plan for the next week.

Attract customers from your own backyard
Small businesses have a lot to gain from including Google Business Profile (f.k.a. Google My Business) in their marketing strategies. And with Planable, you can take your Google Business Profile efforts to the next level. Spread the word about your newest promotions and deals by scheduling your posts. Drop some pictures with your products or the office. With Planable's Google Business Profile integration, you can be sure you'll attract customers from your own backyard. Let Planable help your business grow to its full potential.
LinkedIn Scheduling Best Practices and Tips

Optimize your LinkedIn company page for search.
This involves incorporating keywords into your LinkedIn company pages (don't resort to keyword stuffing).

Make use of images and videos.
Just like any social media platform, visual assets are great for boosting engagement among LinkedIn users and reaching a wider audience.

Encourage employees/coworkers to engage with company posts.
Your coworkers and employees can be the best brand ambassadors a company could wish for. Even better: connect their LinkedIn profiles to Planable and post all that content at once. No need to ask them to do it individually.

Use LinkedIn tools.
Use Planable to plan, create, and schedule Linkedin posts free of charge. Every marketer worth their salt will incorporate at least a couple LinkedIn marketing tools into their workflow. Oh, if you're asking how to schedule LinkedIn posts — scroll above, it's right there.

More leadership pieces, less salesly content.
The best way to push your product or service is to offer value to your followers through insightful LinkedIn articles and being active in LinkedIn groups. Only publish promotional content when it makes strategic sense, for instance, around feature launches.

Analyze competitor company pages.
LinkedIn offers a neat feature called Companies to track. There, you can track key metrics such as social engagement, number of followers, rate of follower growth, etc. and compare numbers.

Experiment with LinkedIn ads.
Sponsored content, inMail, text ads. These are great ways to spread the word about your content and company.

Don't forget to add CTAs.
It might seem obvious, but you'd be surprised how many marketers forget to include them.

Always be ready to try new strategies.
Social media, including LinkedIn, is all about content strategy, optimization, experimentation and reiteration.

Take advantage of showcase pages.
These will help you show different aspects of your company, especially if it offers/sells multiple products/services.
Schedule LinkedIn posts 6X faster
That's right. 6X faster. With Planable, you can free up to a week's worth of busy work to focus on creating LinkedIn content. Sign up to Planable and say goodbye to boring logistics and spreadsheets.