Productivity is more than just a buzzword. All of us have come across productivity sites at some point in our lives. Articles, studies, Youtube channels, and conferences are dedicated to the topic of productivity online and offline.
While it might sound like our world is obsessed with productivity, there might be something to this trend. Getting things done faster with less effort is always an achievement, but it's not as easy as it sounds. 
Despite us having more tech tools, automated apps, free productivity software, and innovations than ever before, people are still feeling held back in the workplace. If you're a business owner, you're likely looking for a way to work smarter not harder, and for your employees to do the same. There are only so many hours in the day, so how can you make the most of the ones you have without compromising on quality? Companies such as Pandadoc have made several productivity improvements in the workplace, such as using e-signature software to streamline the process of signing contracts.
We've done in-depth research to come up with the best tools for making 2022 your most productive year yet. We share the best tools for productivity that you'll wish you adopted sooner. Why are they so important? They save you time and money, help your team get to collaborative working, enable flexible workspaces, and automate tasks that were nothing but a time-drain. These are online productivity tools that anyone with an internet connection can benefit from.

Are you ready to enter the new era of productivity? What does productivity in 2022 mean? Just a few small investments can take you farther than you ever thought possible. It's time to reclaim your time, so let's get started. 
Workplace productivity by the numbers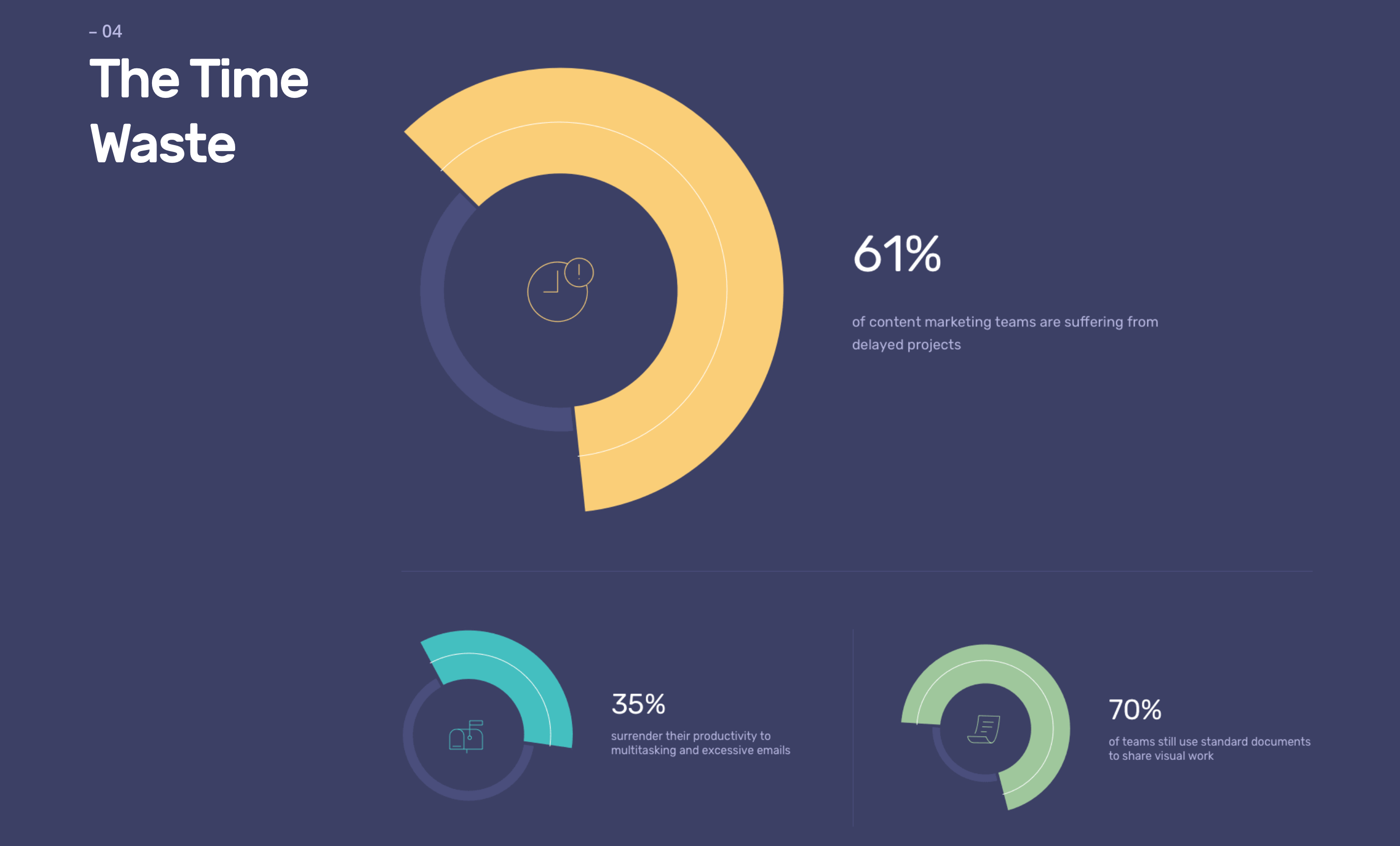 Before we get started, let's take a look at a simple and useful concept. We don't want to jump into stats and numbers without laying out the productivity tools definition. "Productivity tools" refers to the software that people use to manage work, save time, and stay on top of things. Think of it as a superpower. Tasks that used to take hours of your time become a 30-minute job. Pretty cool, right?

When it comes to managing a diverse project with a global team, productivity tools, like ClickUp, helps you keep all necessary information in a single dashboard. Thus, making it easier for your team to work, collaborate and track the performance. There are also several ClickUp alternatives that you can try.
Other tools may be needed to support your workflow, too, which we'll discuss later. Most of them are cloud-based which means that you can access them through your web browser. You may also consider software that requires program installations. This is great too, as long you're diligent about making sure everyone in your team can use it properly if you all have different operating systems and machine specs.
Now let's review some of the statistics and research surrounding productivity in the workplace. Whether you're a startup or a large enterprise, odds are you've experienced some of these on your own. 
Today, connected employees are expected to be 20-25% more productive. This means that when you invest in helping your workers collaborate and stay engaged in their work, they perform better. Similarly, companies with engaged employees outperform those without engaged employees by 202%. That's a huge number worth paying attention to if you're hoping to stay competitive in this day and age. 
What causes employees to be less productive? You can likely point your finger at a number of things: poor leadership, increased workload, unhealthy sleep routines of remote employees, and the wrong tech tools. Unfortunately, it's often a combo. According to a study by Tower Watson, 57% of employees who said they were stressed at work felt less productive and engaged. The truth of the matter is you need to help your employees take on their own workload with confidence. This means investing in the right tools for work so they can do just that.
Incredibly talented people you brought on to blow the minds of your clients shouldn't waste their time, creative spirit, and energy in logistic nightmares. These office productivity tools allow your team to focus on the higher-level types of work. The good news? This means real gains for the company as well. 
Now that you know why these productivity tools are so powerful, it's time to share the list. Again, these are the best tools for productivity that you can use in your business and even your own personal life. What are you waiting for?
1. Content collaboration productivity tools: Planable


Planable gives you full control of your company's social media without stress. With so many social media platforms to stay on top of, planning your content can feel like nothing but busy work. You know that producing high-quality content on social media is key, but it can also be a bit of a chore. 
Now there's a better way. With Planable, your social media team can manage all of their social media platforms in one place. With social media post previews, you can officially say goodbye to screenshots, mockups, and other time-consuming tasks that didn't bring you any closer to your goals. 
With Planable, you can even publish through your favorite social media managers in just a few clicks or schedule for later. This is the all-in-one social media tool you've been waiting for. If your business handles any type of social media (and it should), it's time to join the 21st century of social media management. 
2. Communication productivity tools: Slack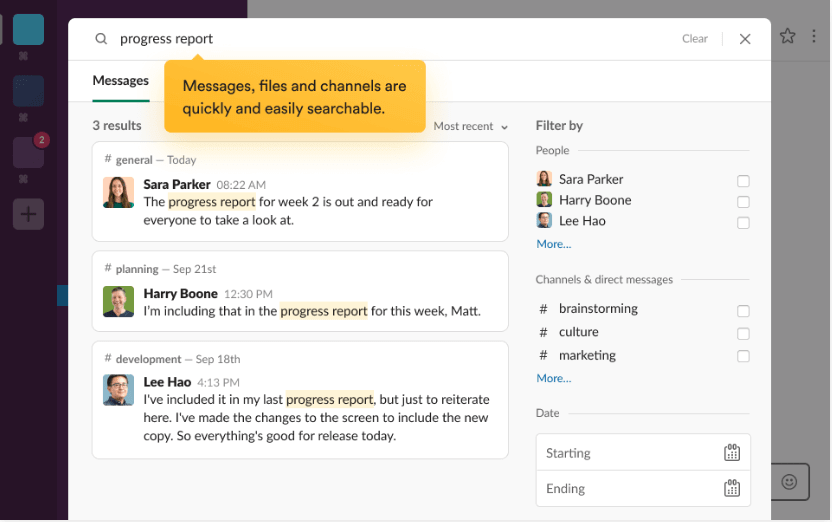 The first tool is Slack, a workplace collaboration tool that brings employees and leaders together. It works like a messaging app, allowing you to direct message coworkers and also start group channels where everyone can speak together. 
Why is Slack such an important resource? The average worker spends 13 hours a week on email. That's 28% of the entire workweek! With numbers like that, it's no wonder it feels like there isn't enough time in the day to actually get more done. With Slack, you can avoid those time-consuming, confusing emails and inefficient meetings. You can get quick answers, updates, and more just in a few clicks.
Slack even shared time-saving tips that will boost your productivity. They know how to make things easier for their users and they managed to turn Slack into your calendar's best friend. 
3. Visual productivity tools: CloudApp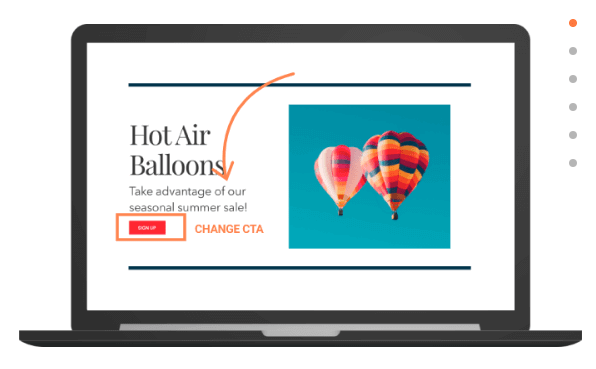 Did you know that visual communication is the best way to communicate with others? While our modern workplace often relies on written communication, we all know how confusing this can be. Getting ideas across to clients and coworkers through text, especially when relating to a product or other physical/digital tool, can feel impossible. 
Humans are proven to process images faster than text. With CloudApp, it's possible to communicate with screenshots, video gifs, visual annotations, and so much more in just a few seconds. Communicating with your team and clients has never been easier. CloudApp can save your team up to 56 hours a week in communication alone.
4. Visual collaboration productivity tools: Trello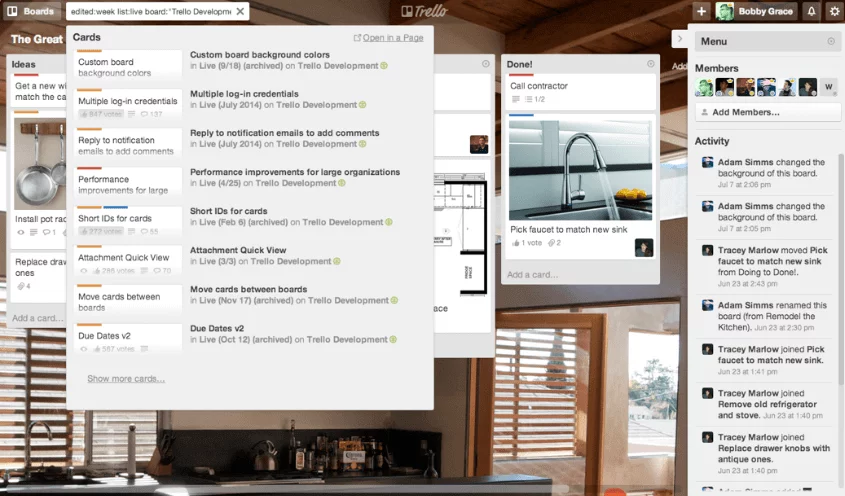 Another visual communication tool is Trello. Trello is a visual collaboration tool that helps teams and individuals manage their own projects all in one place. It works by letting you create "boards" for individual teams, projects, or assignments. From there, you can add tabs, assign collaborators, upload files, and even comment on each particular task in a visually organized way. 
Trello is like a big board of sticky notes, only much more organized! It's great for visual teams and those who have to manage a lot of tasks at once. If you're considering using it for organizing your personal life, this productivity website offers a free plan with unlimited personal boards, unlimited cards, and unlimited lists. It has a number of free upgrades that makes it an even bigger asset, so don't miss out on trying this for yourself. 
5. Time-tracking productivity tools: Toggl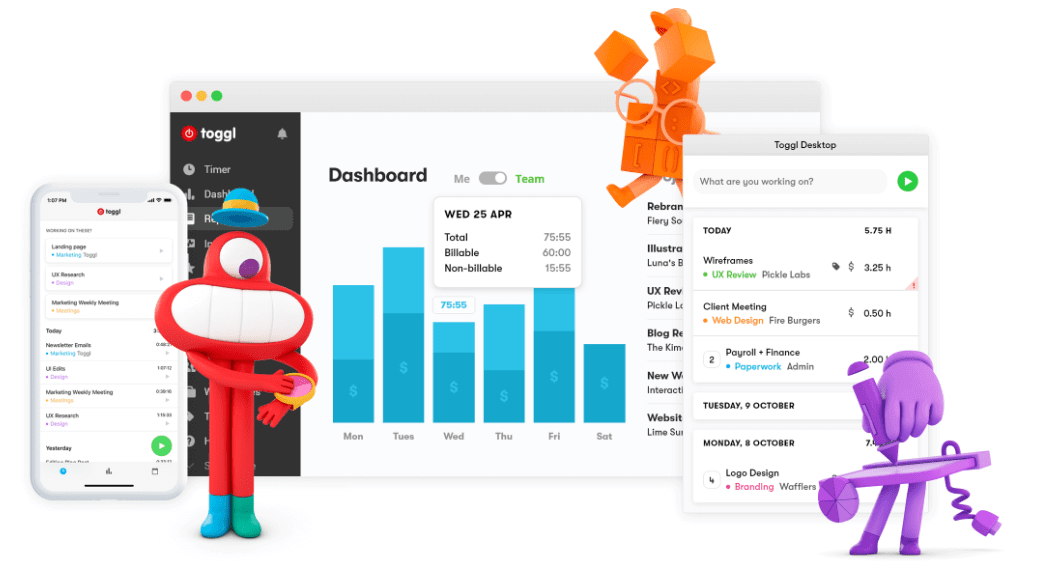 Do you not have enough hours in the day? As harsh as it sounds, you might just not be valuing your time wisely. With so many distractions right at our fingertips, this is a common occurrence. The good news is you can officially take back your time with Toggl. 
Toggl is a time tracker app that works with all your devices. This simple, intuitive time tracker works on your computer, tablet, and phone so you're always tracking your hours no matter where you are. 
Once you've completed a task, you can view a detailed report with all the numbers showing you just how you spent your time. Then, you're in a much better position to analyze whether it's true that you don't have enough time in the day! How are you spending your time?
Read more about time tracking made easy in this review of Toggl, or check out similar time tracking software.
6. Recruiting productivity tools: Applicant Tracking System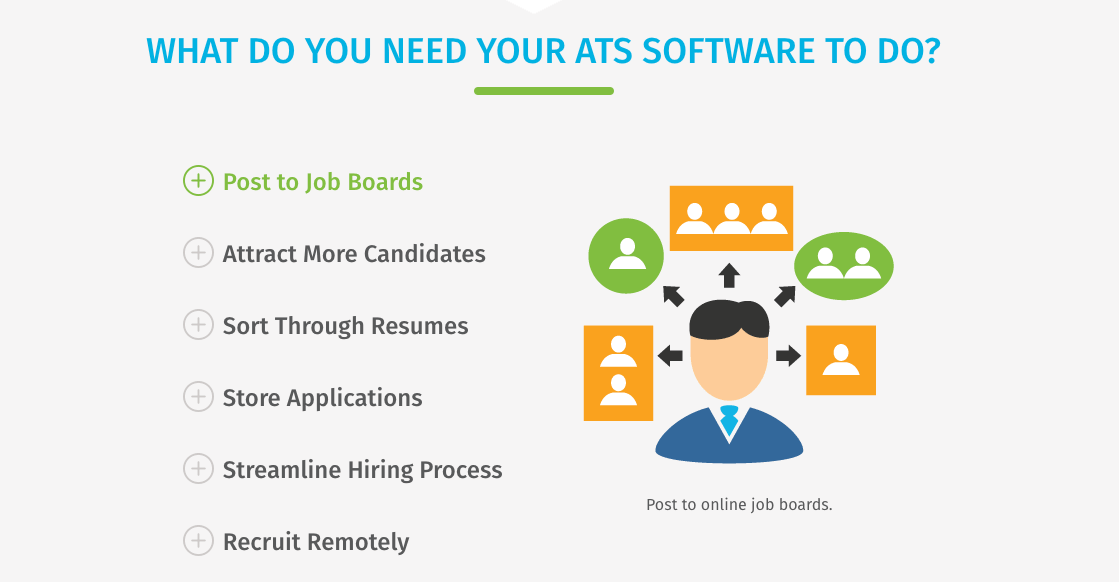 Are you hiring the right candidates? Too many businesses are wasting time and money on the wrong candidates, and this is only becoming more of a challenge as time goes on. We're currently in the middle of a huge talent crisis. In fact, by 2030, there will be a global human talent shortage of over 85 million. 
How do you solve this growing problem? One clear solution is to use an Applicant Tracking System (ATS). Applicant Tracking Systems have come a long way in the past few years, and they're now an effective way to target the best candidates in less time. That means you can devote more of the hiring process to finding the best fit rather than wading through endless applications.  
7. Legal productivity tools: HelloSign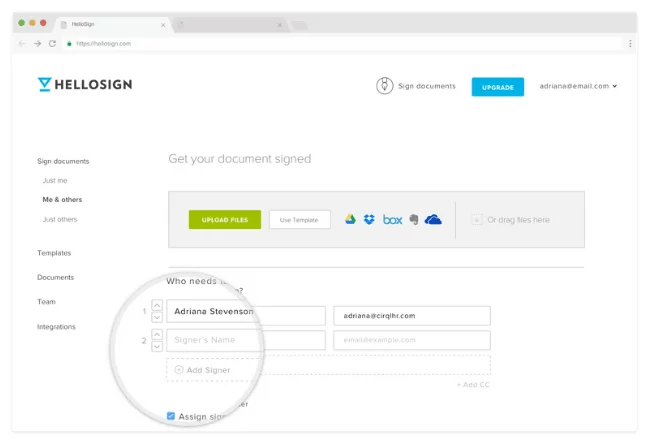 If you deal with contracts in any way, you need HelloSign. The clunky days of sending PDFs and waiting for clients to send them back with a hand-signed signature are long gone. Signing documents doesn't have to be a pain. 
With HelloSign or one of its alternatives, you can take the hassle out of signing contracts. Now, your clients can sign your contracts electronically. It's as simple as uploading your document right in the HelloSign platform. It's stored securely, and from there you can email it directly to your client. 
In just a few easy clicks, they can sign it right in the app, no download needed. These documents are legally binding, and they're secured through the HelloSign system so you don't have to worry about storing them yourself. Landing new clients just got a lot easier. 
8. Website planning productivity tools: Slickplan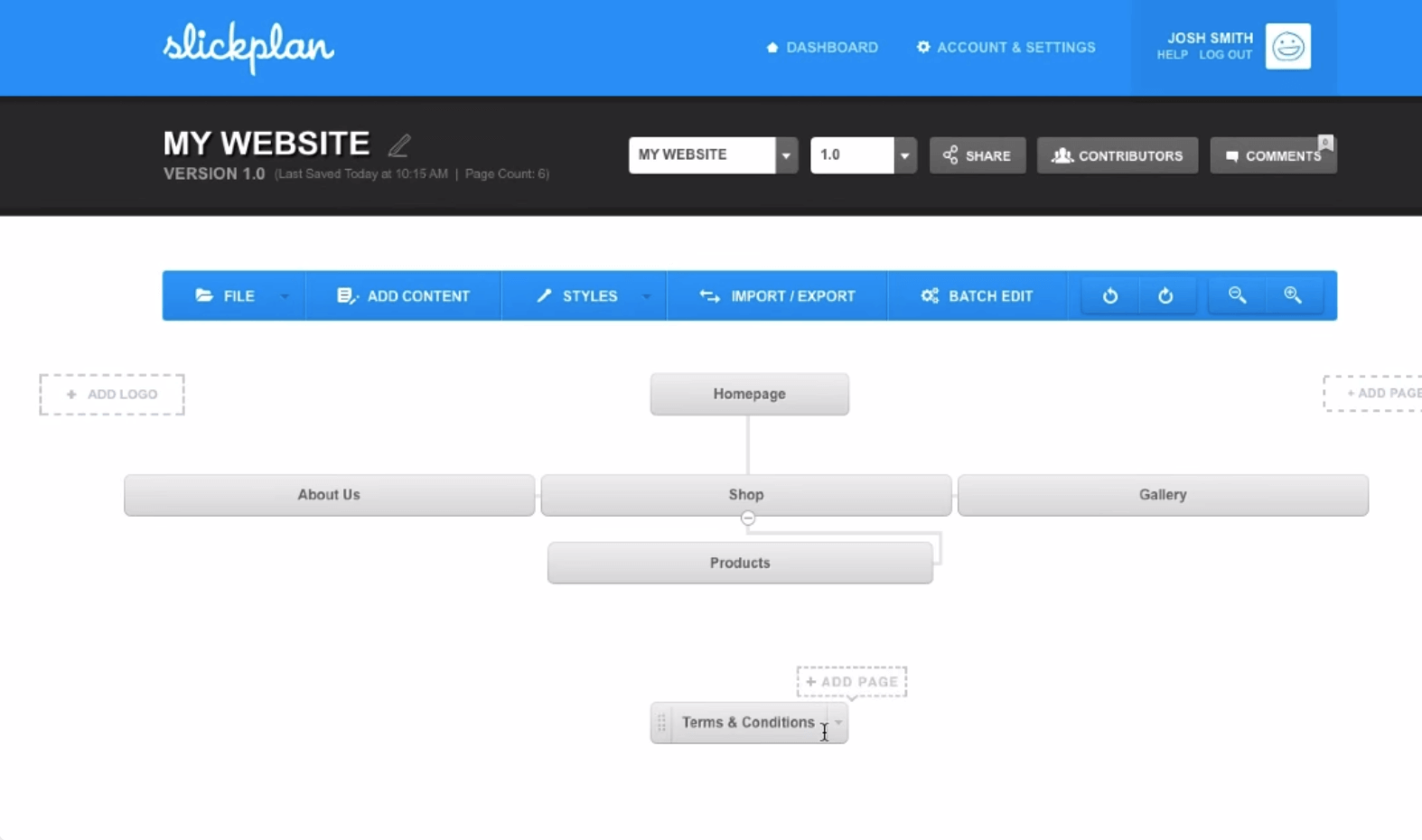 Website planning and creation has become more and more accessible over the years. But we've still got a bit to go because yes, almost anyone can create a website now but it takes time to learn themes, htmls hacks, and constant previews to determine trial and error.
Slickplan is a website planning suite that helps you create websites easily. From sitemaps to user experience and content planning, Slickplan can truly save businesses a lot of time. Especially if you're just starting out or looking to recreate your perfect website.
9. Project management and team collaboration productivity tool: ProofHub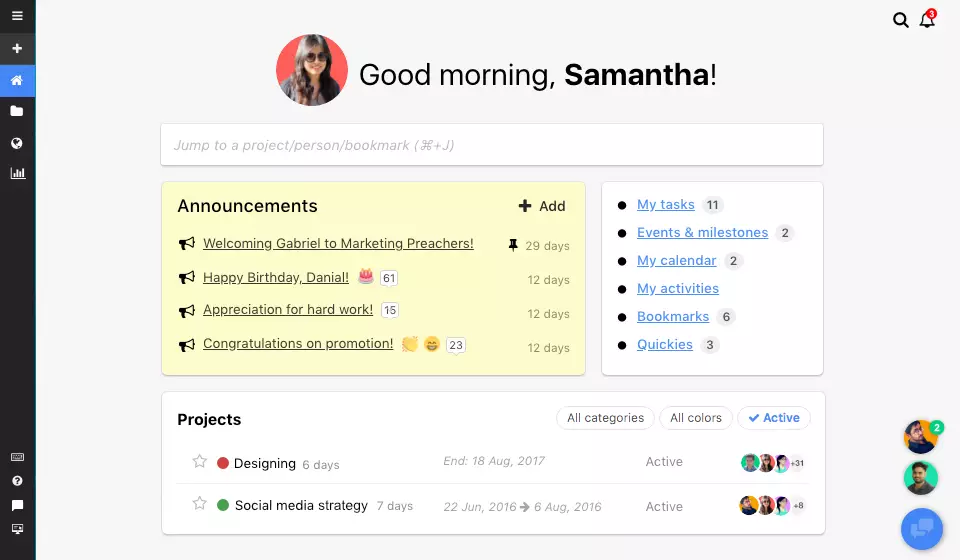 Marketers are struggling with collaboration as they do not have clarity about who is working on what and what is the current status of a task. A project management solution can help with planning and executing projects and having an overview of your team.
ProofHub is a project management and team collaboration software that saves teams from the mess of juggling various apps throughout the day to get work done. ProofHub has a simple interface. The real-time notifications make collaboration effortless. Managers can assign tasks, view progress, and communicate with teammates through this one medium. ProofHub comes with a free trial with complete access to all its features so you can test drive before making a choice.
10. All-in-one productivity tool: Notion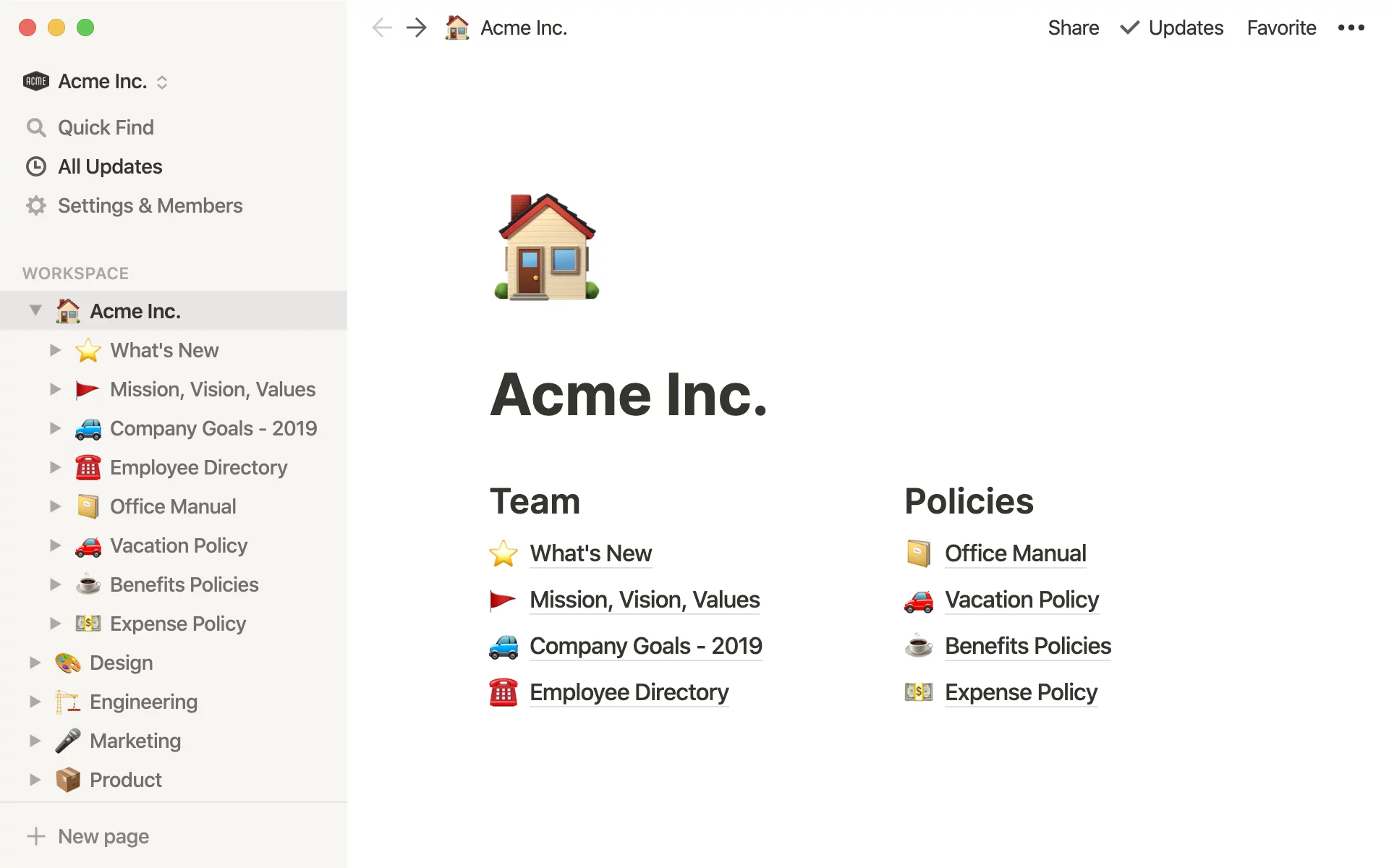 Have you ever wished that someone invented a tool that helped you keep everything in one place? Chasing Google doc links or lists is not fun. We all needed something that combines the best of spreadsheets, including integration with google spreadsheets, notes and tasks into the ultimate productivity tool.
That's where Notion comes in. They are blending much of your workflow into an all-in-one workspace. Want a task list? A product roadmap? A design repository? They are now all in one place. You can even customize your own workspace from dozens of LEGO-style building blocks. Their personal plan is free for individuals to organize every corner of their life. This makes Notion of the best personal productivity tools out there. They also offer plans for teams to write, plan, and work together in one spot.
11. Xtensio
Are you looking for a tool that makes collaboration easier and fosters productivity? Xtensio is definitely the tool to pick up! It is a cloud-based tool you can use to design beautiful presentations and documents perfect for strengthening your brand.
From sales pitches and marketing campaigns to agendas and reports, Xtensio has a wide array of resources with a branding feature to keep everything aligned. It offers a user-friendly drag-and-drop feature to make adding images, videos, and other interactive details to the documents.
The best thing about Xtensio is its online collaboration aspect. Its program has a remote access feature that eliminates the need for emailing attachments back forth. It pushes on efficiency without having to sacrifice time and accountability within the team members since you can track the changes.
Simply put, this tool allows teams to streamline workflow – and if productivity is of importance, Xtensio will be a sure asset to your team.
12. MacKeeper Cleaner
This tool in MacKeeper helps you remove unwanted copies of files on your computer. As I noticed from the scan results, it seems to find duplicates by checking file contents, not file names. Therefore, Duplicates Finder will not remove different files with the same copy names. This makes your computer and notebook more productive – and therefore more productive for your entire team.
13. Cloud Integration platform – Automate.io
These days there is a tool for every business process. We have apps for ITAM, we have apps for productivity, we have apps for analytics and reporting, we even have apps for keeping track of our business contacts. Sure, each of these tools helps us become better at what we do. However, using too many tools in business has its challenges. Many employees feel overwhelmed switching between multiple apps to do a simple job. Now, wouldn't it be more productive to have access to all your apps through a single window? That is where tools like Automate.io come into the picture.
Automate.io is an iPaaS platform that lets businesses create seamless integrations between 200+ application development services, including premium apps like Slack, Salesforce, Hubspot, MailChimp, Facebook Lead Ads, Google Apps, etc. Unlike other integration tools, Automate.io has a simple user interface. You can select your trigger and action apps from a list of over 200 apps and set up automation workflows in under 3 minutes.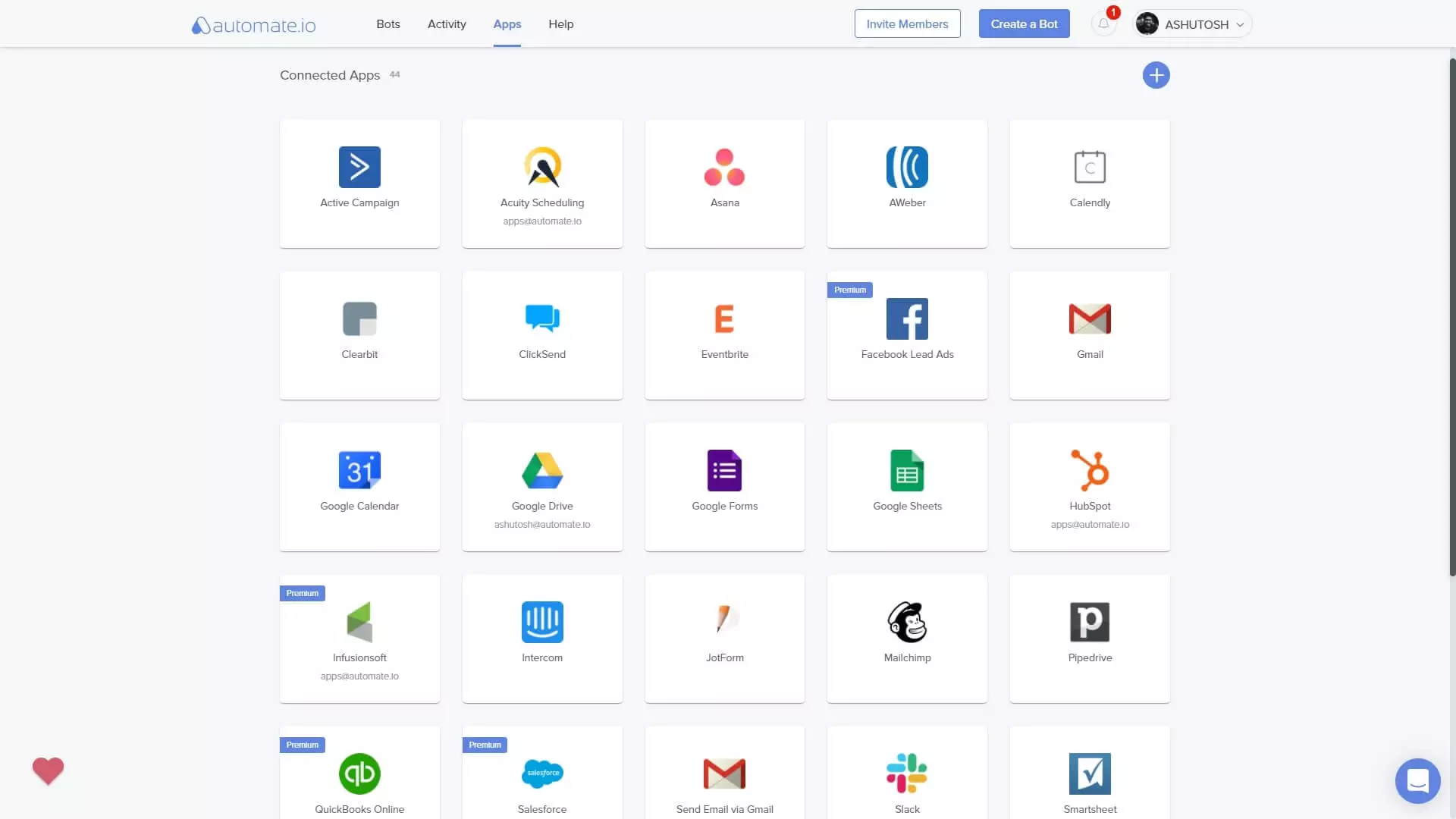 14. For branded emails: Sender
Sender lets you create and send beautiful, branded emails. Choose from a library of professionally designed templates or create your own unique designs in minutes without the need for coding. The sender provides all the tools your store needs to increase sales CRM. Sender instantly integrates with leading content management systems, CRM, and e-commerce platforms including WordPress, PrestaShop, WooCommerce (check out WooCommerce integration techniques), Magento, and more.
All you need is to ensure you write killer emails and end them like a pro to make branded emails worth the effort and more effective.

15. Remote employee monitoring tools: FactoHR 
FactoHR turns your remote work management challenges into smoothly resolved options. With the special HR system design it offers for remote monitoring, this platform can easily become managers' favorite tool. You can keep track of your employee ins and outs, use facial recognition, and selfie authentication.
If your business is also looking for an all-in-one solution to manage remote work and workforce performance, FactoHR offers task management, connectivity, time-tracking, and progress tracking features.
16. Help desk ticketing system: Zendesk
Zendesk features an intuitive helpdesk ticketing system that lets you sort, consolidate, prioritize and deal with customer support requests. You can quickly assign the ticket to an agent who is most qualified to handle the query. The system automatically provides background information and context to the agent, so that they can provide high-value support and speedy solutions. A shared inbox allows the entire team to coordinate their efforts. 
Zendesk's ticketing system also improves agent productivity with features such as ticket routing, categorization, tagging, multi-channel conversation, and tracking. This means you can provide better and faster service to your customers with less support staff. A great way to keep both your customers and employees happy.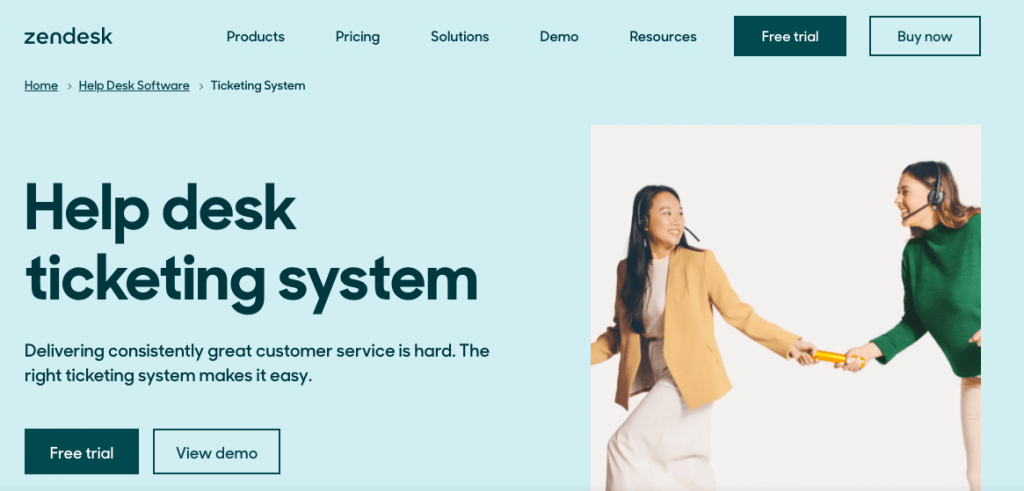 17. Expense Management Software: Fyle
Typical Finance functions happen on a one-on-one basis. However, with the onset of remote work, the added physical distance between employees has led to broken processes and workflows, with Finance teams having no control or insight into organization-wide business expenses.
Fyle is an expense management software that seamlessly automates your entire pre-accounting process end-to-end, thus letting Finance teams retake control of organization-wide business expenses. Employees no longer have to stock up on physical receipts but can submit and track them from applications they use every day like G-Suite, Slack, Mozilla Thunderbird, or Outlook. Additionally, Finance teams don't need to verify every submitted expense against company policy as Fyle automates pre-submission checks. This ensures that only compliant expenses are submitted, thereby keeping expense fraud at bay in your company.
18. Team Collaboration Productivity Tools: Teamwork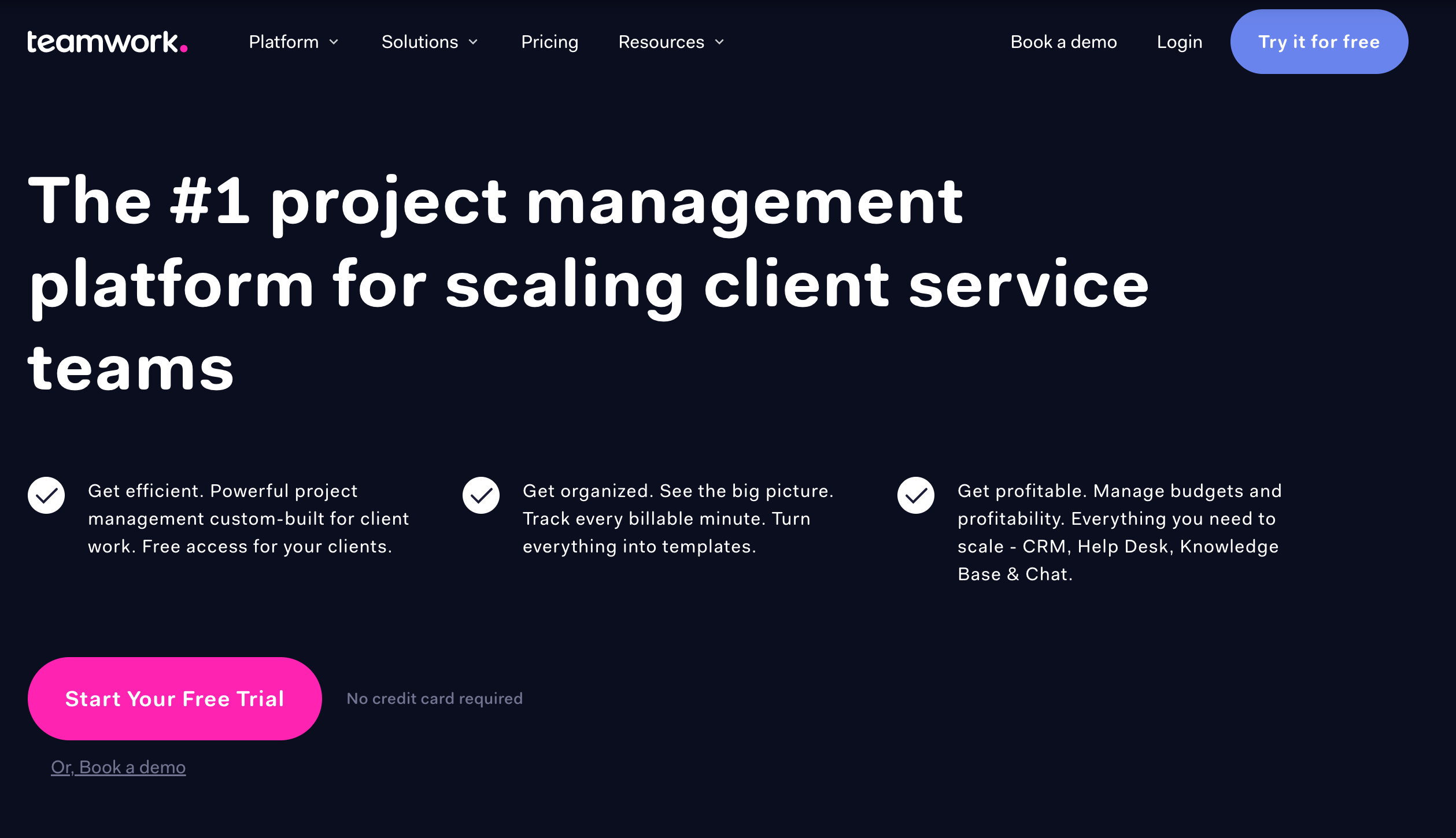 Feeling overwhelmed with customer queries? Give your customers an unforgettable support experience by giving your team the tools they need from just one communications hub.
Effectively manage customer communications with Teamwork's integrated help desk software. It allows you to cut time by providing high-quality support by automating repetitive tasks. Don't keep your customers waiting! The centralized support makes collaboration effortless by managing all customer interactions from one place. Teamwork has everything you need to get the work done. Find a pricing plan that is right for you!
19. Email productivity tool: Right Inbox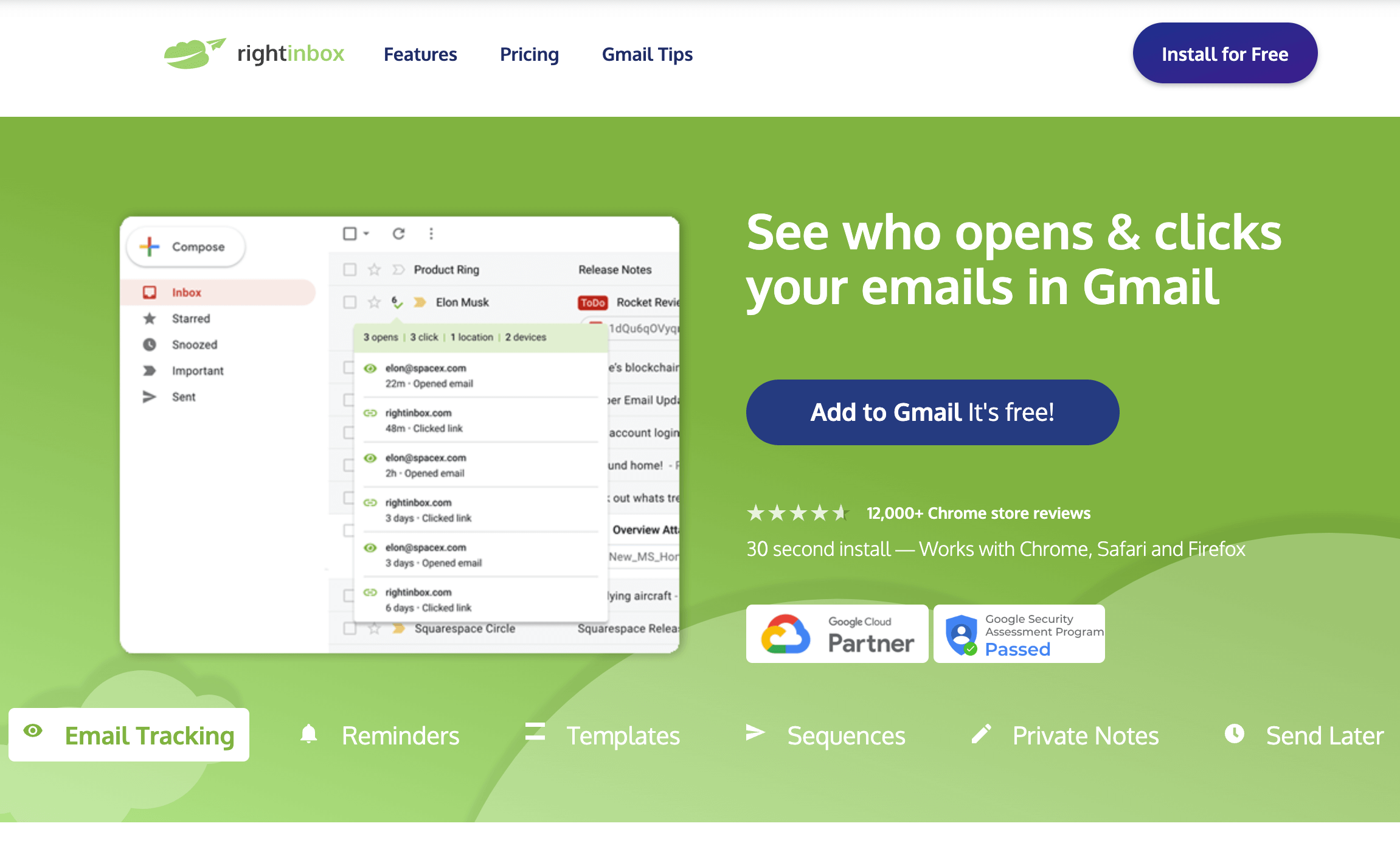 Do you feel overwhelmed by the contents of your inbox? Are you being flooded with emails and you feel like sorting them out takes a lot of your precious time? Let Right Inbox come to your rescue. Right Inbox is the number one productivity tool that can be used with a Gmail account. It allows you to schedule emails, track them, send mass emails, recurring emails, and much more right from a Gmail inbox. It also offers great email templates and sequences, allowing to perform email marketing straight from a Gmail account. With Right Inbox, you can also add different signatures to each email. The tool is free, with limits on some features that reset each month.
20. Attendance Management Tool: factoTime
factoTime is another productivity tool for small and medium-sized businesses. Every organization needs a smooth and effective time and attendance management system for managing employees well. However, Tracking and recording employees' time and other details manually are time-consuming and tough tasks. factoTime makes things easy for you.
With the factoTime, employees can mark attendance direct from their mobile phones. Features like Restrict devices, Geo-fencing, and selfie punch make it secure and eliminate duplicate attendance punch. With the help of this data, The system automatically calculates salary and provides comprehensive and detailed reports as per the managers' wants.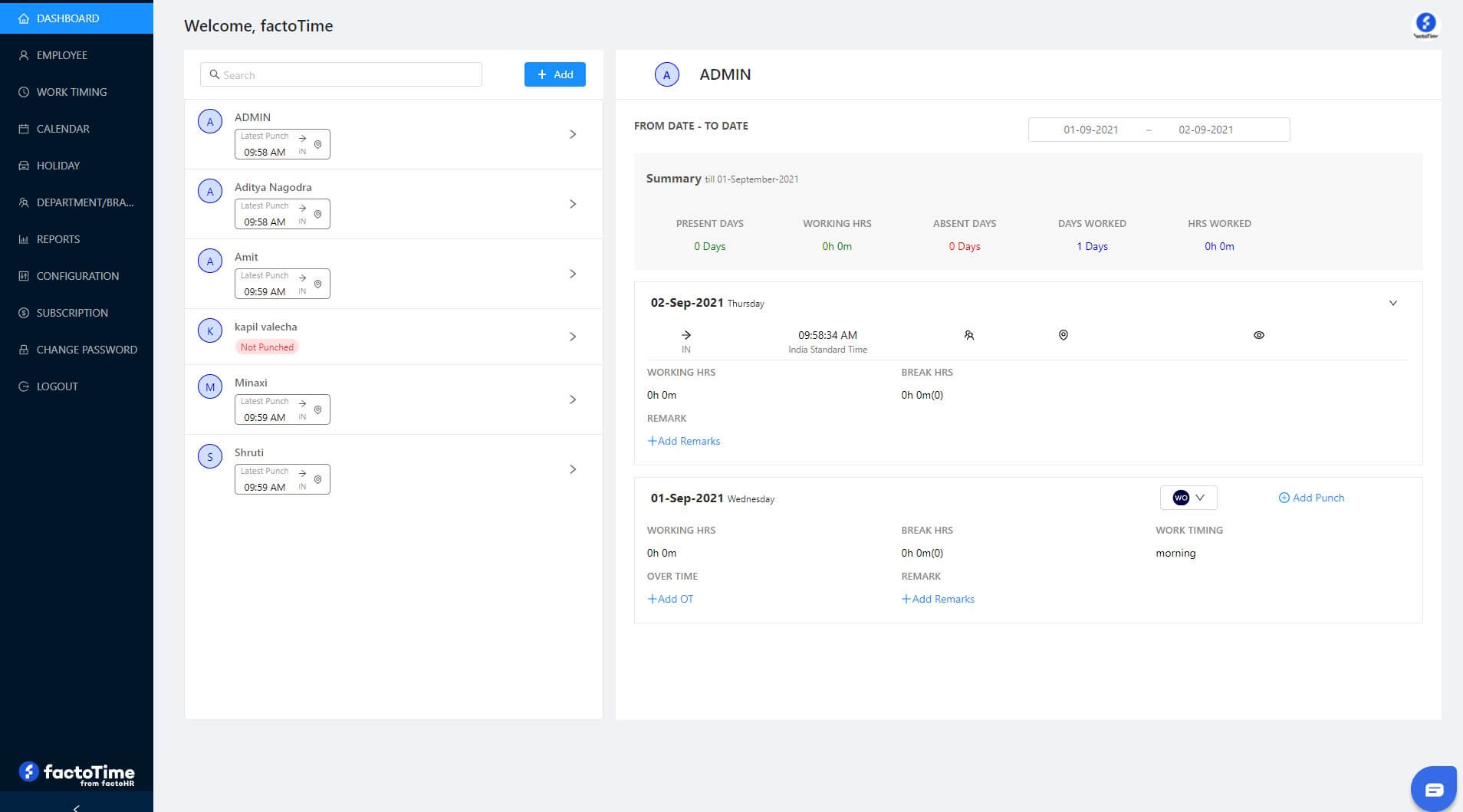 21. Task Management Productivity Tool: nTask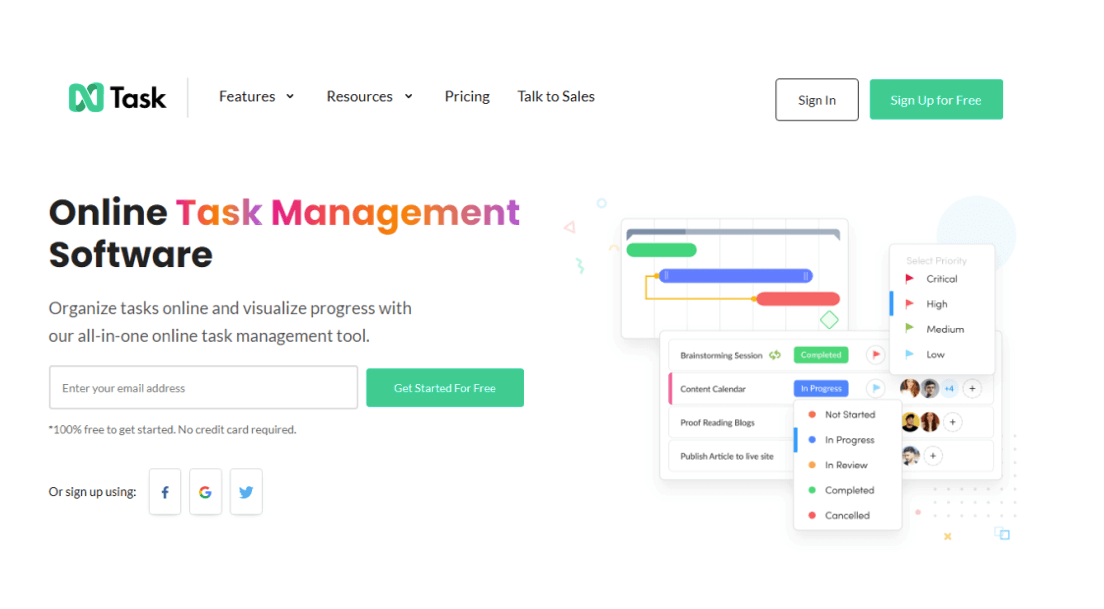 nTask is an incredible task management tool that allows you to track and manage different projects and their included tasks in an easy and seamless way.
It is a feature-packed project management tool that helps to improve the productivity of your team and your overall organization.
Furthermore, nTask allows you to integrate with different apps including Zoom, Slack, Google Calendar, and other applications to keep your projects synchronized.
22. Employee time and attendance tracking: TimeCamp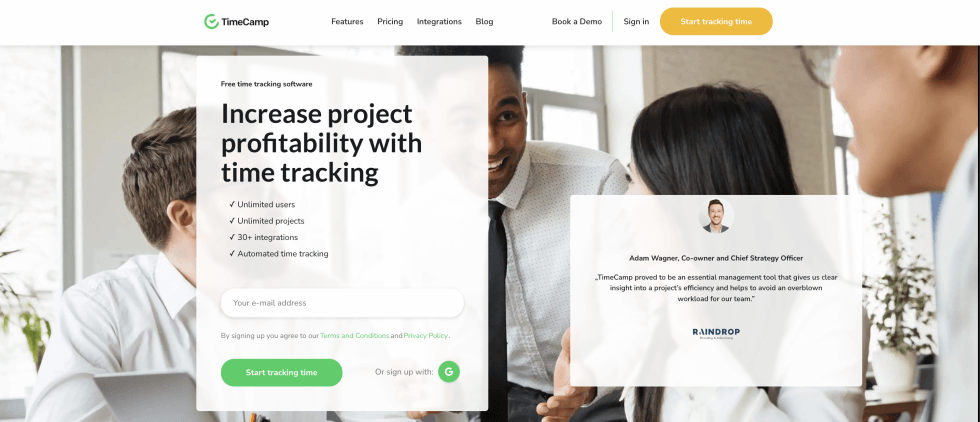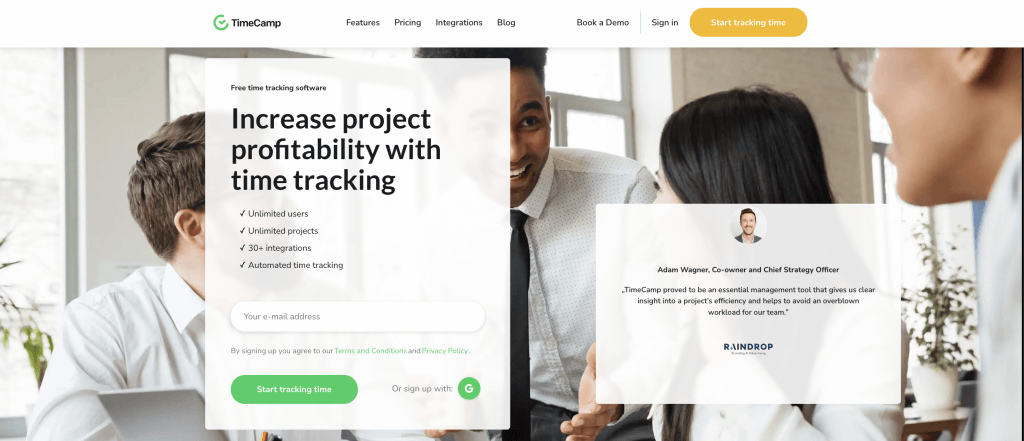 Many on-site and remote teams still face problems with proper work time and absence tracking problems these days. Luckily, it's not rocket science these days to do it fast and paperlessly – you only need a comprehensive yet simple online timesheet app. And here, TimeCamp comes with a helping hand. Because why waste time on filling timesheets manually when you can automate it? 
The tool tracks time in multiple ways – as a web timer, desktop, mobile app, and browser plugin – all to fill the timesheets in seconds and suit your workflow perfectly. 
Besides one-click hours logging, it provides teams with robust reporting that makes daily employee performance and project resource consumption tracking way easier. Both built-in and custom reports are available. TimeCamp also offers attendance management with timesheet approvals that streamlines clocking in/out and payroll process.  
23. Time Tracking & Monitoring Software: Insightful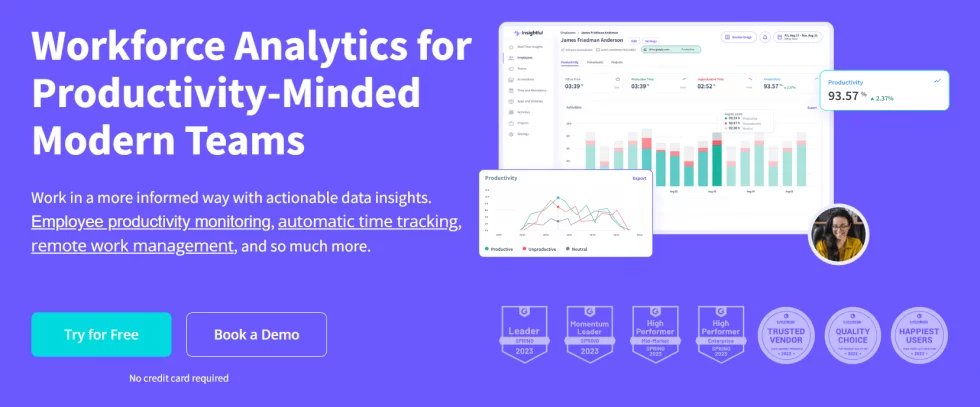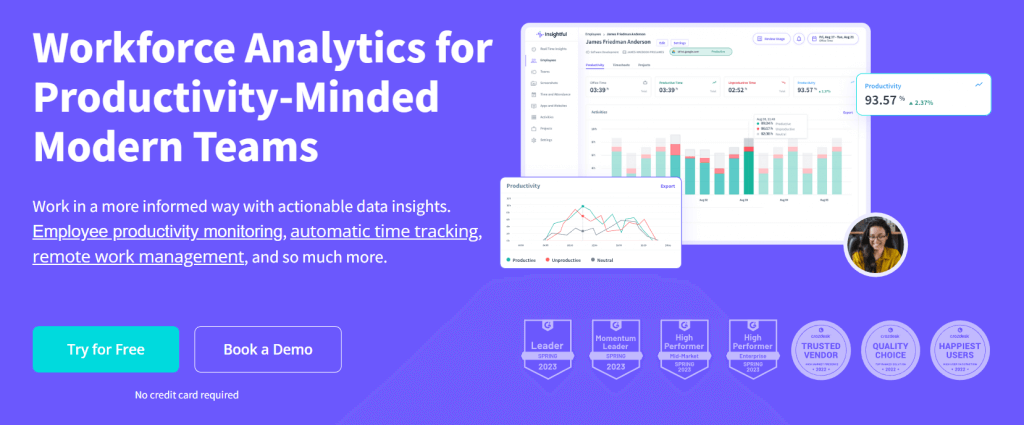 It is not a secret that franchises usually have various locations and a huge workforce. Time tracking and monitoring software are excellent solutions with features for franchises to manage their employees' time and activity across different areas and keep everyone productive. Due to its consolidated system, you can easily track employee work, track hours worked, and manage shifts without much effort.
With Insightful, franchisees will get comprehensive data solutions that will enable them to get actionable insights, optimize operations, and achieve sustainable growth. Through cutting-edge technology, industry expertise, and a customer-centric approach, the company offers the best solutions to its clients for navigating the complexities of data and transforming it into a valuable strategic asset.
Wrapping Up: Must-Have Business Productivity Tools
We cannot end this article without stating the obvious: COVID-19 has changed the way we work. In this new context, the best productivity apps in 2022 are more important than ever. Successfully transitioning to working from home comes with challenges. People are increasingly looking for free productivity or user activity monitoring software to help them manage their day-to-day activities.
It's not a passing trend. It's the new normal. Employers from all over the world are now allowing their employees to work from home whenever possible to ensure their safety. Giant companies share their insights on how to adapt to the new situation. Many businesses use Google productivity tools and resources to help them manage the coronavirus pandemic effects. As shown above, there are many alternatives to choose from. It all comes down to your needs.
Now that you know the most important business productivity tools, you're officially ready to make 2022 your most productive year yet. You have more time at your disposal than you think. Are you using it to the fullest?
Too many businesses today let outdated processes get in the way. The best productivity tools are right there in front of them, just waiting to be put to use. The tools above will revolutionize not only your day-to-day business but also help you achieve your big-picture goals faster. 
You have nothing to lose and so much to gain. Productivity in 2022 looks a lot different from a decade ago. That means it's time to get started and try out the best tools in 2022 to supercharge your business before the end of the year!